Menekuni permasalahan branding serta permasalahan harga jual tiap- tiap web serta game. Permasalahan branding pula wajib dapat dipelajari lebih lanjut supaya esoknya banyak yang terpikat pada game gambling agen sbobet terpercaya taruhan online ini. Perihal ini hendak membagikan akibat lain semacam banyaknya era yang hendak berasosiasi ke dalam game sampai banyak orang yang turut mensupport game gambling duit asli dalam kompetisi yang terdapat.
Semacam metode intersepsi, metode mengutip ataupun membersihkan bola pula ialah metode yang bermanfaat buat bertahan dari serbuan yang dicoba rival. Tetapi, Kamu pula wajib berjaga- jaga kala agen bola melaksanakan metode ini, sebab dikira amat beresiko. Bila Kamu melaksanakannya dengan salah, Kamu bisa menyakiti rival Kamu serta Kamu dapat memperoleh kartu kuning dari penengah.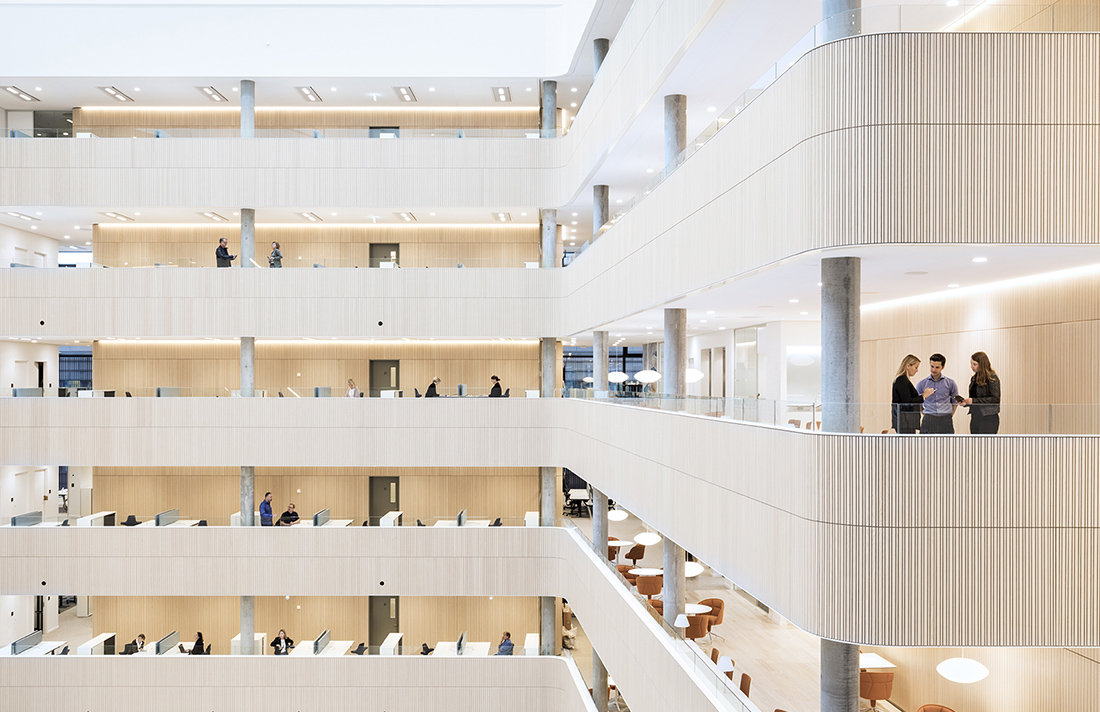 Inside Maersk Group's Modern Copenhagen Office
Maersk Group, a Danish business conglomerate with activities in the transport, logistics and energy sectors, hired architecture & interior design firm PLH Arkitekter to build their new offices in Copenhagen, Denmark.
"Maersk's new headquarter at Amerika Square is a building designed to appeal to all senses, and where there is an idea behind every space. Every area has been thought about such that it is has pleasing and attractive qualities, with Scandinavian simplicity and intuitive functionality. PLH Arkitekter's passion to create inspiring spaces that improve the quality of people's worklife and well‐being is evident in both the overall experience of being in the building and the comfort of using each space. From a human perspective, there is as strong sense of place and connectivity, with appealing spatial choices and variations. The environment naturally encourages collaboration, and together with its functional and multi‐purpose design is responsive to Maersk's diverse business activities. This is what PLH defines as inherently sustainable design, where users and organisations thrive. The site is the final piece of the puzzle on the Amerika Square precinct comprising a total of 150,000m2 of commercial and residential development on Copenhagen city's Northern edge. The building marks its presence with a striking curved corner towards the busy Kalkbrænderihavnsgade, and likewise towards the inner square behind. Thus creating a welcoming meeting with its urban context where residential, office, retail and restaurant activities blend together and interact with life on the square. Despite the rigid district plan and tight inner city site, the building is an oasis of daylight and inspiring vistas through its uninterrupted horizontal windows and glazed roof. The organically shaped atrium and open stair is fully lined with a seamless skin of ash acoustic battens creating a soft and intimate atmosphere that sets the tone for all the shared facilities lining this inner volume. The building's occupants are connected throughout the day as they use the cafés, team lounges, touchdown benches and meeting rooms that line the atrium across all five levels of office space. Flow, wayfinding, placement of service cores, light, colour and acoustics have been incorporated in all design decisions. Material and furniture choices, and varying room proportions combined with different lighting and sound moods, intuitively create different zones of activity. The "homey", and convivial feeling around the informal cafes and meeting spots, juxtapose the work areas which are calmly zoned behind the cores and, with their cool blue colour palette, have a fresh, soothing vibe for concentrated work. Extra high ceilings around the perimeter draw maximum daylight into the work areas, and amplify the stunning views across Øresund Straight and the city. The general office lighting is a PLH designed LED fixture which is integrated into the chilled ceiling baffles, creating a calm and uncluttered ceiling plain. The ground floor has an inviting focal point of activity with a specially designed sculptural element for informal meetings and collaboration. Here, leafy palm trees and high‐back cognac leather seats create a cozy local environment and contrast with the cool atrium flooring in "samba white" granite. A series of multi‐purpose meeting and innovation rooms surround the dynamic atrium and connect with the street‐life just outside. Two dining restaurants flank the facades towards the intimate Amerika Square and provide outdoor dining and views across to the neighboring residential and office buildings."