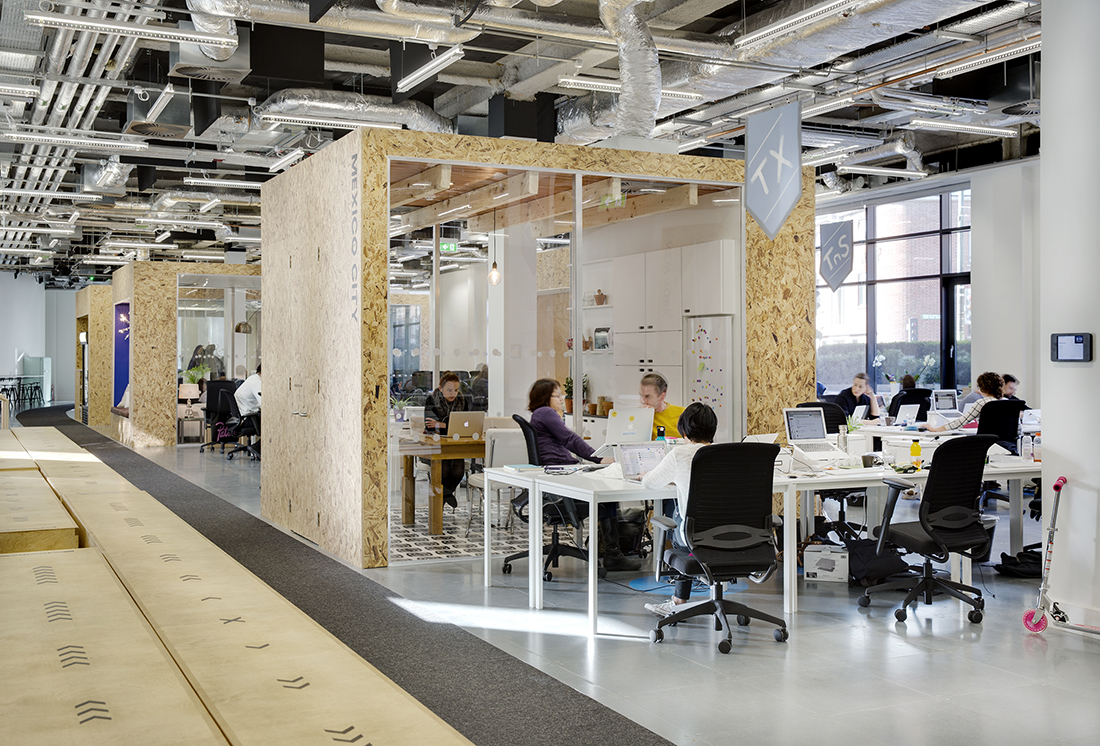 Airbnb's European Operations Hub in Dublin
Everyone's favorite home rental startup Airbnb has recently opened new European headquarters in Dublin. They were developed by Dublin and Berlin-based Heneghan Peng Architects and we think, that they have done a marvelous job. This huge office space (2000 square meters, which is approximately 21,000 sq feet) is situated in Watermarque Building in a neighborhood called South Loots. Our most favorite part is definitely the reception area modeled on an Irish pub with a horseshoe-shaped bar.
Here is an interesting description directly from Heneghan Peng Architects…
Meeting rooms inspired by Airbnb listings around the world channeled into individual pods dotted around the otherwise open plan office. Each pod has windows on two walls to allow for uninterrupted views of the office.
A dynamic and flexible work environment – including a meeting room, modeled after an Amsterdam apartment, which can be split into two separate spaces.
A bench from the Pavilion of Ireland's 2012 contribution to the Venice Biennale, designed by Heneghan Peng. The long 12-meter bench is constructed of 6 interlinked sections, 6 rotation-only fulcrums & 5 translation pivots. As users sit on the bench the height of each section alters, creating dips and peaks for user interaction.
A tiered all-hands meeting space, with the versatility to transform into an informal and relaxed working area, allowing staff to look out over the office.
Authentic references to the office's home in Dublin – including a reception area modeled on an Irish pub with a horseshoe-shaped bar (the floor uses three different styles of tile found in pubs from different areas) and traditional Irish telephone boxes.
Location: Watermarque Building, South Loots, Dublin – Ireland
Size: 2000 sqm
Date completed: April 2014
Design: Interior Design Fair
Architecture: Heneghan Peng Architects
Photos: Ed Reeve