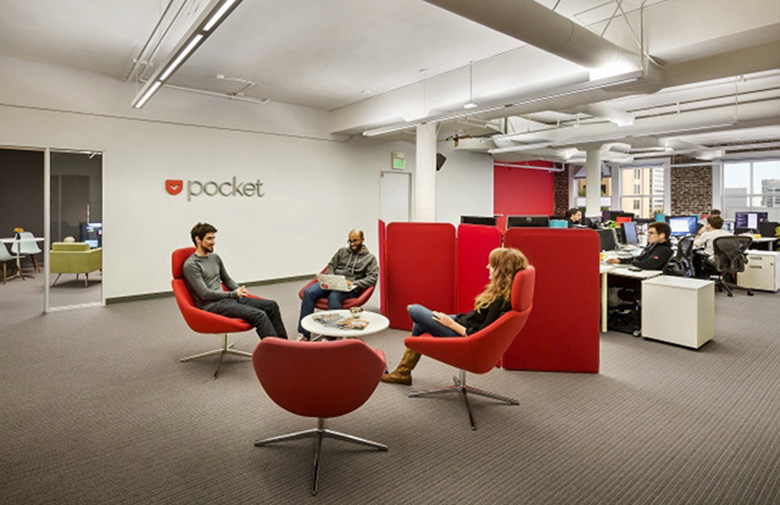 Inside Pocket's San Francisco Offices
Pocket, a company behind popular "read-it-later app" reached out to FENNIE+MEHL Architects to design their new offices in San Francisco.
"Small but mighty. That's proven tried and true for the Pocket team from day one, and it's the heart of what inspired their office refresh in downtown San Francisco. Pocket, an app that easily allows you to save web content for later, has an internal team of 20 that supports a growing count of over 20 million users. Talk about impressive! When Pocket came to Fennie+Mehl, their office space looked almost exactly as it had when they moved in. They were looking to transform their spec-suite-washed-out space into an environment that both energized and united their team. That being said, their lease term was short and they were ramping up for some serious heads-down rounds of fundraising. So F+M and Pocket put their heads together to determine the level of refresh that would give them the biggest bang for their buck. The result? A fresh coat of paint and furniture design solutions that revamped their space and brought their tight knit team even closer. Inspired by the company's recent rebrand, F+M color-coded each of their enclosed meeting spaces with a surprise pop of color on each of their doors in a 'just-the-right' amount of boldness. Pulling from the app's design-driven interface, F+M peppered the space with furniture design classics such as the new re-introduced Eames molded plastic chairs as conference seating. And with a new furniture layout and cozy comfortable furniture pieces in their break room, the space is finally being used for group hangouts rather than that deserted dusty room in the corner. Pocket's office is a great example of how the office environment can be quite totally transformed through thoughtful touches that capture the uniqueness of a company's brand and culture".
Location: South of Market – San Francisco, California
Date completed: August 2013
Size: 2,600 sq ft
Design: FENNIE+MEHL Architects
Photos: Robert Canfield