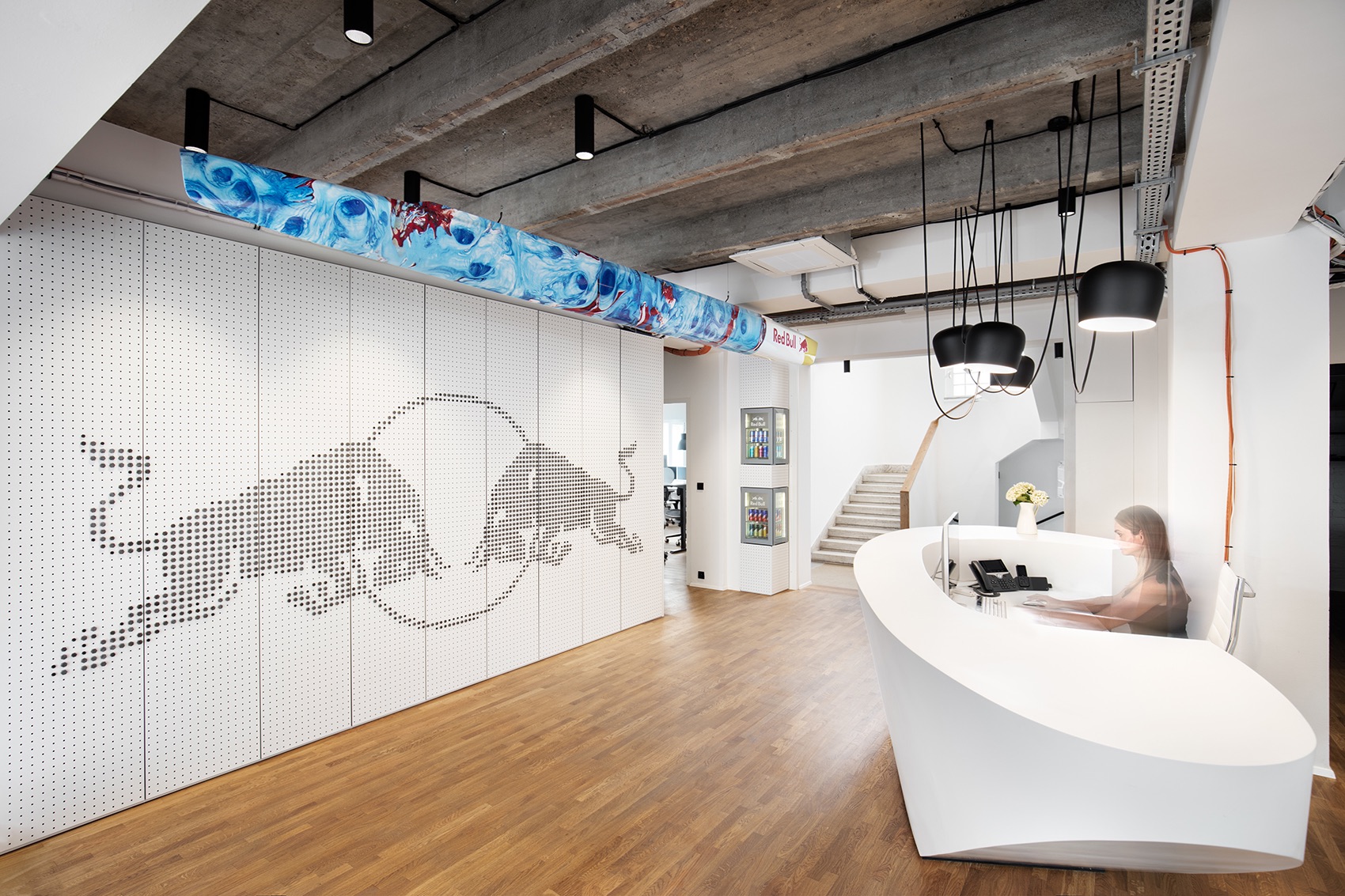 A Tour of Red Bull's Funky New Office in Prague
Red Bull, a global beverage company that manufactures the world's most popular energy drink, recently hired hired architecture & interior design firm Atelier Kunc Architects to redesign their office in Prague, Czech Republic.
"Funky, Industrial and Friendly

This headline precisely characterizes the project of redesigning Red Bull offices. We already designed the original interior of Red Bull offices 8 years ago and we were very delighted to be asked to innovate it. Eight years is a long time and since then, the style of the offices changed a lot and new demands emerged. Nowadays, offices are more about sharing, creating, informal and inspirational design. The line in-between "at home" and "in the office" is blurrier than ever before. Our new multi-space for Red Bull reflects these new trends fully.
Funky

Red Bull has its own characteristic culture, they create the whole lifestyle for a wide range of likely wised, sport-oriented and positive people. We enjoy this atmosphere and we used artifacts and design that reflects this mindset. Together with the colleagues from Red Bull, we looked for the best design pieces to achieve this creative and funky mood. The result is a new creative HUB filled with energy and ideas.

Industrial

Red Bull has the offices in original functionalism vila in Prague, Baba that had been taking every centimeter of interior. But we needed space. A lot of it. So, we decided to demolish – to the concrete, to the brick. We looked for space and we naturally ended up with the concept of industrial light interior. The original, great quality construction was preserved, and it has been mixed with raw surface and modern interior design.

Friendly

The space has been designed mainly for millennials. We focused on chilled working environment, where you can get a great cup of coffee or a can of Red Bull with your friends. This interior is about a huge community of people who share the same passion and lifestyle. It is about a friendship," says Atelier Kunc Architects
.
Location: Prague, Czech Republic
Date completed: 2019
Size: 26,909 square feet
Design: Atelier Kunc Architects

Photos: Josef Kubicek