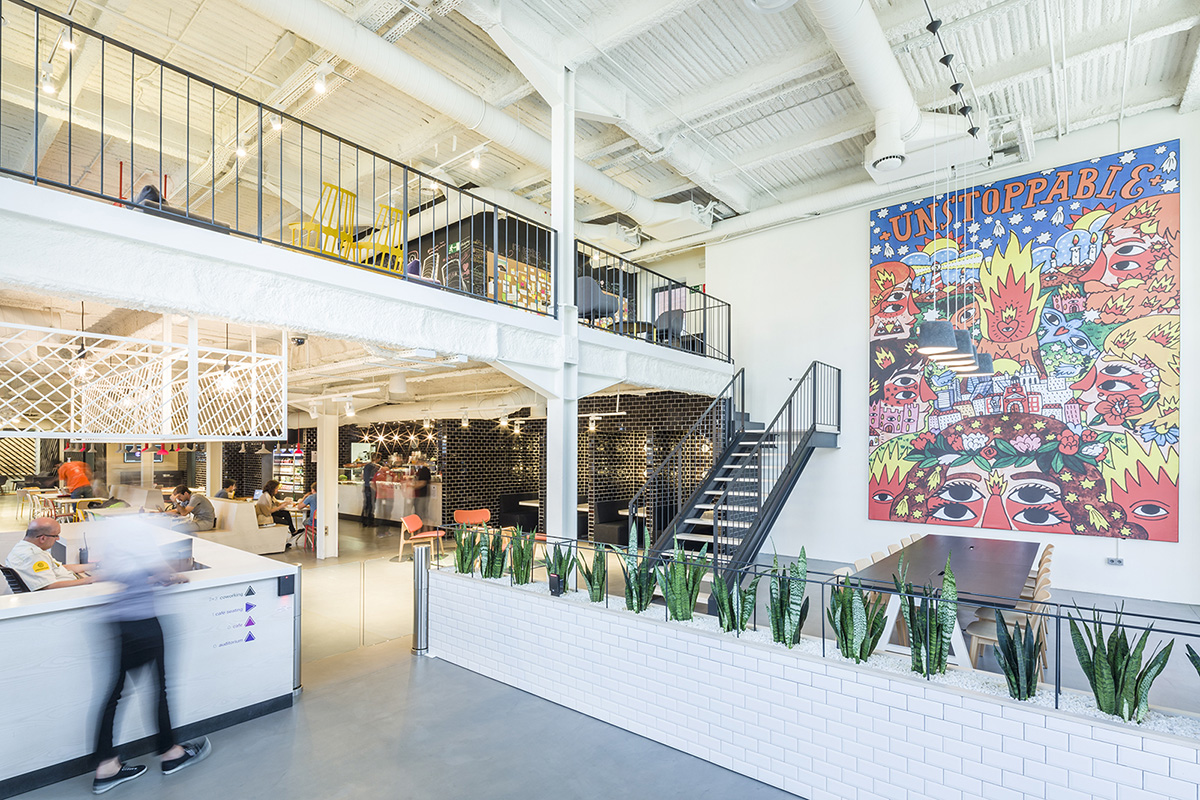 A Tour of Google's Beautiful New Campus in Madrid
Google recently opened its new, 27,000 square-foot coworking campus located in a former battery factory in Madrid, that provides a space for entrepreneurs to learn, share ideas and launch start-ups. The campus was designed by London-based architecture and interior design firm: Jump Studios.
"Inside the new entryway, visitors are met with a striking artwork by local artist Ricardo Cavolo titled 'Unstoppable', before they reach the Campus café, operated by healthy food provider DO EAT. The café includes relaxed lounge seating and private booths and is set over the ground and first floors. Pops of colour accompanied by raw materials including timber, help to create a fresh and relaxed environment. A feature 'cage-light' made of red steel is the centrepiece of the space running above a 7m meeting table. On the opposite (north) side is Campus' high-tech, triple-height, 200-person capacity auditorium. Here Jump Studios' design consciously retained part of the building's original internal structure, including steel ceiling beams, allowing for future floor plan extension in the case that more co- working space is needed. Conversely, a large curtain can be drawn across the auditorium room to create a smaller space for more intimate presentations. The auditorium takes advantage of the large, west-facing windows drawing in natural light; now double glazed to keep sound in, as well as out. Likewise, the auditorium's south-facing wall was designed to let light in, but has been cleverly designed to retain privacy. Its clean and bold graphic lines translate Campus' overall graphic theme, inspired by Madrid's streetscape. Nicholls notes, "Our design delivers a juxtaposition between the old and the new, where history merges with a contemporary style presenting a unique environment for Google's members." Campus Madrid's second and third floors are occupied by Google's members. Over these two floors, upholstered nooks for private meetings and bespoke mobile breakout benches create flexible working-spaces. Each meeting room has a colour palette inspired by famous Spanish artists including Picasso and Joaquín Sorolla y Bastida".
Location: Madrid, Spain
Date completed: 2015
Size: 27,000 square feet
Design: Jump Studios
Photos: Gareth Gardner