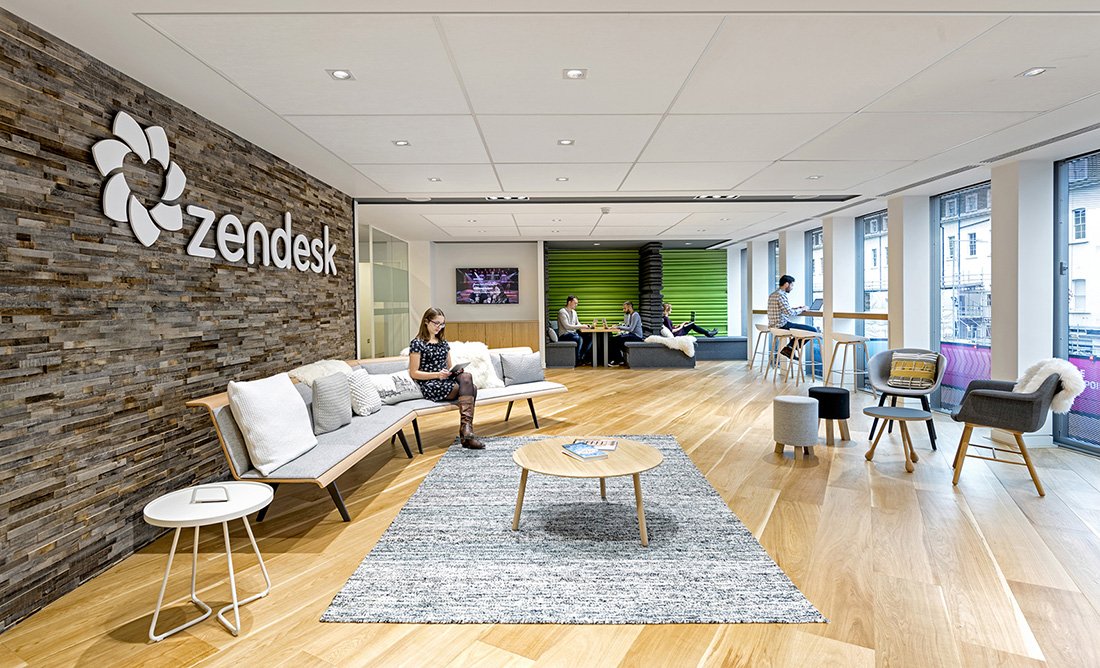 A Tour of Zendesk's New Super Cool London Office
Zendesk, a popular software development company that operates a cloud-based customer service platform that supports more than 60,000 businesses and over 300 million end users, reached out to interior design firm Blitz to design their new offices in London.
"Zendesk wanted the space to feel light and open, but also varied and textured. Focusing on the Danish concept of "hygge", which roughly translates to coziness, the design team delivered a project that feels more like a Danish- modern inspired living room than a corporate office. Unlike the other, larger Zendesk offices, the London location's small floor plate and shallow ceiling heights created a lower and darker environment. Due to limited space and the requirement to provide a large all-hands space, work cafe, and a variety of informal meeting spaces, it was especially important to infuse warmth and comfort through design while still maintaining a consistent experience with other offices. The entry is the central focus of the office and acts as both a hospitality-driven waiting area for visitors and an active work space for employees. A custom console at the entrance features a coffee bar providing more of a concierge style welcome to visitors entering the adjacent event space. An accent wall of reclaimed wood mimics a central hearth, adding a feeling of warmth to the environment. Custom millwork separates common lounge space from open workstations while maintaining visual connection and providing storage space. A variety of seating options including private booths, street facing laptop bar, and residential style seating encourage both collaboration and individual work settings. The cafe is a bright and open space that emulates a residential Danish kitchen. Adjacent is a bar inspired by the local team's favorite watering hole. The pub in question closed as design commenced and the team decided to translate the atmosphere and energy into the space. Clad in Shou Sugi Ban, the bar incorporates dark materials, recessed lights, and bronze foot rails. A large event space maintains the feeling of warmth and coziness while providing ample space for all-hands meetings and community events. Sliding doors open up the space to the adjacent quittance area. Felt accents are visually appealing and assist with acoustical control," says Blitz.
Location: Paddington – London, England
Date completed: October 2015
Size: 8,470 square feet
Design: Design Blitz
Photos: Jasper Sanidad