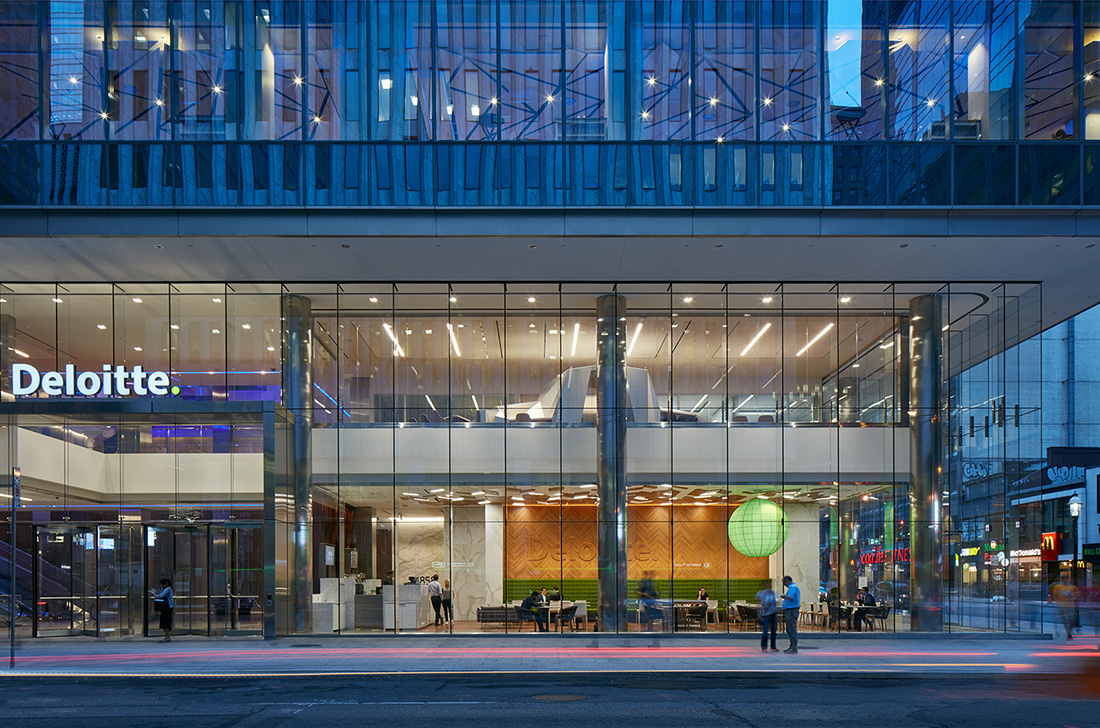 A Tour of Deloitte's New Sleek Toronto Office
Deloitte, a global company that provides audit, consulting, financial advisory, risk management and tax services for its clients, recently opened a new offices in Toronto which will perform as Deloitte's national headquarters and will be home to 4,000 staff, with room for expansion in the 27 storey tower.
"As a starting point, Arney Fender Katsalidis developed a podium concept at the base of the tower that allowed the creation of a six-storey contiguous interior atrium to be constructed as the heart for the organisation.Helping to activate the space, the atrium connects several amenities, including the Wellness Centre, Deloitte Greenhouse (an innovation lab area), Deloitte University, Bistro, Business Lounge, Outdoor Terrace, One Stop Shop and Conference Centre, and the colleague floors. In addition to the creation of the atrium, adding the lower level podium to the existing building allowed Deloitte to "own" the street. Arney Fender Katsalidis set out to invigorate a neglected corner of the city and interact with the local population, and has succeeded with the inclusion of a Deloitte-owned bistro at the corner of Yonnge and Adelaide. The designers have ensured visibility with floor-to-ceiling glazed walls and subtle branding, including a large green lamp emblematic of the Deloitte green dot as the focal point. The colleague floorsthemselveswere studied in detail to provide a range of spaces to suit the versatile activities of staffand create a flexibleworkplace, which is a clear step away from traditional professional service offices and an innovative feature for the Canadian market. With over 18different types of worksettings,an agile working strategy is employed. None of the desks are assigned to staff, but rather can be reserved in advance or ad hoc through Deloitte's specially acquired technology system –a significant investment made to make this way of working work.Worksetting choices include personal work areas, open plan workstations, enclosed offices, treadmill desks, sit-stand workstations, brainstorming rooms, think tanks, quiet rooms with closed doors, 'work with a view' stations and dedicated quiet zones".
Tip: We also featured Deloitte's Montreal offices few weeks ago. Check out the photos here.