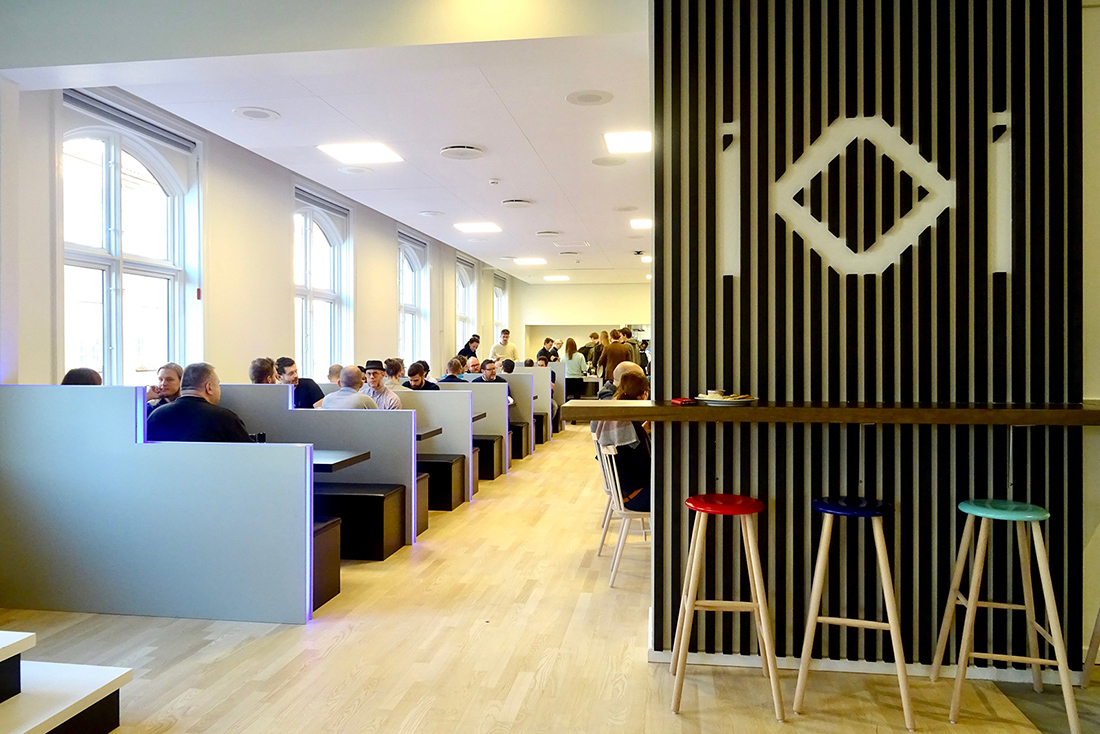 A Look Inside IO Interactive's New Copenhagen Office
IO Interactive, a Danish video game developer famous for its release of the Hitman series, recently moved into a new office in Copenhagen, Denmark, to fulfill the request of accommodating 50 more newly-hired workers.
"The 4800-square-meter all-purpose studio includes two on-site motion capture and sound studios, a cafeteria with kitchen and many meeting rooms and divisions of work spaces for different departments. One of the most eye-catching interior features no worker or visitor will miss is the gigantic staircase in the middle of the office leading to the second floor where a projector is located. The staircase serves as an easy way for workers to go up and down between the two floors, and acts as a meeting and gathering place for special events. The movable cushions and colorful sitting cubes on the staircase adds a touch of fun and energetic vibes to the working environment and contributes to a playful ambiance of the company. The other parts of the office, although unpretentious as they are mainly in plain and natural concrete, wooden or white colors, still serve all the functions well according to the needs. The Cafeteria on the second floor of the office have five types of dining tables and chairs (or bar benches) and a fully-equipped kitchen, providing the workers with the most enjoyable dining experience, even in a company setting. Large casement windows at the open working space let in bright sunlight into the office, welcoming nature into the indoor space as well as saving electricity on lighting. By virtue of displaying simplicity, minimalism and functionality, the office design expressed the essence of Scandinavian design, an important asset to the Danish people and society".
Location: Copenhagen, Denmark
Date completed: 2016
Size: 51,666 square feet
Design: Underdog Studio CPH
Photos: Christine Lin