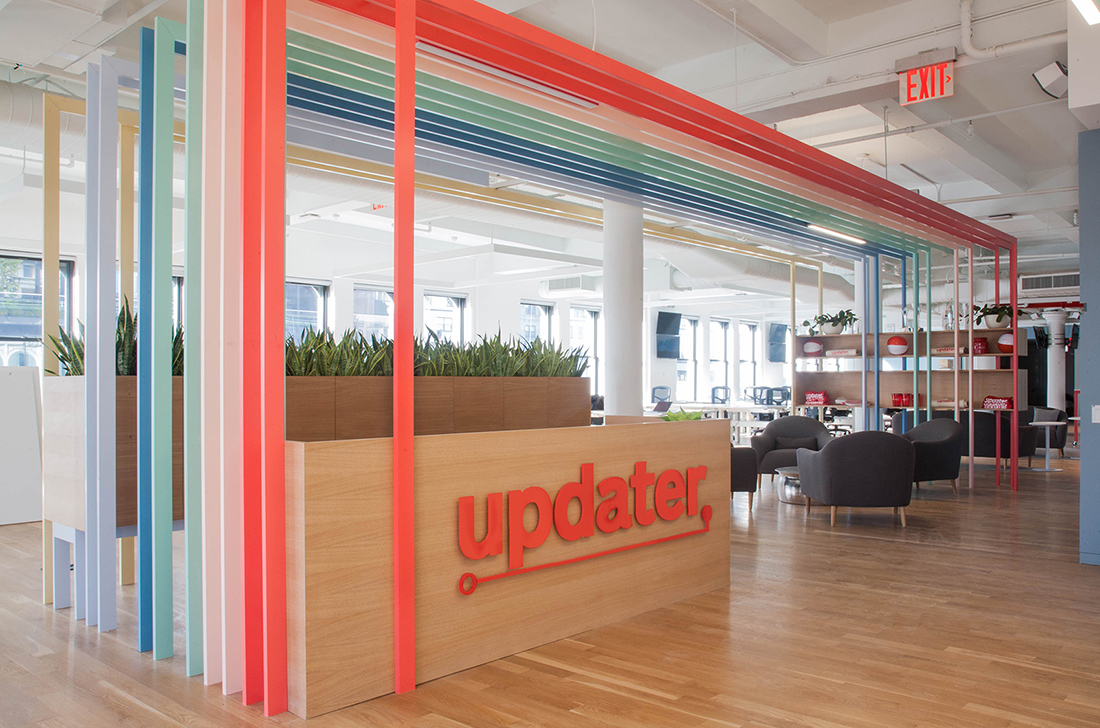 A Look Inside Updater's New NYC Headquarters
Updater, a technology company that makes moving easier for the 45 million Americans on the move every year, by transferring their utilities, updating accounts and forwarding mail, just moved into a new headquarters located in a custom-built Union Square penthouse, in New York City.
"Updater's new home will house 75 employee workstations, 8 conference rooms, multiple lounge areas and whiteboarding stations, an iPad conference room reservation system, stadium seating for team meetings and very importantly, top-of-the-line video conferencing solutions for Updater's growing remote team. In an effort to create a unique space, Updater customized the office buildout with the help of Carly Jacobson of TPG Architecture, who previously designed Spotify's New York Office. Additionally, Updater commissioned Eliza Blank, the green thumb behind Twitter and Kate Spade's workspaces, and Paul Maslov, the artist who laced Refinery29 and Venmo with his custom mill and steel work. Previously commissioned by the New Yorker, ESPN, and The New York Times, Updater challenged Greg Kletsel to create a custom mural that depicts Updater's exciting journey thus far and the comedy innate to the process of moving on the surrounding walls".
Location: Union Square – New York City, New York
Date completed: 2017
Size: 10,000 square feet
Design: TPG Architecture