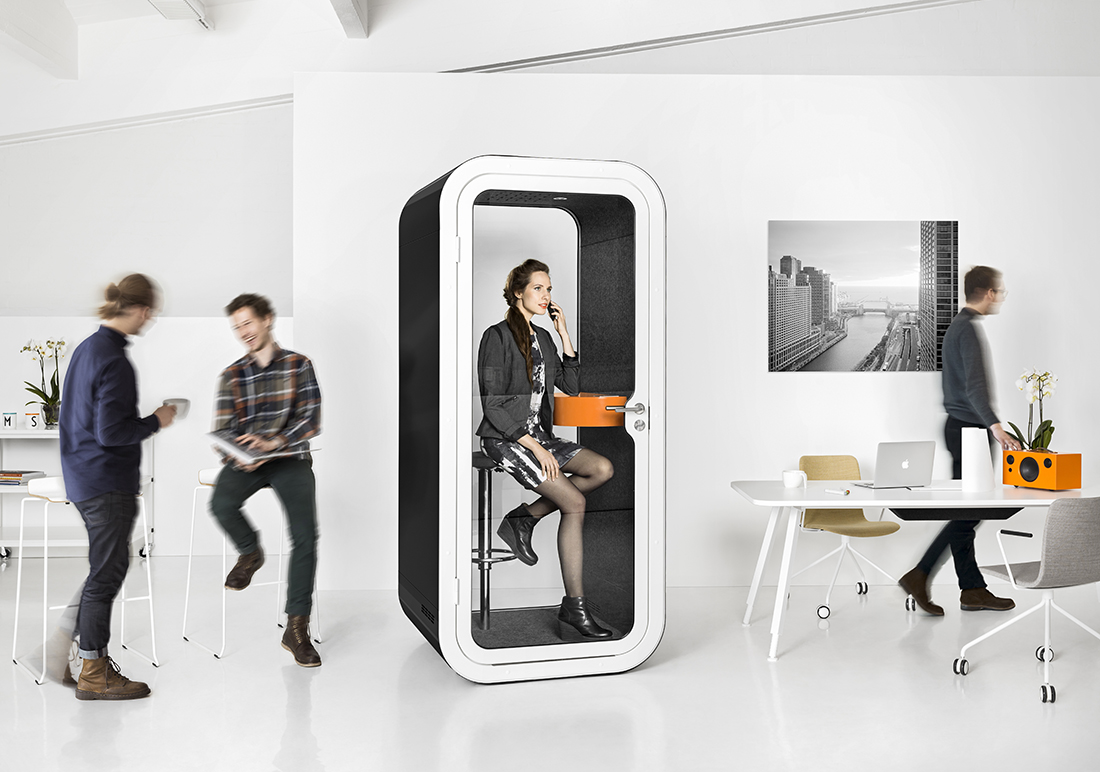 Ilkka Kaikuvuo from Framery: Big ideas sometimes begin from rather mundane insights
Framery is an innovative company that aims to create happy, productive workplaces by manufacturing phone booths and meeting pods that offer a quiet private space for calls and concentration. We recently sat down with Ilkka Kaikuvuo, the head of Framery's Research Center and talked with him about their products, office design and the future of workspaces.
Hello Ilkka, could you please briefly introduce Framery to our readers?
We create happy, productive workplaces by supplying sound privacy to open-plan offices
Currently, we have two solutions: Framery O and Framery Q. Framery O phonebooth is a perfect solution to have your discussions in privacy without disturbing your colleagues (for example, making important calls and participating in video conferences) Framery Q meeting pod allows people to have 2-4 person meetings, brainstorming sessions and important one-on-one conversations in private without disturbing the whole office.
You are a Finnish company founded in 2010, but your main market is probably in the U.S right? What brands and companies are you currently cooperating with?

Our products are available globally through over 140 of our licensed dealers around the world. The US is of course a strong market for us. In the US our products are used by Uber, Microsoft, Cloudera, Oracle, Dow Jones, CIC, PWC and Deloitte to mention a few.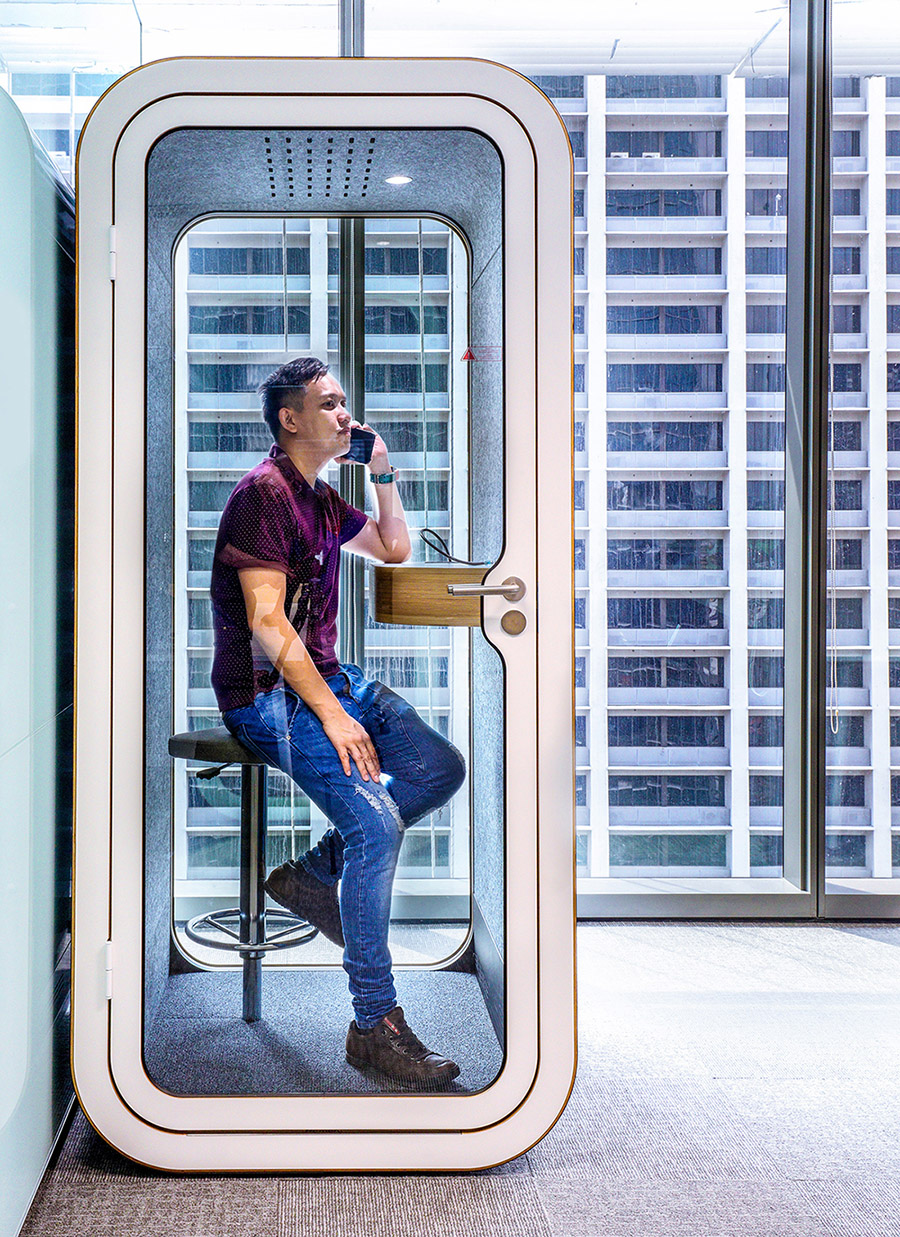 Your main product is this beautifully designed soundproof private booth. What exactly does this thing do?

Framery O is our one person, soundproof phonebooth. Framery O is perfect for having your discussions in privacy so you don't disturb your colleagues. Framery O is also a great place to concentrate on your own work in a noisy environment.

The booth includes all the equipment you need to make things easy – a table top, air ventilation system, electric socket and LED lighting. Framery O delivers an echo-free, fresh and comfortable working environment. Full specifications can be found on our website. You can also try out different designs of your own dream office phone booth on our product configurator: https://configurator.frameryacoustics.com

When and how did you come with the idea of developing Framery O?

Big ideas sometimes begin from rather mundane insights. The founders of Framery were constantly being disrupted in their work by their boss talking loudly on his phone in their office. This made it extremely hard to focus on demanding tasks. Realising that they weren't the only ones suffering from these kinds of distractions, they decided to fix this problem by developing a soundproof phone booth and starting out as entrepreneurs. After hard work, countless hours of development and tireless rounds of iterations, Framery O was born.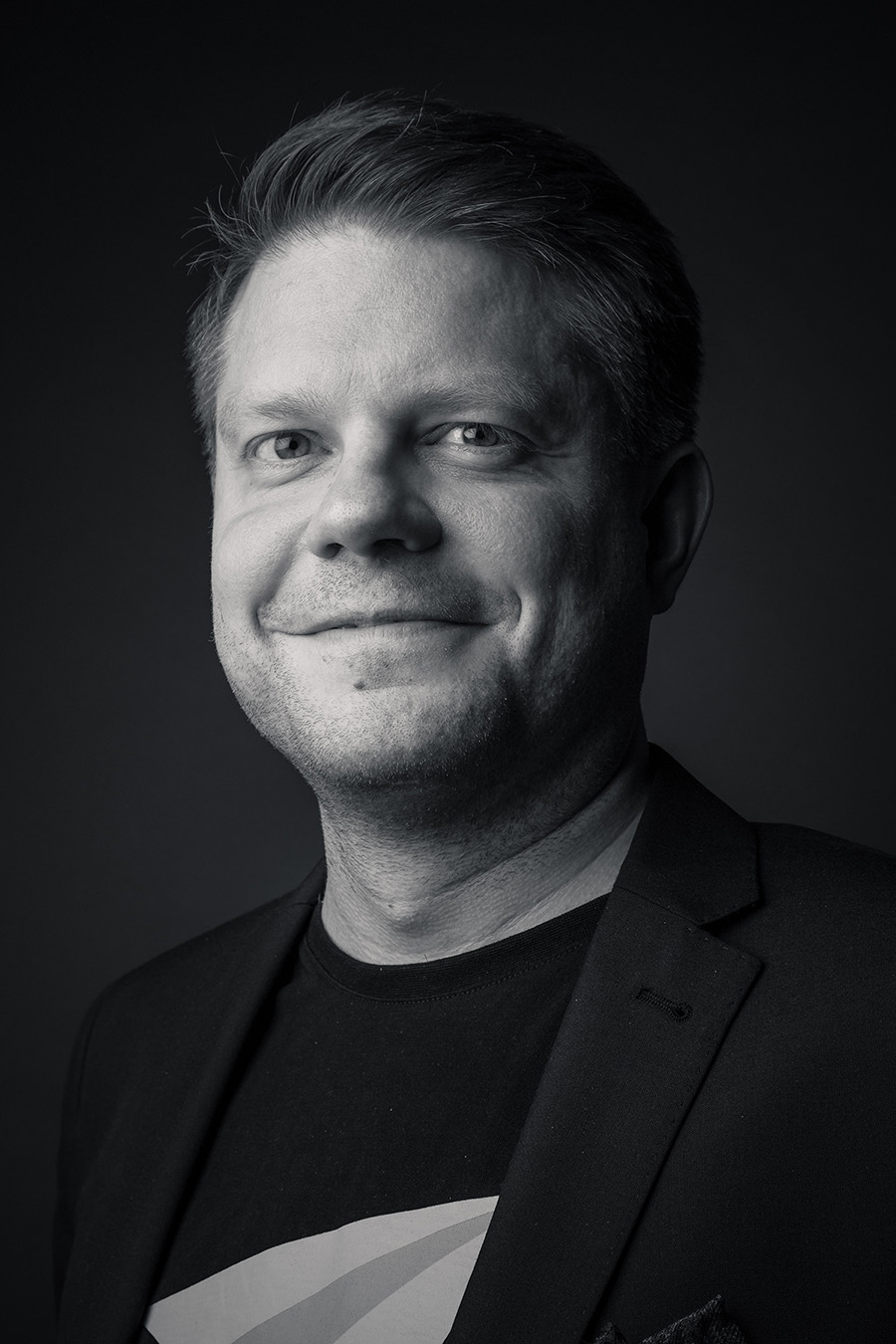 What material are the booths made of? It seems to me it is probably very expensive to manufacture something like this…

The glass elements of the booth are sound control laminated glass. The exterior of the booth is painted sheet metal or brushed stainless steel. Frame is made of formica laminate on birch plywood with varnish trim. Walls and roof of the Framery O are a sandwich element of sheet metal, birch plywood, recycled acoustic foam and acoustic felt.

All materials and designs are carefully selected to a very high-quality standards to make sound insulation effective and the product pleasing to use and integrate as a beautiful part of your office. Producing high-quality products is of course always expensive, but we thrive to keep our prices affordable and competitive.

What do you think are the current office design trends?

Office design is shifting away from open plan only solutions to more human-centric offices that enable various kinds of work task to be completed effectively in the same place. Instead of either-or solutions, offices are designed to accommodate different uses in harmony.

Designers are more and more realizing the need to make design choices in a human-centric way: making the office adapt to different kinds of working styles and task instead of forcing the worker to adapt to an office that doesn't support modern knowledge work.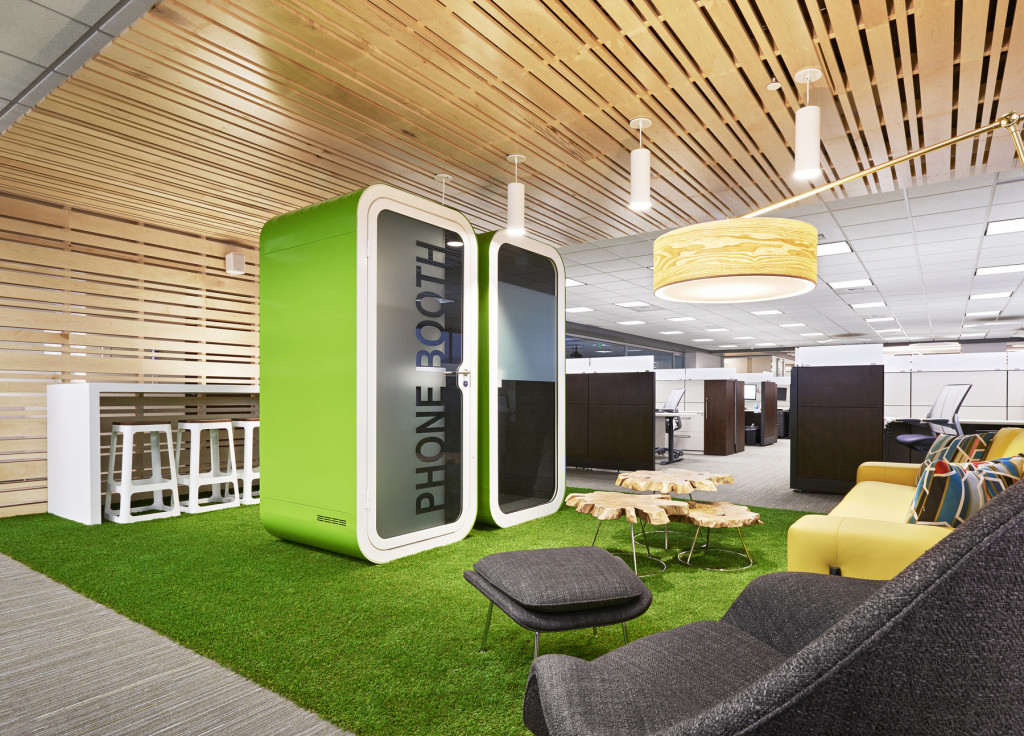 These days many companies invest a big amount of money into their office environment. What do you think is the main reason for that?

Most of us spend around 40 hours at work each week. Much of this time is spent at the office. Naturally, this means that the office has to be a place where great work gets done and where employees feel happy and productive. I think we can all agree that this is a worthwhile thing to invest in.

I think that it's not about having a cool looking office per say. It's more about having an office that accommodates the needs of modern knowledge work and is a pleasant and productive environment for employees to spend their days. The excitement of having ping pong tables and all the latest gadgets fades away quick, but having a functional (and cool looking) office space carries on much longer.

Aesthetics, is of course, important at first, when attracting the best talent, but the foundations have to be in order too. The office needs to be a place that allows great and fulfilling work to get done, not just a cool looking place.

What are the common mistakes companies make when looking for a new office space?

A common mistake is to have a strict either/or philosophy about the design of a certain space. The office is often considered either a fully open plan office with fixed meeting rooms or it is a collection of office rooms.

The same office real estate can accommodate a wide variety of uses with human-centric design and non-fixed solutions like phone booths and meeting pods. With non-fixed solutions, the same space can also be altered to offer a solution to changing demands in the future, with minimal costs.

What do you think is the future of workspaces?

In the future, office real estate is a resource that is used more efficiently. Gone are the days of massive open plan offices full of wasted square meters of dysfunctional space. The design of the space is also done in a manner that enables the layout of the office to adapt to changing demands, for example, by utilizing non-fixed furniture & meeting rooms, phone booths and other elements that can be rearranged easily.

Do you think there will be a moment in the near future, where people will work exclusively from their homes?

Working flexibly from home or other places other than the office will become more common, but the office won't probably go anywhere. Digital communication and telecommuting have advantages, but so does human to human interaction and collaboration in real life. The way that the office is designed will however change to better enable collaboration and deep concentration in the same space.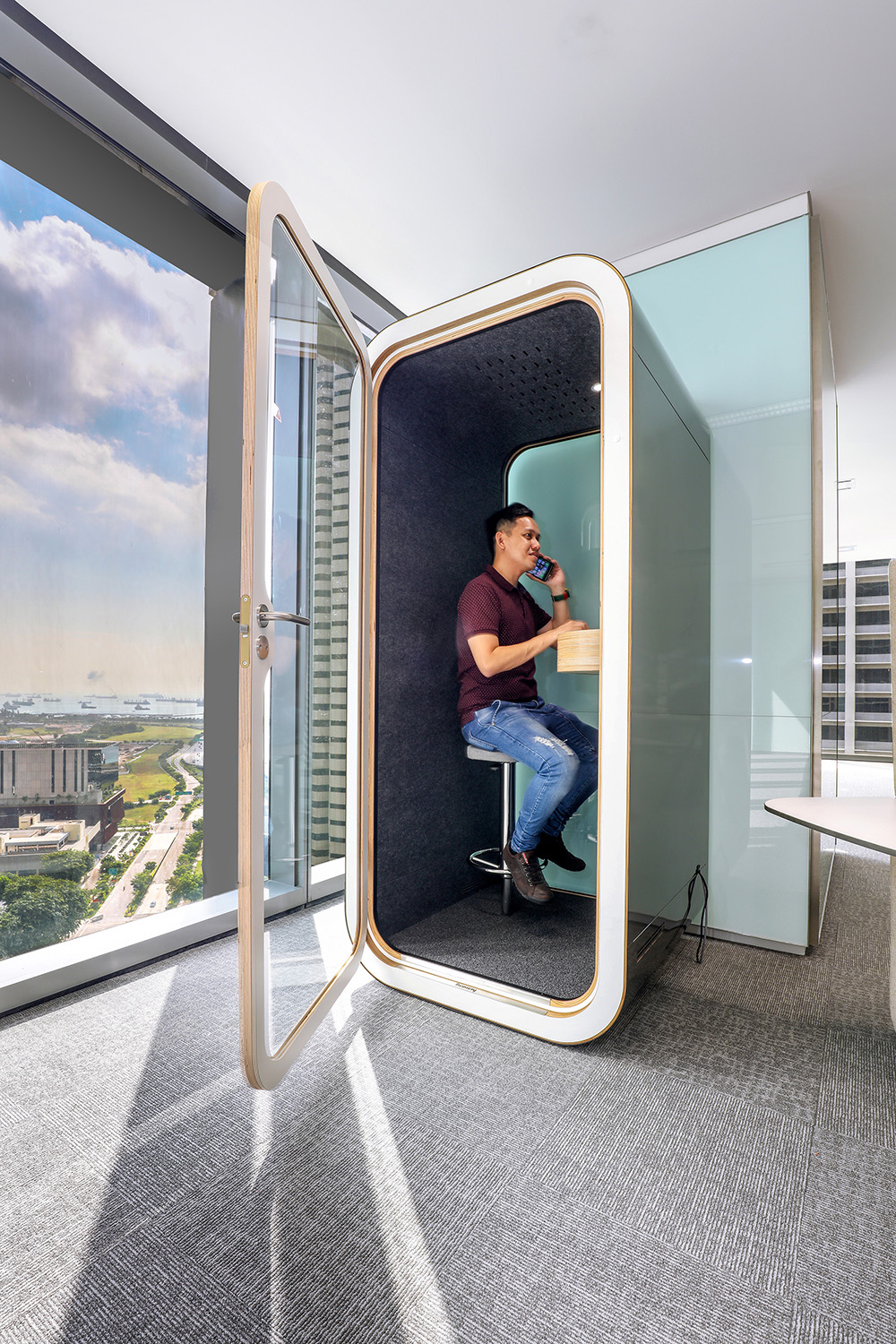 How do you feel about this recent coworking trend? It seems like working in coworking environment is becoming a preferable choice not only for creatives and professionals but also for many large, established companies…

Co-working spaces that are designed in a human-centric way, are great for various kinds of creatives and professionals. The existence of co-working environments reflects that office spaces and human to human connections still have a place in the modern working environment. For global companies that have people in various locations, it is a great option to have satellite offices in co-working spaces, rather than forcing people to move to their main office locations.

Do you think coworking could be the future of workspaces?

Office space is expensive, and most of the real estate is often unused or it's utilised very little. In the future, companies will use the available real estate more effectively to accommodate different types of uses and work tasks in a productive way.

Let's say a company wants to buy 5 of your phone booths and have them installed in their offices. What do they need to do and how does the whole process look like?

The first thing to do, is to visit our online configurator: https://configurator.frameryacoustics.com

There you can configure our own dream office phone booth. Once you have a design set, you can request an offer. We will answer the request in cooperation with our local dealers.

You can test drive the phone booth at any of our 140 local dealers around the world. Once you have made your decision, the phone booths can be delivered in 2 weeks at the fastest (depending on your location). The phone booths can be assembled during a normal work day without any inconvenience to your normal business. Assembly is included.

Thank you for your time

Thank you