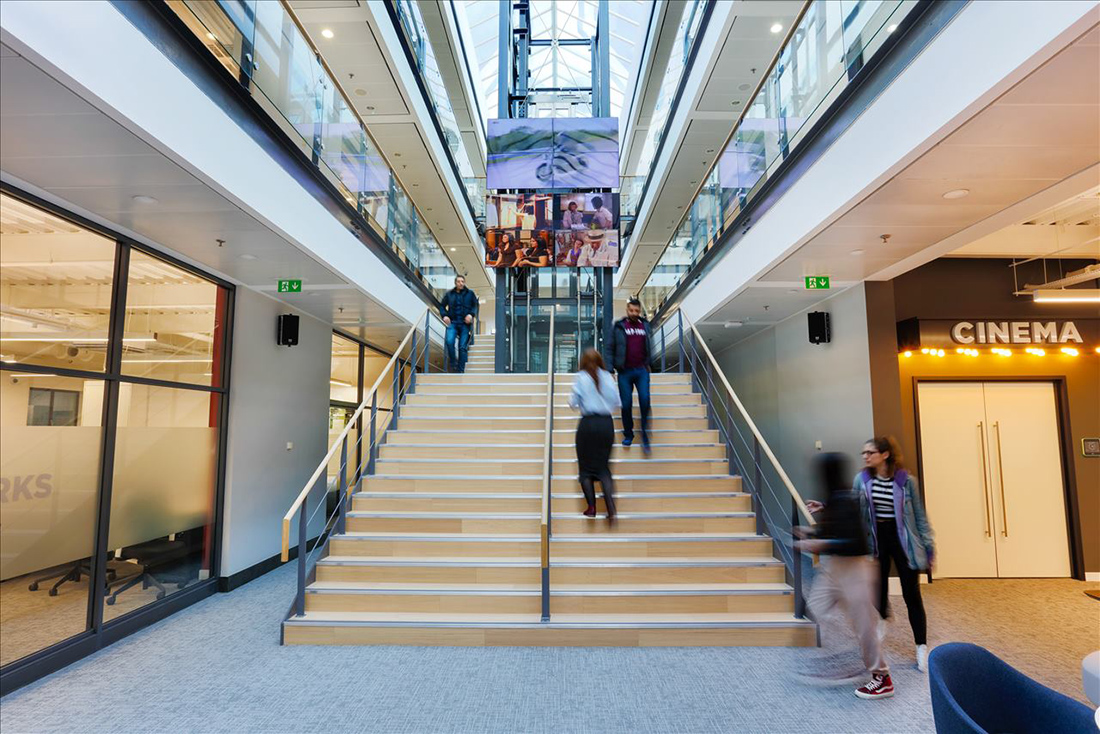 A Tour of AMC Networks' New London Office
AMC Networks, a popular entertainment company that produces programming and movie content such as The Walking Dead, Breaking Bad and Mad Men, recently reached out to office design company Morgan Lovell, to design their new offices in London, England.
"When you enter the office you're greeted with a double-floor staircase that's doused in natural light flowing through from the glass atrium above. This staircase is clad in a natural wood finishing which seamlessly joins all three floors together. This allows staff to easily move around (and not have to continually wait for the lifts) while also increasing the sense of open space. The open space was also the perfect place for eight over-sized TV screens to showcase AMC's programming throughout the day. The workstations reflect a philosophy of openness, as they've been set in an open plan layout with minimal partitions to interrupt a clear view across the floor. AMC was also keen to bring staff from private offices out into the open plan layout. To facilitate this, we designed a range of 'hot offices' and small meeting rooms that're perfect for conference calls, and quiet or private work time. Flexible breakout areas have been designed to encourage collaboration and spontaneous catch-ups, along with multi-purpose meeting rooms that facilitate different meeting styles. AMC also wanted a space to host launch events and screenings on site, avoiding the need for external venue hire to entertain clients or host a preview screening. We designed a cosy 15 seat preview cinema, complete with heavy fabric curtains to add an element of luxury and block out any unwanted sound from the surrounding office. Not only is this more cost effective, it adds to the client experience as they can see first-hand the professional and creative environment under one roof. Staff have immediately taken to the cinema as a cool place for keynote presentations and they've even launched an after-hours cinema club! Natural light flows freely throughout the building, which helps create a healthy environment. Glare reduction was a big consideration for the production teams, who spend their time editing on-screen footage. We overcame this by placing solar film on the windows, using ambient lighting, and glare-reducing black desks to help combat unwanted glare. This allows the teams to have the best of both worlds; getting a dose of vitamin D, while staying as productive as possible", says Morgan Lovell".
Location: Salusbury Road – London, England
Date completed: 2017
Size: 25,000 square feet
Design: Morgan Lovell