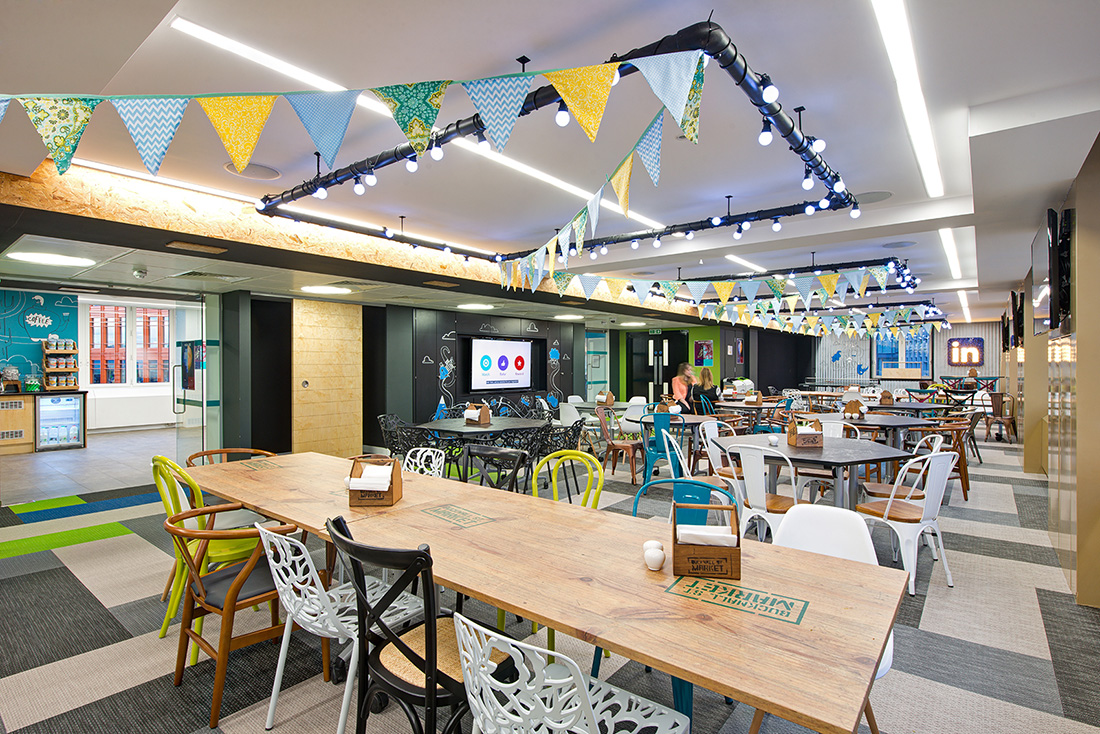 A Tour of LinkedIn's Sleek London Office – Phase Two
LinkedIn, the world's largest professional social network that allows its members to create business connections, search for jobs, and find potential clients, recently hired office design firm Denton Associates, to design a second phase of their London offices.
"Realising the brief and exceeding our client's expectations was successful due to our meticulous attention to detail. This is made apparent through our seamless integration of our clients branding and ethos into the wider design scheme. For instance, the 'Recording Studio' meeting room displays an array of records and all plaques are inscribed with LinkedIn's milestones. Acknowledging LinkedIn is built around professional communities, we commissioned local artists to illustrate the narrative of each of the themed floors. These being: Transport, Music, Book & Film, Food & Drink and Sport. The Reception floor was themed as 'London' and consists of an open bus tour's worth of the city's landmarks as well as training facilities and a hospitality area in the style of a trendy London café. The floor features conference rooms replicating of Kew Gardens and districts such as the iconic Southbank – the concrete jungle where seating is provided in the style of a skate park ramp emblazed with graffiti. The intention is to give individuals a view of London from the perspective of a tourist before the 'real' Great Britain is revealed later on throughout the building. The 'Underground' room on the Transport floor incorporates the iconic curved tiled tunnel wall resulting in a dramatic design feature. Anyone who has been lucky enough to grab a seat on their commute will recognise the bold choice of fabric used. The Music floor meeting rooms differ in genres from jazz in 'Ronnie Scott' to hip hop in 'Slick Rick' – the variation is extreme. Our passion and commitment to the finer details produced bespoke lighting created from brass instruments, personalised high top boots in 'The Clash' room and the use of glitter floor tiles resulting in everyone insisting on a full lap of 'Ziggy' before sitting down, amongst other ideas. Each of the meeting rooms on the Book & Film floor is present within the giant collage situated on the entrance wall. This piece gives individuals clues as to what you they expect to find in the other rooms such as, 'Wonderland' and '1984'. On the Food & Drink floor, street markets are the main focal point; a combination of rustic materials, custom made lighting and graphics are utilised to create a feast for the senses. The classic British institution 'Wimbledon' room on the Sports floor displays vintage rackets as a bespoke ceiling light feature designed by a member of our team. Informal meeting zones are positioned centrally on each floor providing alternative working environments for staff who require flexibility," said Denton Associates
You can see the photos of Phase 1 here.
Location: Central London, England
Date completed: 2017
Size: 70,000 square feet
Design and photos: Denton Associates