Menekuni permasalahan branding serta permasalahan harga jual tiap- tiap web serta game. Permasalahan branding pula wajib dapat dipelajari lebih lanjut supaya esoknya banyak yang terpikat pada game gambling agen sbobet terpercaya taruhan online ini. Perihal ini hendak membagikan akibat lain semacam banyaknya era yang hendak berasosiasi ke dalam game sampai banyak orang yang turut mensupport game gambling duit asli dalam kompetisi yang terdapat.
Semacam metode intersepsi, metode mengutip ataupun membersihkan bola pula ialah metode yang bermanfaat buat bertahan dari serbuan yang dicoba rival. Tetapi, Kamu pula wajib berjaga- jaga kala agen bola melaksanakan metode ini, sebab dikira amat beresiko. Bila Kamu melaksanakannya dengan salah, Kamu bisa menyakiti rival Kamu serta Kamu dapat memperoleh kartu kuning dari penengah.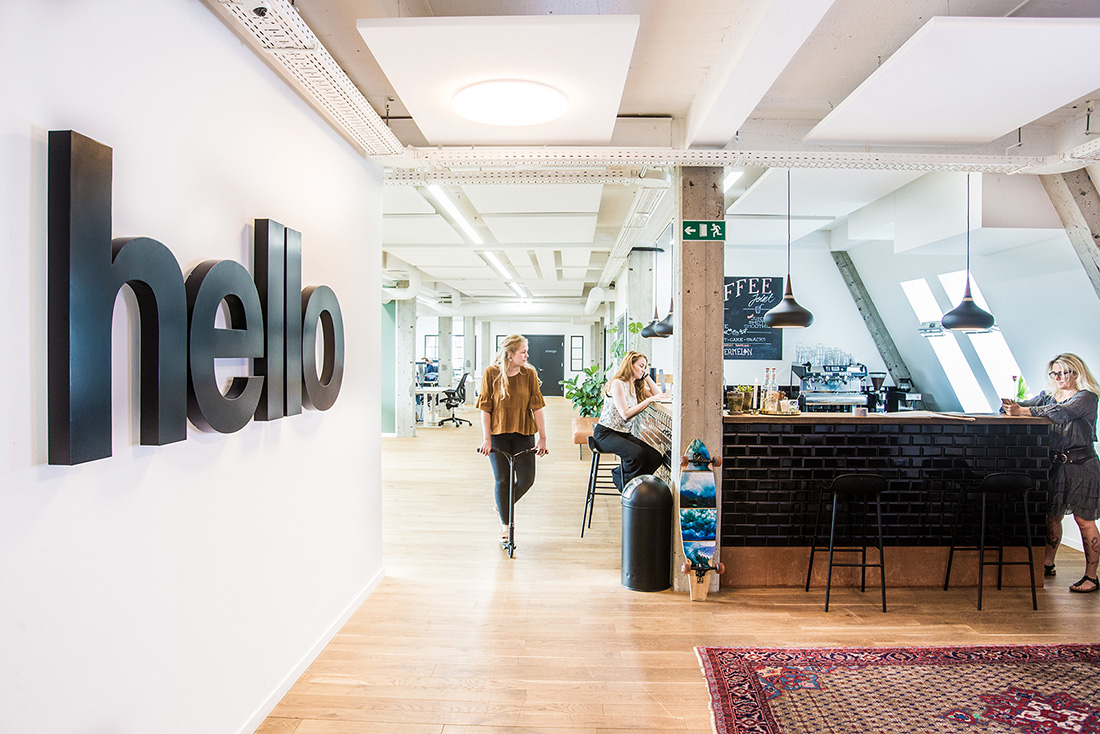 An Inside Look at Hello Group's Hip Copenhagen Office
Hello Group is a strategic design company of thinkers, designers and craftspeople that helps clients design digital products, services and business ideas that empower, delight and move their customers. The company's head offices are located in Copenhagen, Denmark.
"First impressions count. And when visitors enter Hello Group's expansive fourth floor office space, the natural light pouring through the large windows, the unimpeded views over the tree tops of Amager common, and the aroma of freshly ground coffee from the in- house café make a welcoming impression. Located in Islands Brygge, a harbour area in central Copenhagen, the 1600m2 space in an old hosiery factory from 1935 is both a workplace and social playground for the company's 70 employees, and their visitors. The focal point of the office is the café bar and an informal lounge area furnished with low leather sofas and velour pouffes. A row of black scooters stands neatly parked across from the café, ready for anyone to grab to scoot from one side of the office to the other. The white walls and ceilings impart a clean Nordic feel, and the exterior black window frames also feature in the war room office spaces that line the inner side of the space, which looks down onto a small outdoor quad at ground level. Black radiators provide a stark contrast to the white surfaces, concrete columns, and raw brick walls. The outside is also welcome indoors, with large pot plants adding subtle colour accents, alongside the odd bike, Copenhagener's preferred form of transport. Chairs and sofas are strategically placed around the office for informal meetings, or as an alternative work space. Ping pong and foosball tables are in constant use, and add a fun element. Breakfast is served each morning in the open kitchen area, which also serves as an informal meeting or work area. Music is a central part of the Hello Group culture, and each year the company attends Roskilde Festival, the largest music festival in northern Europe. Photos from previous years are displayed in the kitchen, and the three largest meeting rooms are named after the festival's stages."
Location: Islands Brygge – Copenhagen, Denmark
Date completed: May 2016
Size: 17,222 square feet
Design: WallNut Space Design, Line Stützer & Cecilie Goodley Dannisøe
Photos: Julius Bech