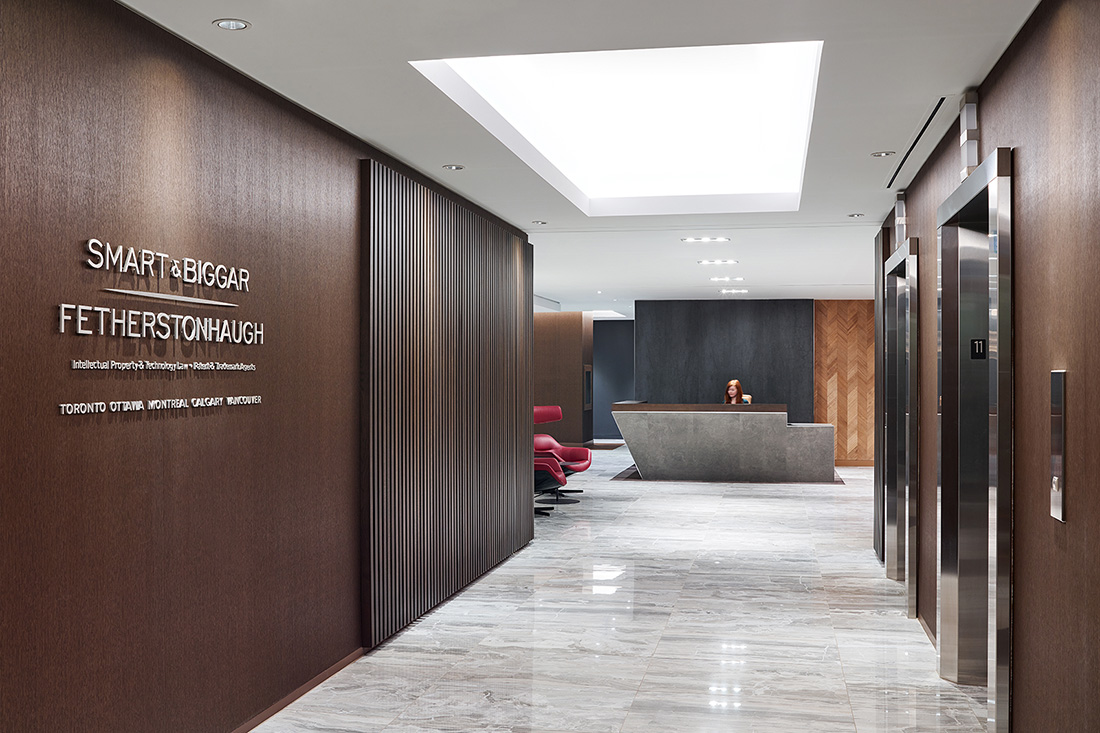 Inside Smart & Biggar's Sleek Toronto Office
Smart & Biggar, a Canadian law firm that specializes exclusively in technology law and intellectual property, hired interior design firm SDI Design to design their new office space in Toronto.
"Smart & Biggar leverages sophisticated back office technology to enable a paperless practice, allowing real estate formerly used by files and storage to be reallocated for people. As such, the "front of house" area was designed to be spacious and flowing, with a generous reception area moving transparently into a café space that is shared by all. This transparency permits the interior reception area to borrow ample daylight from the perimeter windows, and it allows clients to feel welcomed into Smart & Biggar's Toronto home. There are no "corner offices" here. Lawyers, patent agents and other professionals work in offices of the same size, regardless of seniority. But with a nod to the firm's 100-year history, a small portion of the former law library is lovingly preserved in display shelving. The back of the house is arranged in a more traditional layout, yet shared meeting and library spaces are positioned to provide staff with maximum access to daylight. Several spacious meeting spaces are also accessed from reception, with the waiting area simultaneously providing adequate room for several groups while offering a lounge-like atmosphere with a sub hierarchy of more intimate seating areas. With the use of polished stone flooring the ground plane of the reception and waiting areas are solidly anchored in rock. Outcroppings common to the Canadian Shield are rendered in a crisp long wall of marble. The balance of the walls are clad in oak veneer, cradling the visitor within a protective clearing of the venerable ancient forest. An allusion to falling water becomes a screen to enhance intimacy within the space, the water collecting in blue pools which anchor the primary seating areas. Overhead, twinkling light is filtered through the tree canopy. Passing through the trees leads one to areas of prospect, the meeting rooms, with views out over the surroundings. The café, with its wood floors and comfortable seating, provides shelter, sustenance, and company. Naturally, for a business that is as focussed on today and tomorrow as its past the design must avoid overwrought cliché, so these concepts are interpreted and rendered into a sophisticated and contemporary vocabulary".
Location: Toronto, Canada
Date completed: 2017
Size: 18,000 square feet
Design: SDI Design