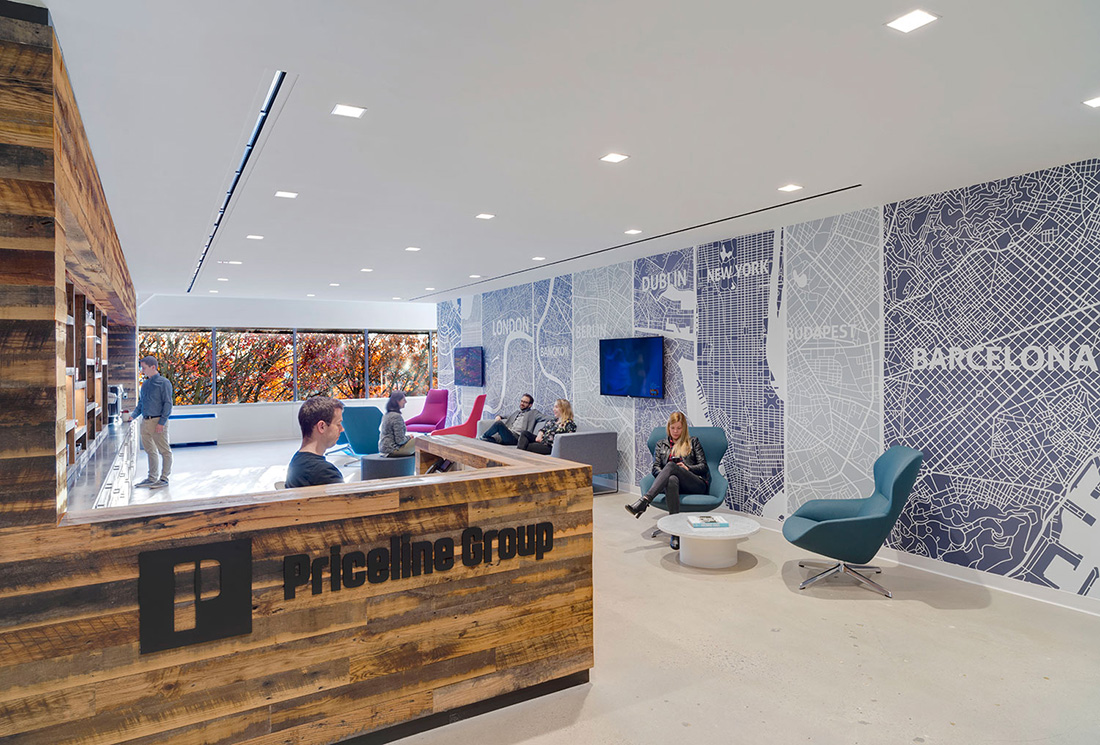 A Tour of Priceline Group's Sleek Norwalk Office
Priceline Group, an American company that operates popular travel and booking platforms: Booking.com, Priceline.com, agoda.com, KAYAK and OpenTable, hired architecture & design firm TPG Architecture to design their offices in Norwalk, Connecticut.
"TPG developed a design concept based on Priceline Group's mission to help people experience the world. The concept was to create a space for the "Urban Traveler" who travels the world collecting experiences. TPG's Branding and Graphics Studio performed extensive services on this project, including the creation of original artwork and signage, and the curation of hundreds of rare and interesting objects which celebrate the client's mission and ultimate-ly bring the creative vision to life. The result is a coordinated branded workspace that encourages community among the staff, blurs the lines between work and play, and celebrates the company's enthusiasm for global travel.The reception area features a welcome lounge and coffee bar for use by both guests and employees. A wooden feature wall behind the reception desk provides a showcase for a curated collection of travel souvenirs, which can be expanded as Priceline Group's own staff populate it when their own travel memorabilia. Conversation pieces also populate shelv-ing space in the café, which was designed to bring people together all day long with its comfortable booths and kegerator. Employees can use the space for focused work, collaboration, or even to relax and socialize in an environment designed to invoke exotic global destinations. The new program provides myriad spaces for collaborative work in-cluding open lounge areas and perching counters. Conference rooms, huddle rooms, teleconference rooms, and phone rooms all feature whimsical travel related wall details designed by TPG's Branding and Graphics Studio".
Location: Norwalk, Connecticut
Date completed: 2016
Size: 20,000 square feet
Design: TPG Architecture
Photos: Adrian Wilson