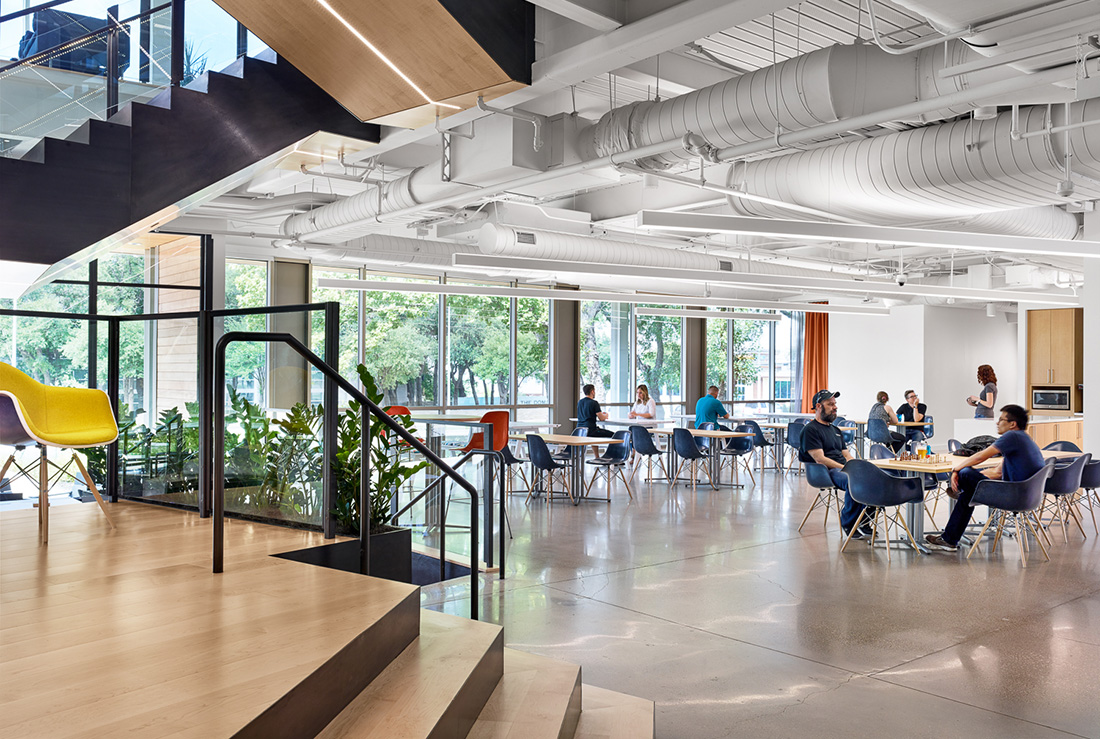 A Tour of Trend Micro's Cool New Austin Office
Trend Micro is a global software company that develops server security, cloud security, and small business content security solutions. Because of the acquisition of one of HP's divisions, Trend Micro recently reached out to interior design firm lauckgroup, to design a new, softly branded, open workspace in Austin that could facilitate the merging of two company cultures.
"The resulting office space is both bright and refined, featuring a multimillion-dollar, monumental staircase that serves as the main focal point of the Austin office and connects all three levels of the building together. Architecturally, the massive stair was wholly engineered from conception to execution to ensure there would be no need for suspension from the building to preserve the openness of the space. Fine details were added, including linear light fixtures under the steps and handrails, which transform the staircase into a highly-detailed, engaging piece of structural art. As the main focal point for vertical circulation, the intricate staircase is surrounded by interactive opportunities for employees. Grounded in the break room, the dynamic run of stairs staggers up the center of the building, lined by open seating lounges and hydration stations. A platform stage was built to incorporate a programmatic element, allowing approximately 300 people to congregate for office-wide meetings. Surrounding the stair are a series of conference rooms, utilized for a variety of different purposes. Each room is outfitted with occupancy sensors to ensure that the lights are off when rooms are empty, preserving the energy being used in the space. To further the idea of energy innovation, lauckgroup incorporated an LED lighting system throughout the space to supplement the massive amount of natural light flooding the office through high performance glass walls. The team was careful to position workstations and collaboration zones in a way that would provide each employee access to natural light. Living walls and planters with their own plumbing and filtration system were constructed throughout the office. The greenery features clean air plants to improve the overall air quality in the space, reducing the need for additional high-energy air purification systems. In addition, lauckgroup took special care to outfit the office's wellness spaces with Trend Micro's diverse workforce in mind—the private rooms face Mecca and are large enough to accommodate prayer mats," says lauckgroup
Tip: We also recently featured Trend Micro's San Jose office. You can see the photos here.
Location: Austin, Texas
Date completed: 2017
Size: 75,000 square feet
Design: lauckgroup
Photos: Casey Dunn