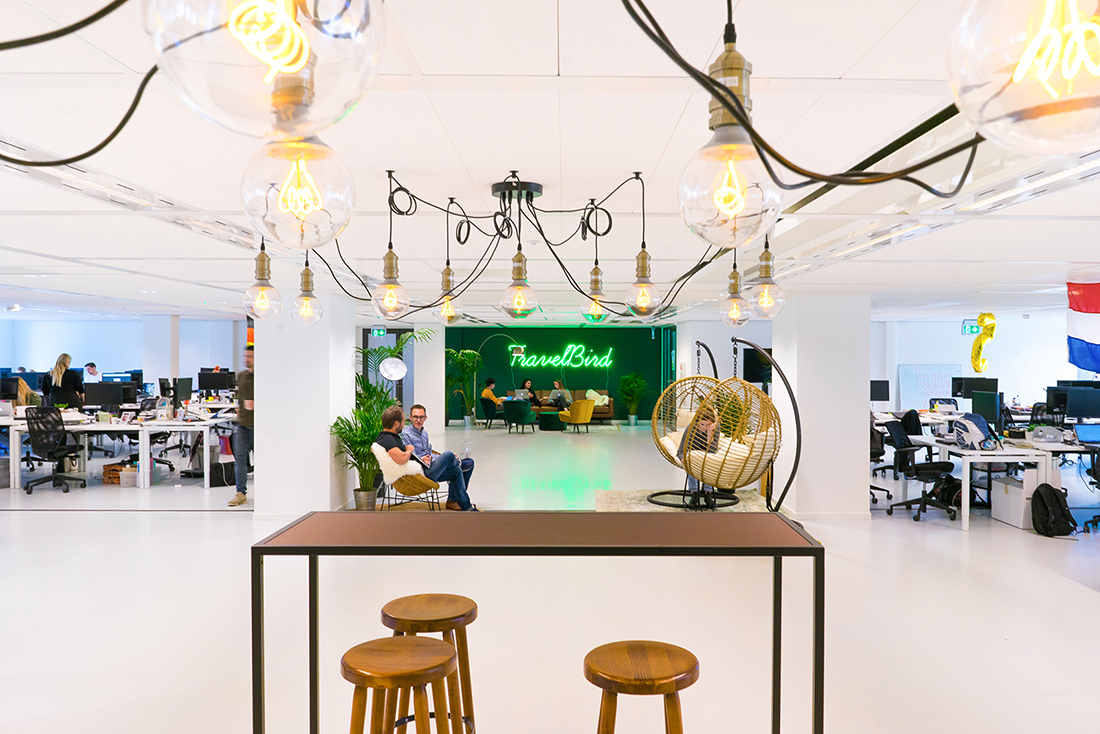 Inside TravelBird's Hip Amsterdam Office
TravelBird, an online travel company that offers curated selection of holiday experiences and travel options from short city breaks to international get-aways, recently moved into a new office in Amsterdam, Netherlands.
"Located on Amsterdam's historic canals, TravelBird's open plan office has the look and feel of a hip café – complete with cosy pillow corners, hanging plants and in-house coffee bar. Home to an international team of travel fanatics, or 'Birdies', the 'nest' reflects TravelBird's diverse and creative working culture. The interior design has been created internally with ideas from all employees. On all three floors TravelBird created cosy corners (living room feeling) where employees can meet or brainstorm. The kitchen area can be transformed to a town hall area where we often organise SpeakerBird (similar to TED-talks) and other types of presentations. The office has in total 2 bigger meeting rooms and 12 smaller meeting rooms, all decorated in the urban jungle style and their own unique bird names (Hummingbird, Toucan, Flamingo). The cultural values of TravelBird are playing a dominant role when you are entering the office; neon lights are presenting the TravelBird values and their own 'Birdie Photo Wall' shows how to see the world through Birdies eyes displaying their most memorable travel pictures".