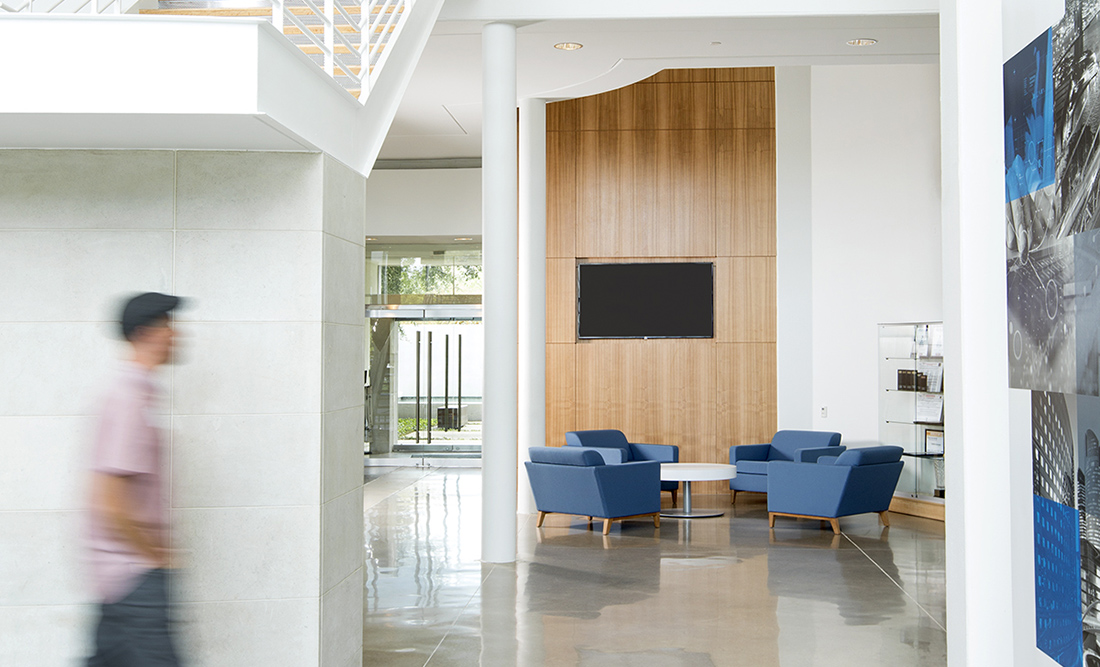 A Tour of Securus Technologies' Elegant New Headquarters
Securus Technologies, a technology company that provides civil and criminal justice technology solutions that improve public safety , hired interior architecture firm lauckgroup to remodel their headquarters in North Texas.
"The 154,000-square-foot building's unique H-shape provides an abundance of daylighting and greenery from all interior viewpoints, a vital feature for a building that is used around the clock. The main entrance features a two-story atrium space with a large display of Securus' patents, a branded graphic, an employee comment wall for sharing how they make a difference by working at Securus, and a wood veneer wall with digital screens. Moving further though the space toward the west wing of the building, displays of customer experiences line the walls to the warehouse space and the large employee breakroom and training center. The east wing takes occupants toward the auditorium and customer call center. The second and third floors are home to the center of an active core zone with collaborative areas, additional breakrooms, wellness rooms, phone rooms, and enclosed conference and training spaces. lauckgroup's intention for creating a central, branded core — in place of cubicle groups — was to foster ease of knowledge transfer between departments, remind employees of the company mission via branded environments, and provide a respite from the typical office layout. These zones have high ceilings, crisp lighting, concrete floors and various graphic walls, all which support over 1,000 occupants. From the central core, employees move north or south into the 'arms' of the H-shape to enter the work areas, which are grouped by department. These work areas include private offices, open workstations and breakout teaming spaces. Aesthetically, the brand's look and feel is streamlined with straight lines, cool color temperature lighting, and a predominantly white color palette accented with blue touches, such as custom carpet and furniture. In addition, several eco-conscious materials were incorporated including low VOC paint, sustainably forested countertop wood, and ceiling tiles made of stone wool, which is an abundant resource and contains 42% recycled content".