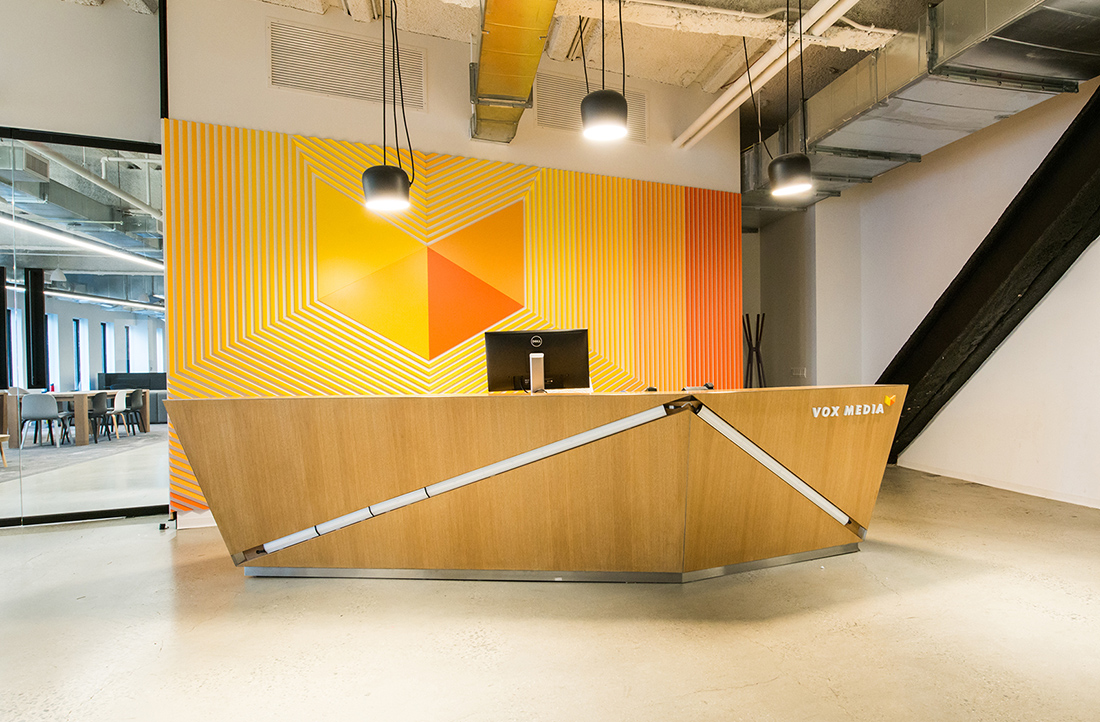 A Tour of Vox Media's Sleek New NYC Office
Vox Media, a digital media giant that operates as the parent company of media brands such as The Verge, Vox.com, Polygon, Curbed and Re/code, recently hired architectural millwork company Modworxx, to build their new offices located in New York's Financial District.
"Upon entering the offices, a custom-built reception desk greets employees and guests alike. On both the 14th and 15th floors, Modworxx crafted the high-end kitchen areas featuring corian countertops and custom cabinetry with additional shelving for ample storage. Branching off from one of the kitchen areas is a casual bar-top-like table for employees to take a coffee break, enjoy their meals or have an impromptu chat with coworkers. On the ceiling above the high-top is custom milled paneling created to soften the light and add a warm tone to the space that only natural wood can offer. The office also features an additional inviting multi-use space with bonus seating built to host casual brainstorm sessions or for a quiet retreat to plug in for heads down work. Throughout the multi-use space, Modworxx designed banquettes and nooks for quick retreats that can host one-on-one chats and casual meetings between employees. Unique to the Vox Media office project is the incorporation of Plyboo, a Bamboo Plywood that offers warm, natural touches throughout the work space through accents like wall and ceiling paneling. Modworxx also utilized black composite material sheets to outfit the walls throughout the large elevator bank, creating an ultra-modern, sleek feature in the office".
Location: Financial District – New York City, New York
Date completed: 2017
Size: 70,000 square feet
Architectural Millwork company: Modworxx
Design: Gensler