Menekuni permasalahan branding serta permasalahan harga jual tiap- tiap web serta game. Permasalahan branding pula wajib dapat dipelajari lebih lanjut supaya esoknya banyak yang terpikat pada game gambling agen sbobet terpercaya taruhan online ini. Perihal ini hendak membagikan akibat lain semacam banyaknya era yang hendak berasosiasi ke dalam game sampai banyak orang yang turut mensupport game gambling duit asli dalam kompetisi yang terdapat.
Semacam metode intersepsi, metode mengutip ataupun membersihkan bola pula ialah metode yang bermanfaat buat bertahan dari serbuan yang dicoba rival. Tetapi, Kamu pula wajib berjaga- jaga kala agen bola melaksanakan metode ini, sebab dikira amat beresiko. Bila Kamu melaksanakannya dengan salah, Kamu bisa menyakiti rival Kamu serta Kamu dapat memperoleh kartu kuning dari penengah.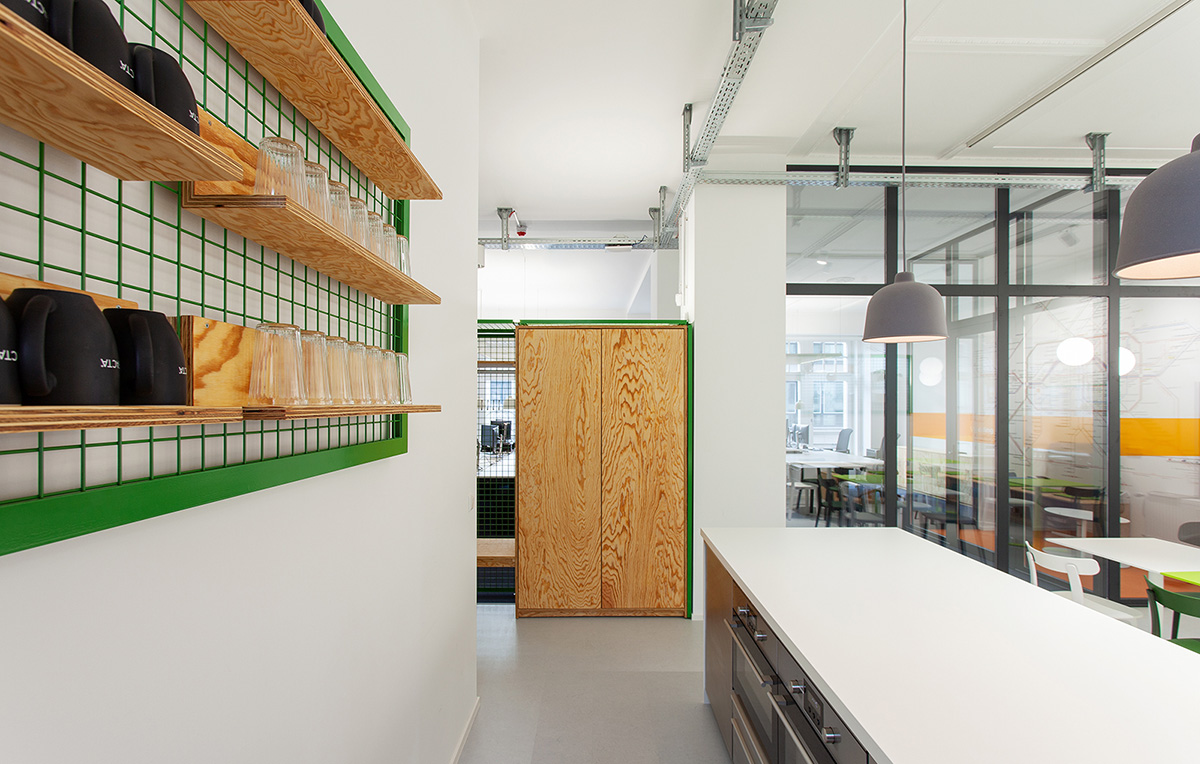 A Look Inside Trifacta's New Berlin Office
Trifacta, a global software company that helps discover, wrangle and visualize complex data, hired interior design agency IONDESIGN to design their new office in Berlin, Germany.
"Industrial metal grids, an enormous subway map, colorful meeting rooms inspired by Berlin subway stations – TRIFACTA's new office references the German capital which it is surrounded by. The story of TRIFACTA begins in the year 2012 when the company is established in the USA. The fast growing Start-Up opens its first office in San Francisco and soon expands to Europe. In 2015, the Berlin office starts working. Soon, the data wrangling company grows out of their office in Berlin, which is when they contact IONDESIGN. The first step in the project was to examine the floor plan of the new office and to elaborate different scenarios for the usage of the space. The concept for the new office focusses on the location in the heart of the German capital. The U-Bahn (subway) was the inspiration to create different meeting rooms with individual character. The interior design is inspired by U-Bahn stations which correspond to the corporate colors of the company: orange, blue and green. The open space area is kept in neutral colors. The dark carpet, table frames, chairs and containers create a visual unit. The desktops, the lighting and the metal grids above the desks are white. The consistent design creates visual peace and structures the open space desk area to allow a concentrated work atmosphere. In the meetings rooms, the company colors are used to create vibrant communication areas. Every meeting room focusses on one of the company colors and provides meeting situations of varying character. The desk area has an open space floor plan. In order to create visual clarity in a space which can easily seem messy, IONDESIGN took drastic measurements. Everything below the desk surfaces is kept in black, everything above in white. The designers choose a dark and sound absorbing carpet, dark desk containers, dark table frames and dark desk chairs. The pure white desk tops seem to float in the open space and mark the partition from dark to bright. The white custom made metal grids above the tables serve as hanging structure for the freely arranged pendant lamps and host invisible indirect lighting. The wardrobes which are made of metal grids and pine plywood divide the space in an informal way. Wooden elements are housed by metal structures which allow to partially see though the built-in units, connecting the different areas of the space. The pendant lamps above the tables are fixed to the metal grids with hooks. They can be placed playfully and flexibly to change lighting conditions. Every desk group can be lit according to individual preferences. The blue conference rooms can be connected by opening a folding glass door, the flexible conference tables can be easily joined to form one large table. Since the cafeteria also serves as an informal meeting area and for internal video calls, the tables and seating can be arranged flexibly to form various configurations. Another flexible aspect in the office is the varying atmosphere of meeting setups. Depending on size and character of a meeting, lounge rooms, the bistro or the classic meeting room setup are at disposal. The wardrobes made of metal grids and rough maritime pine plywood are designed to fit the space ideally and add rough character to the office space. Flexible hooks on the metal grids allow the individual use of the custom elements: employees can hang their backpacks, skateboards, umbrellas, bikes, jackets and helmets. The grids are used as support structure for plants, lamps and open shelving. Berlin souvenirs have been spray painted in the TRIFACTA colors. They mark the basis of a collection of individual objects collected by the employees in the three CI colors. The collection of objects is accompanied by photographs of San Francisco, creating a visible link to the company's origin. Five customized clocks in the entrance area show the time-zones in the different offices. The plants which are used throughout the office add warmth and coziness. The name TRIFACTA derives from the three founders of the company which are symbolized by the three curved strokes in the logo. Every stroke has a different color, so the client wished for the implementation of the CI colors in the interior design. Different than in the American headquarter in San Francisco where all colors are used throughout the entire office, IONDESIGN decided to create color zones to integrate the orange, blue and green. This way, every meeting room has an individual character in different shades of one of the company colors. The main desk area is kept in a clean and simple color scheme of black and white. The colorful communication zones contrast the visually calm open space area and present vibrant areas of exchange for the employees."
Location: Berlin, Germany
Date completed: 2018
Size: 6,458 square feet
Design: IONDESIGN