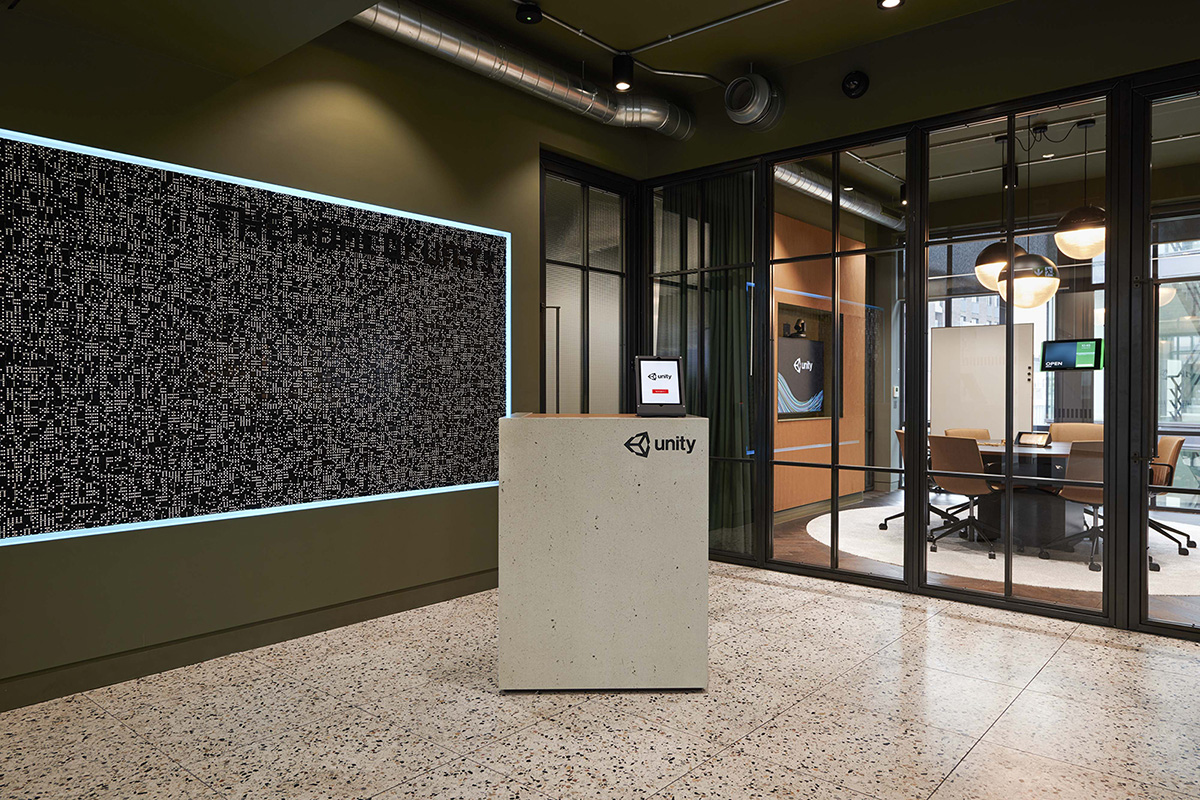 A Look Inside Unity's Elegant New London Office
Unity, a global software company that develops the world's most popular 3D game engine, recently reached out to architecture and interior design firm M Moser Associates to design a new office in London for its sales team.
"Unity wanted to create a flexible, community-driven hub for its global sales teams across Europe to showcase its products and solutions in a digitally immersive, virtual reality (VR) environment. A place to bring together partners, clients and industry professionals, the office takes visitors on a brand journey that starts and ends with technology. A digital concierge greets entrants and a nod to the 900-year-old game, dominos, forms a bespoke artwork that welcomes them to "The home of Unity". This residential look-and-feel continues into an expansive lounge where the M Moser team relocated product demonstration from an isolated room to become the visual centrepiece. Placing the function of the space at its heart normalises the virtual-reality experience and makes it a social activity. The client-designer collaboration was an exciting part of the project as Unity continues to grow into the AEC (Architecture, Engineering and Construction) industry, broadening its appeal to the next generation of BIM technologists. This partnership involved creating a fully interactive virtual walkthrough of the London space to showcase M Moser's design-build capabilities and Unity's own High Definition Render Pipeline (HDPR). Enabling users to engage with different elements, the walkthrough features the ability to switch between day/night scenes, change textures and materials, set lighting and access BIM information. To bring to life the values and ethos of the company, the home of Unity is high-tech, refined and avoids any sense of "corporate". Situated within a newly refurbished building with plenty of character, the space benefits from 360-degree views of London. The office provides the team with a functional, flexible space and a hub for Unity's global sales teams across Europe. Inspired by the mixed-use development at Valentine Place, the aesthetic concept is "Unity's flat in London". M Moser created an environment that feels inclusive and communal, embracing the flexibility of the home to cater to different tasks at different times of the day. The heart of the space – a virtual reality bar and lounge – adjoins with several meeting spaces. Clear separation between the front of house and the open-plan environment was another consideration in the planning solution. Encouraging new ways of working, visitors can now enjoy Unity's 3D Virtual Experience in a visible, comfortable setting. M Moser considered the security of the company's sensitive products by incorporating crosshatch glass as a design feature for visual privacy and soft curtains over clear glass. We selected the materials and design solutions carefully; sourcing ethically made and recycled products wherever possible: 100% of the light installations are LED, the concrete used for the reception desk incorporates recycled materials (that would otherwise end up in landfill), carpet tiles are made from 14.4% recycled content, cradle-to-cradle certified and rated "A" under BREEAM Certification, recycled leather backing has been used for the acoustic walls of the meeting rooms. Ensuring enough capacity for future organisational growth was key for Unity. 70% of the workplace has been designed as front of house and client facing areas, but with the flexibility to be adapted into alternative work settings for future use. Putting the digital experience at the heart of the physical environment, Unity's new workspace immerses users in a technology-infused brand journey to exceed expectations, challenge norms and facilitate future business growth," says M Moser Associates
We have also recently featured Unity's San Francisco offices. You can see the story here.
Location: London, England
Date completed: 2018
Size: 3,200 square feet
Design: M Moser Associates
Photos: Alex Kendrick