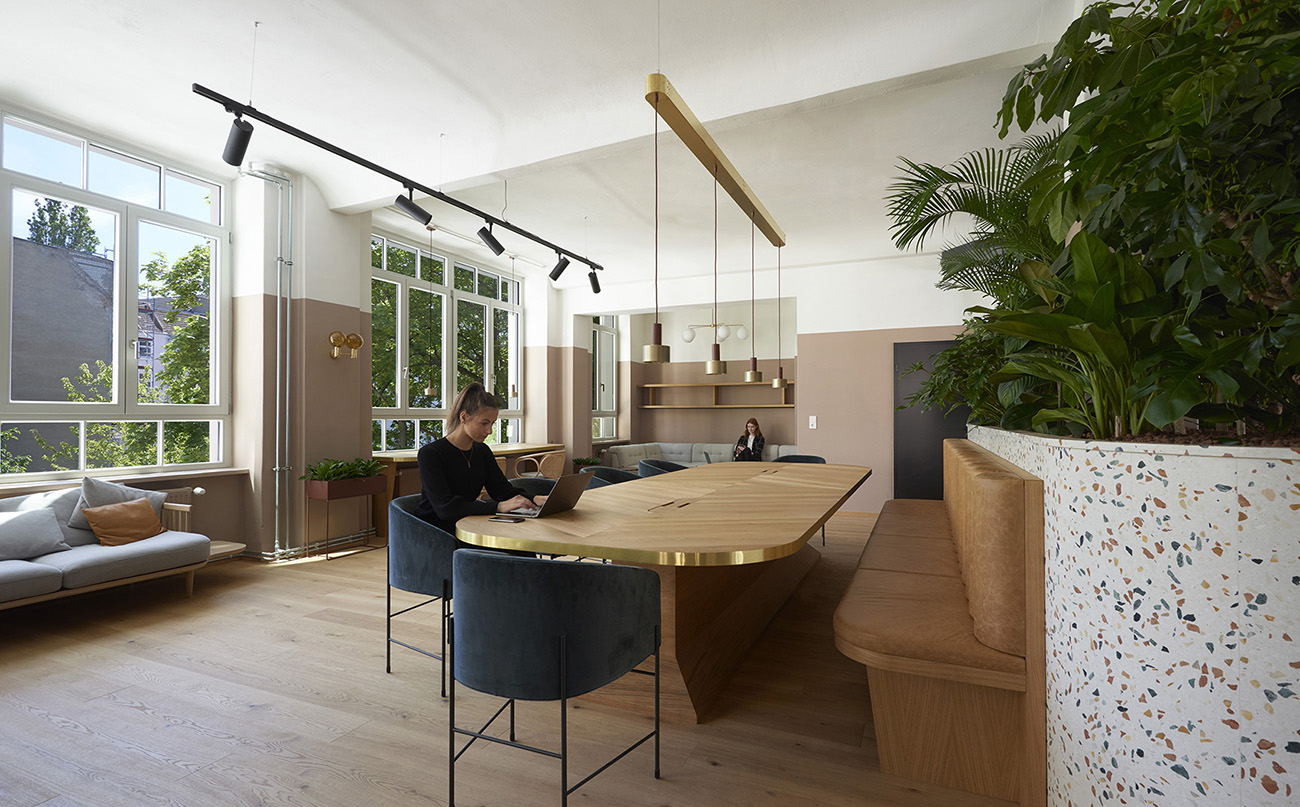 A Tour of AirHelp's Sleek New Office in Berlin
AirHelp, a technology company specializing in air passenger rights, helping travelers get compensation for delayed or canceled flights and in instances of denied boarding., recently hired workspace design firm Weekday Workspace Design to design their new office in Berlin, Germany.
"Our task was to create a scalable open floor plan while making room for people and life at work. We set out to find a solution in the intersection between the needs of the corporate world and the needs of the modern worker. Based on the distribution of social interactions we implement six crucial environments: Community areas – with a variety of seating arrangements, designed to incentivize and nurture creativity, build a strong culture and give employees a sense of belonging. The communal areas are a vibrant "coffee- shop like " environment – Casual, comfortable and inviting. Lounge sofas, Moroccan rugs and vibrant colors make it dynamic and lively. We incorporated music design in this space to incentivize different behaviors, eg: after lunch the music is more lively to keep the energy high. Team work areas. – unassigned seating that invites collaboration. All seats have the same plug and play amenities (charger, screen, mouse, etc./) enabling people to plug in and collaborate with anyone from their team. Built-in lockers give employees a space for personal belongings and enable a clean desk policy opening up the space for everyone and allowing a free space at anytime. The focus area – a large shared quiet space, is where employees can find refuge from their busy day. The perfect room for personal space, concentration and achievement. No phones, no talking or other distractions allowing people to withdraw from the busy open space when needing heads down personal time. Natural wood floors, a subdued earthy pink and natural textures make this space an oasis on a busy work day. Plants and natural light play a big role since it's proven that this elements have a calming effect because they remind us of our connection to nature. Nap room (or Meditation Room): Dedicated nap room with built-in beds, reduces stress and increases alertness and productivity. Meeting rooms with glass walls for transparency to give a sense of belonging and inclusiveness. Phonebooths for privacy and video conferencing. Our methodology provided a flexible workspace in 6,600 sq ft at Airhelp's HQ that offers more than 150 flexible connected seats for their employees to choose the way they want to work," says Alejandra Albarran, creative director at WEEKDAY.