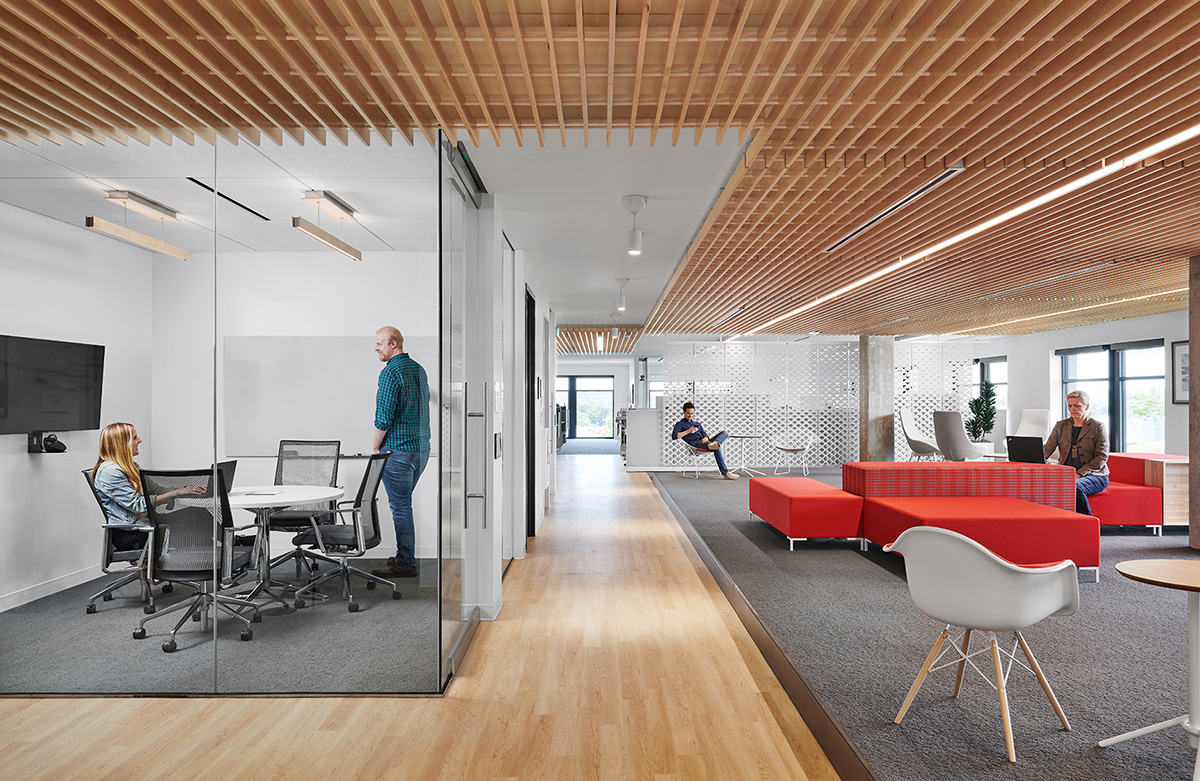 Take a Look Inside SAS's New Austin Office
Analytics software company SAS recently opened a new office in Austin, Texas, which was designed by architecture & interior design firm Perkins and Will.
"In the heart of Austin, Texas' urban core sits SAS Institute's newest office facility located along the city's historic Sixth Street. Officially opened this past spring, the new facility seeks to provide support for SAS's analytics software development team through a youthful, yet sophisticated design scheme—brought to life by the Austin studio of global architecture and design firm, Perkins and Will. Occupying over 26,000 square feet of 1801 E. 6th Street's fifth floor, the creative workplace showcases a passion for curiosity and a commitment to innovation, encapsulated in a space that recalls the energy of the dynamic city below.

Drawing inspiration from the concept of connectivity—rooted both in the business model of SAS's proprietary software and the desire to foster a deeper connection between staff and community—Perkins and Will's Austin team designed a cutting-edge, open-plan office that reinforces the organization's culture of accountability and authenticity. Built to accommodate roughly 120 individual workstations, the new facility features a strategic mix of open and heads-down workspace, supported by break room amenity spaces for employees, a guest work lounge destination and a state-of-the-art training center unveiled by a welcoming reception lounge showcasing SAS' brand experience throughout.

Integrating a series of linear design elements to represent the theme of interconnectivity, the Perkins and Will team developed an architectural system of wood slatting to carry the abstracted motif through their concept, while simultaneously establishing a wayfinding mechanism for visitors. A curated, neutral palette denotes common areas from the combination of assigned and unassigned desking offerings, which helps identify one SAS team from another. The designers encouraged each department to select its own distinct hue, which was then translated into the accents that define the associated section of the floorplate.

Various spaces for collaboration balance the composition of the remaining square footage, including an elevated, all-hands 'stage' suitable for town halls and a number of lounges designed for casual group work. The building's existing concrete floors were subdued with the addition of soft carpeting, natural wood look finishes, and acoustic wall treatments to maintain the focus within dedicated workspaces, without sacrificing the sightlines that underscore SAS's goal for an integrated environment. The new office facility is complete with full-height perimeter glazing, designed to flood the floor with natural daylight and affirm the organization's connection to the surrounding Austin community," says Perkins and Will.
Location: Austin, Texas
Date completed: 2019
Size: 26,000 square feet
Design: Perkins and Will