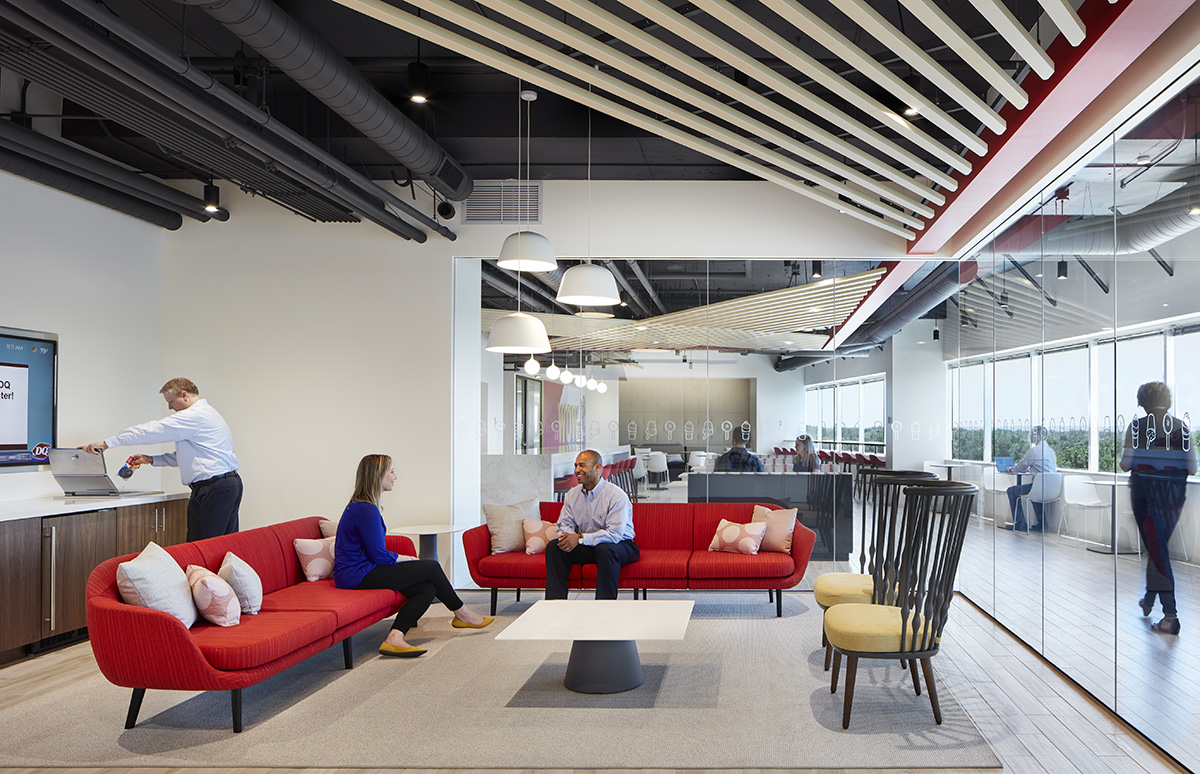 A Tour of International Dairy Queen's New Bloomington HQ
International Dairy Queen, an American company that owns fast food restaurant chain Dairy Queen, recently hired multi-disciplinary design firm HGA to design their new headquarters in Bloomington, Minnesota.
"After assisting International Dairy Queen with their site selection, narrowing from five separate sites down to Normandale Lakes Office Park, HGA got to work designing a creative, and highly functional space for one of the world's most beloved and iconic brands.

The design team blended sophistication and kitsch in a way they labeled 'sophisti-kitsch' that captures both a modern office and the fun behind the International Dairy Queen brand. Custom-designed furniture, fixtures, and artwork come together to create a joyful space. Highlights include the S'mores Booth, made to look like graham crackers and chocolate with white marshmallow pillows, the cake cone ceiling, and the two-story ice cream cone wall.

Beyond the fun design, HGA helped International Dairy Queen reinvent how they collaborate by infusing a wide-range of unique meeting spaces, each one developed to stand on its own, while offering employees various options as to where to do their best work. Destination spaces such as a living room, a treadmill room, and an energizing work cafe allow employees to have casual, impromptu interactions.

A must have for International Dairy Queen was a working test kitchen, no easy feat in a traditional office park. Ensuring a space for creativity and experimentation, the kitchen features space for all necessary equipment for a commercial kitchen and a brand-new product testing lab. Adjoined to the kitchen and testing lab space is a large, multi-purpose room that can be used as one large meeting room or be divided into three separate meeting rooms making their quick service possible even in the office.

Boosting attraction and retention, maximizing natural light, and fostering creativity were all goals that HGA helped International Dairy Queen achieve in this 'sophisti-kitsch' space," says HGA.
Location: Bloomington, Minnesota
Date completed: March 2019
Size: 53,000 square feet
Design: HGA
Photos: Corey Gaffer