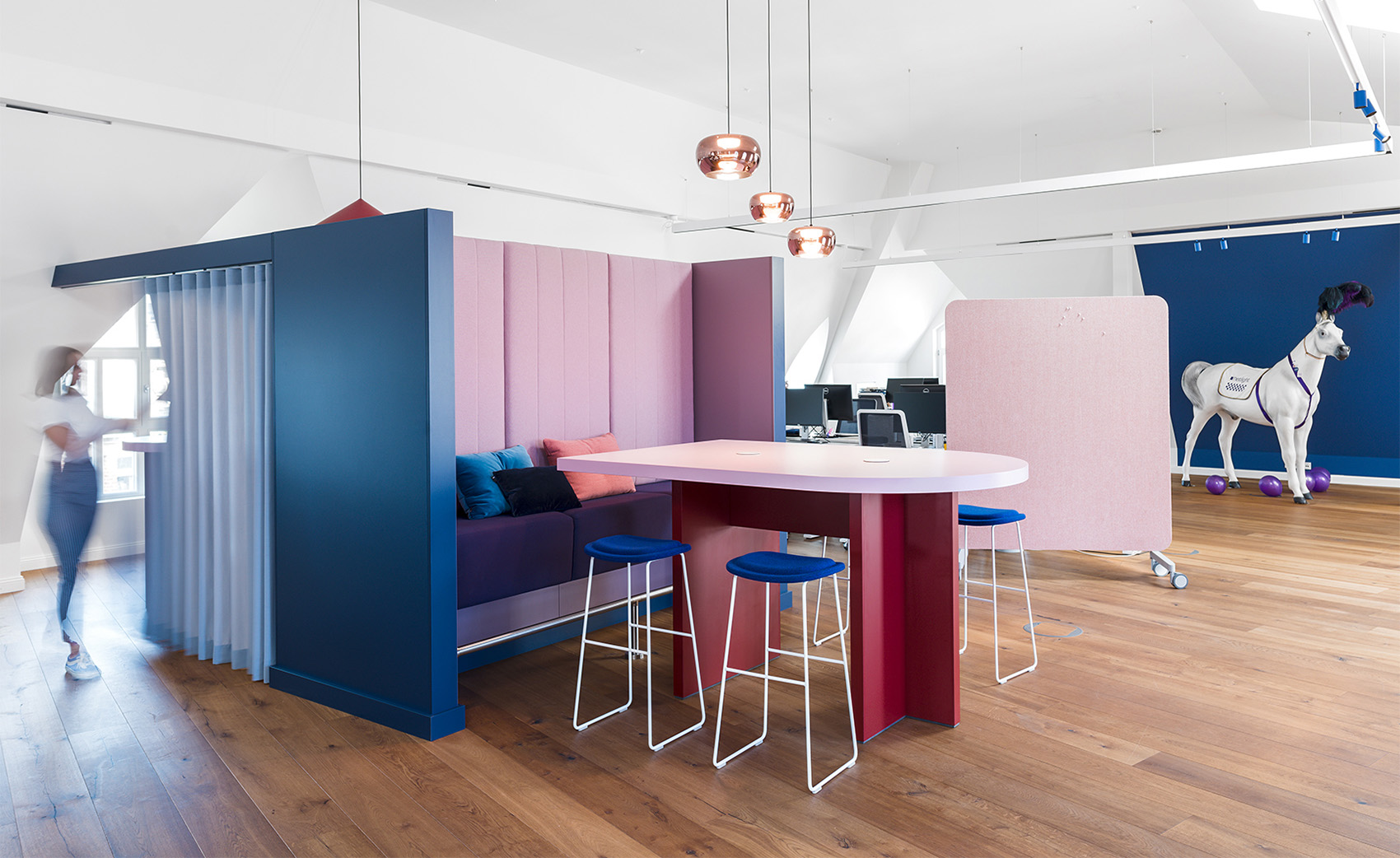 A Tour of Netlight's Cool New Hamburg Office
Technology consulting firm Netlight recently hired architectural firm Seel Bobsin Partner to design their new office in Hamburg, Germany.
"As part of the move to the new office location in Hamburg's old town, (address: Trostbrücke 1), in the summer of 2019, the company Netlight moved into a renovated top floor area of approx. 700 sqm in an old merchant's house. The planning task was to create a "hub" of encounter and exchange to promote and spatially represent the company's "EDGE" culture.

Through targeted use of large-scale color accents, the detailed architecture of the loft extension is highlighted. Building details are modeled out with high color contrast. The wall colors harmonize strongly with the individually designed interior fittings. The furniture stands out for its reduced geometric shape. Simple basic shapes (circle, square, triangle) are the main design elements.

Harmonious color combinations create a pleasant overall atmosphere that sets itself apart from the classic office ambience. The furniture is completely designed for an agile way of working, so that there are numerous flexibly configurable working zones that can be quickly adapted to the respective tasks or requirements.
The rapid growth of the Hamburg location was also taken into account in the planning.

The diverse work opportunities are places of communication and knowledge transfer in the team and are considered by Netlight to be far more productive than a mere number of personally assigned work desks.

The lighting is based on the architecture and is thus integrated independently of the furniture. This makes the use of furniture more independent – Whether party, conference or everyday bench use – The rooms can "breathe" and change according to demand. They do not stand in the way of future development but promote it in a positive way," says sbp.
Location: Hamburg, Germany
Date completed: 2019
Size: 7,534 square feet
Design: Seel Bobsin Partner