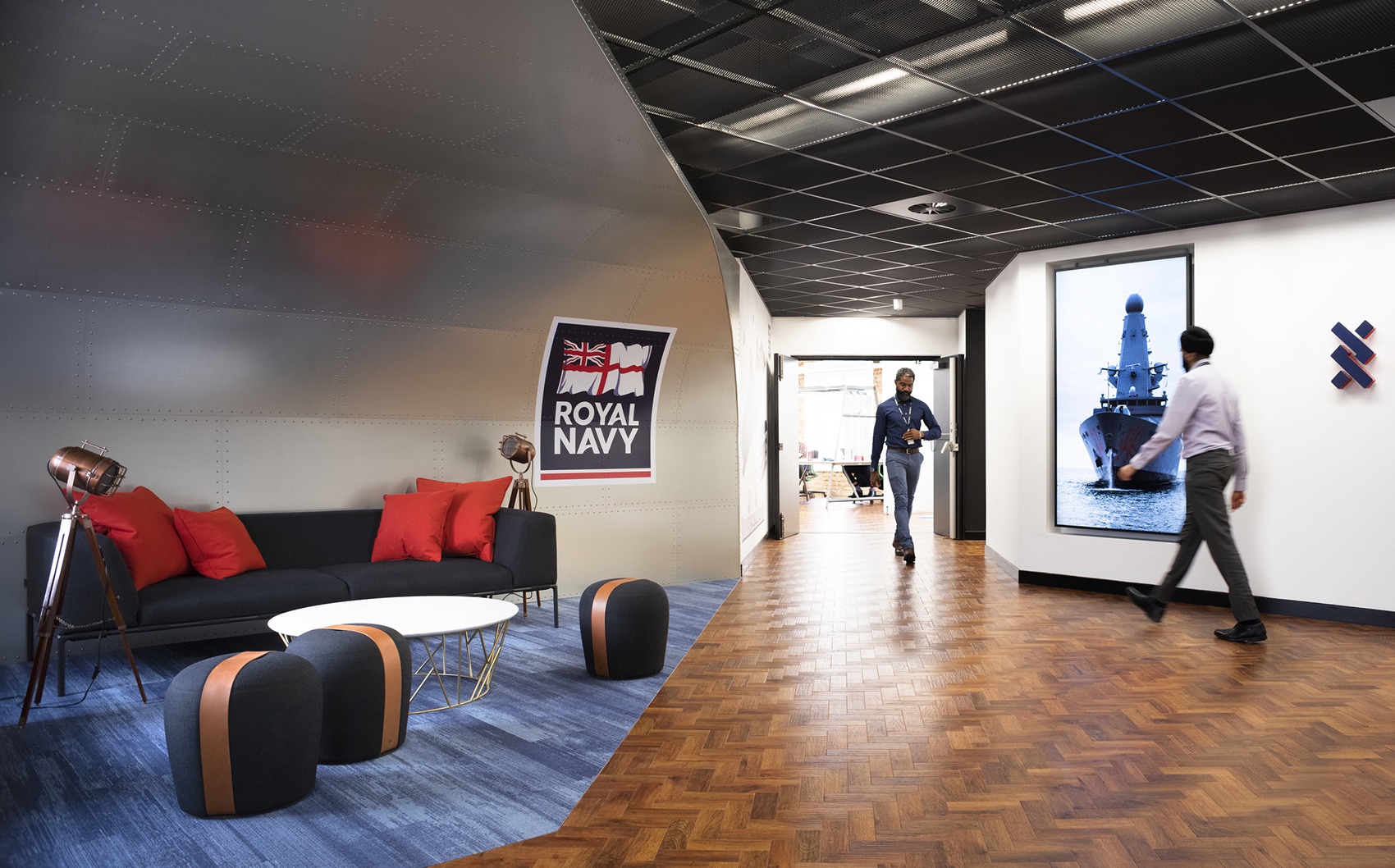 A Tour of Royal Navy's New AI Office in Portsmouth
United Kingdom's principal naval warfare force Royal Navy recently hired workplace design firm Morgan Lovell to design their new AI office in Portsmouth, England.
"This space had to support cutting edge technology and promote forward thinking for some of the brightest minds at the Royal Navy. After all, this workplace influences the defence of the nation.

A modern office that promotes flexible working was one of the key components in bringing the Royal Navy's culture of innovation to life. We created a truly modern and collaborative workplace, inspired by the strong history of the Royal Navy.

Entering the Royal Navy's Programme NELSON office in Portsmouth is quite the experience. Staff and guests are greeted with a floor-to-ceiling curved steel wall, complete with riveting, to reflect the hull of a vessel. From there the accommodation gets much more comfortable than your standard ship, with soft furnishings in a bright maritime colour palette throughout. The essence of the Royal Navy's four arms (Air Fleet, Surface Fleet, Submarine and Royal Marines) are reflected throughout the design of the office. From artwork to finishes and materials used – the space truly reflects the entire operation of the Royal Navy; from hanging desks, suspended with thick-set ropes, to the numerous wall details with historic graphics or naval prints.

This influence could only go so far, as ships aren't often known for being big on comfort and soft furnishings. Standing desks were installed to help promote wellbeing and movement, while a range of modern furnishings were installed in a complementary colour palette that still reflects the fit out's nautical inspiration.

The integrated meeting booth off the main workspace is built in the shape of a traditional row boat, with the wooden wall panelling and lighting being inspired by the officer's mess on the HMS Victory. Our designer even went aboard the ship to make sure the feel, finishings and overall ambience accurately reflects its inspiration piece.

Flexibility was a key consideration for the Royal Navy, as team sizes and requirements vary project to project, as does the level of confidentiality required. We worked to create a space that could easily adapt around the needs of any team. With different ways of working, the teams require lots of writable surfaces along with the ability to open and close areas to accommodate varying levels of privacy. Hanging and sliding writable walls were the perfect solution to create flexible working areas and privacy in one solution.

One of the biggest challenges of designing this space was making sure it was flexible enough to adapt to the varying team sizes and project requirements, while also deploying a high level of security and privacy. To ensure internal privacy and network integrity, we had to separate out clean power and data from dirty power and data," says Morgan Lovell.
Location: Portsmouth, England
Date completed: 2019
Size: 8,896 square feet
Design: Morgan Lovell