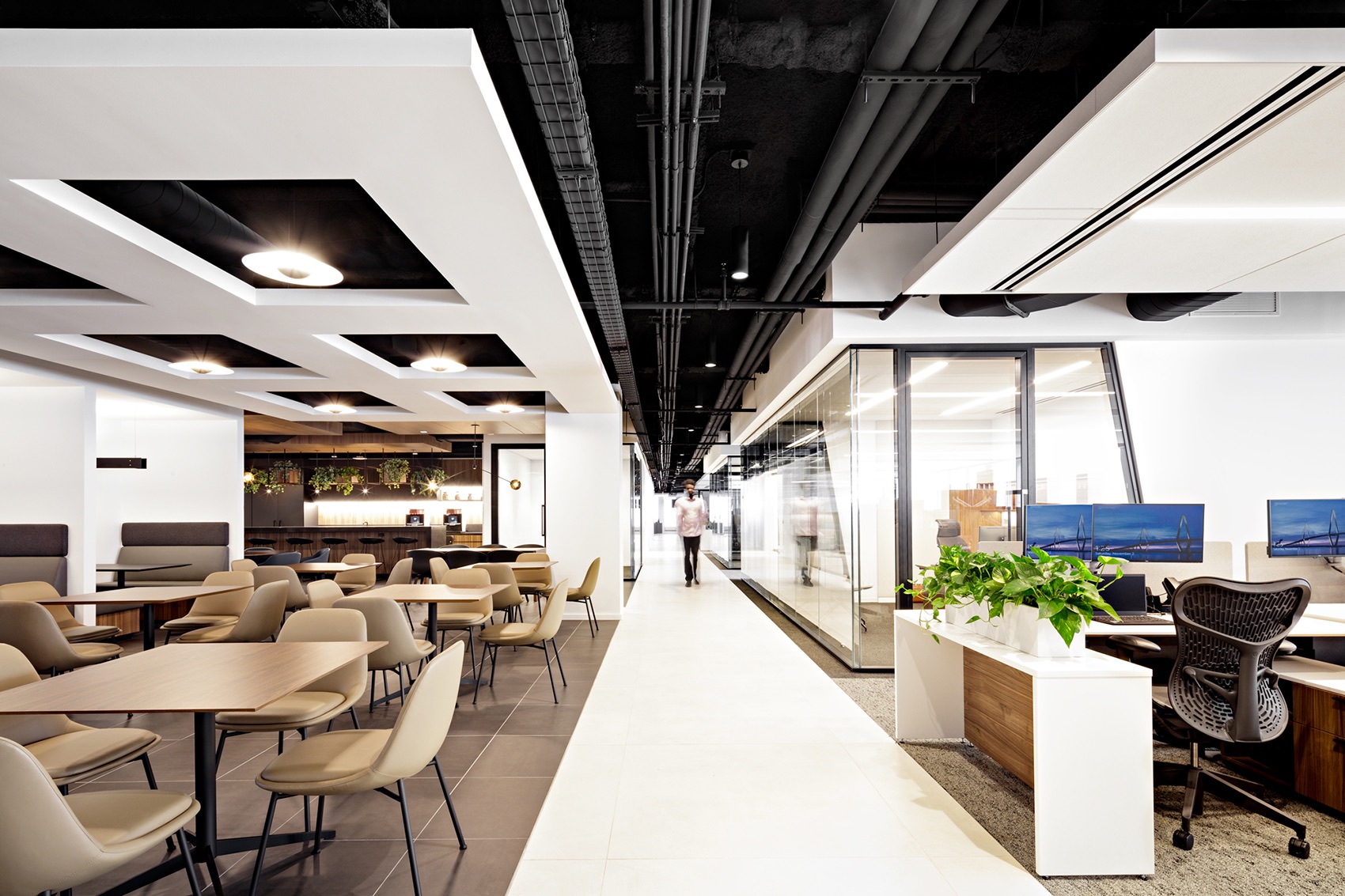 Inside Waterfall Asset Management's New NYC Office
Investment management firm Waterfall Asset Management recently hired architecture & interior design company Spectorgroup to design their new headquarters, located in New York's Midtown.
"The design, led by Scott Spector and his team, marks a complete departure from the previous white minimalist prebuild palette often seen among asset management firms; creating a modern custom look that represented the true nature of the Waterfall Asset Management brand.

The approach combines elements of corporate and hospitality design including French walnut paneling, exposed black ceilings, individually designed conference rooms, greenery juxtaposed with stone finishes, and varied lighting to create a curated space that offers both a contemporary and mature working environment.

At the core of Waterfall's new headquarters is the common café, incorporating a combination of banquette seating, private booths, and open conference tables. The space provides a casual environment to gather socially, host private meetings or break out for small group team meetings. Open to the trading floor with an extended line of sight, the lighting in the café is intentionally dimmer, creating a comfortable environment where employees can reprieve from the hustle of the trading floor.

The growth of Waterfall Asset Management was key in executing the design brief, both in terms of capturing the evolution and maturation of the existing brand, and in creating a workspace that appeals to the current workforce, as well as attracting new talent.

Being on the 50th floor you are welcomed at reception with rich natural light and amazing views, guiding your journey throughout the space. The new design allows for the alignment and organization of departments, while building relationships between teams. Equally important was the inclusion of flexible space planning, placing emphasis on a layout that would adjust and accommodate organizational growth with minimal disruption," says Spectorgroup.
Location: Midtown – New York City, New York
Date completed: 2019
Size: 16,000 square feet
Design: Spectorgroup
Photos: Ben Gancsos