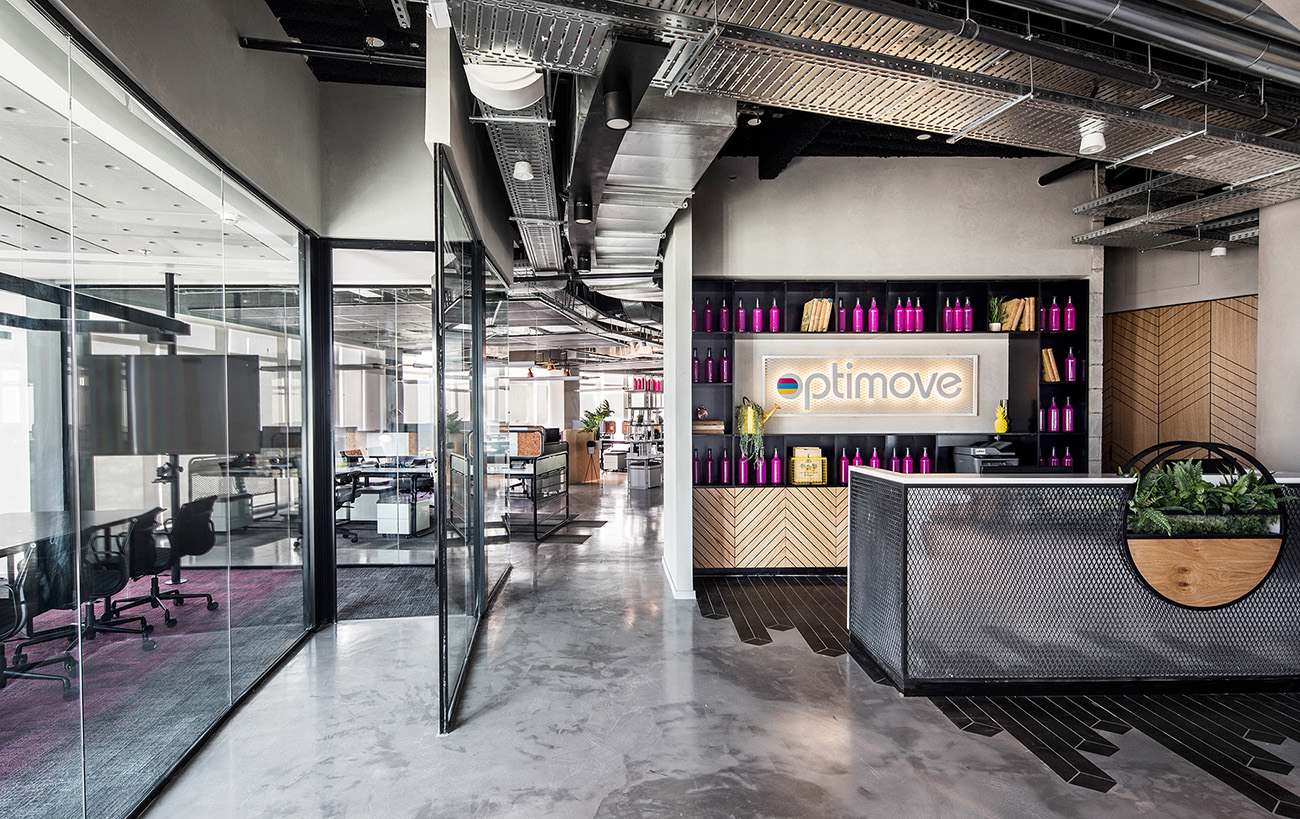 A Look Inside Optimove's Eclectic Tel Aviv Office
Software as a service company Optimove hired architecture firm Roy David Studio to design their new office in Tel Aviv, Israel.
"The company started out as a small company whose first offices were located in the humble HaTikva neighborhood, and from there continued to grow based on non-draft capital from outside investors.

The design concept was born out of the desire to examine the interactions between the world of science and the world of creation. Science representing sharp and rigid geometry, creation representing organic and often amorphic patterns, resulting in a design language that expresses duality and synergy. An example of which being the reception desk, combining a strict rectangular body, framed by an iron profile and metal net, together with a round oak and glass suspended planter for vegetation.

The concept was significantly enhanced by the circular structure that characterizes the Adgar 360 Tower. For the overall layout, the architects followed a design that was inspired by the Ripple Effect, a phenomenon in which a mechanical wave progresses along the current and spreads across a field. The glass partitions were installed in arch like structures according to the radius of the building, positioned to move away from the nucleus or core of the building in curved lines in the direction of the curtain wall, from which one can view the entire landscape of Tel Aviv. Other elements that were inspired by the Ripple Effect: carpets that feature a gradient effect and LVT tiles that dissipate and decrease in density as they continue into a space.

In addition, homage was paid to the original offices in HaTikva in an attempt to remind the employees of the company's humble beginnings. To do so, rough and natural materials like iron, concrete tiles, birch and recycled wood were integrated into the material palette. Additionally, elements such as a carefully designed workbench inspired by the neighborhood's "classic benches" together with custom-designed industrial-style lighting fixtures, were highlights of the space.

Lastly, as part of a collaboration with the company's creative department, pops of Optimove's vibrant brand colors, pink, yellow and blue, were integrated throughout the space. The brand colors are featured on the handrailing of the central stairway, formal meeting rooms, meet up areas for internal company gatherings and custom-made furniture.

Vibrant colors to designate the company's current success and bright future, together with natural and rough materials as a look back to how far they've come, truly inspired Studio Roy David was to create a space unique to Optimove's identity, energy and creativity," says Roy David Studio.