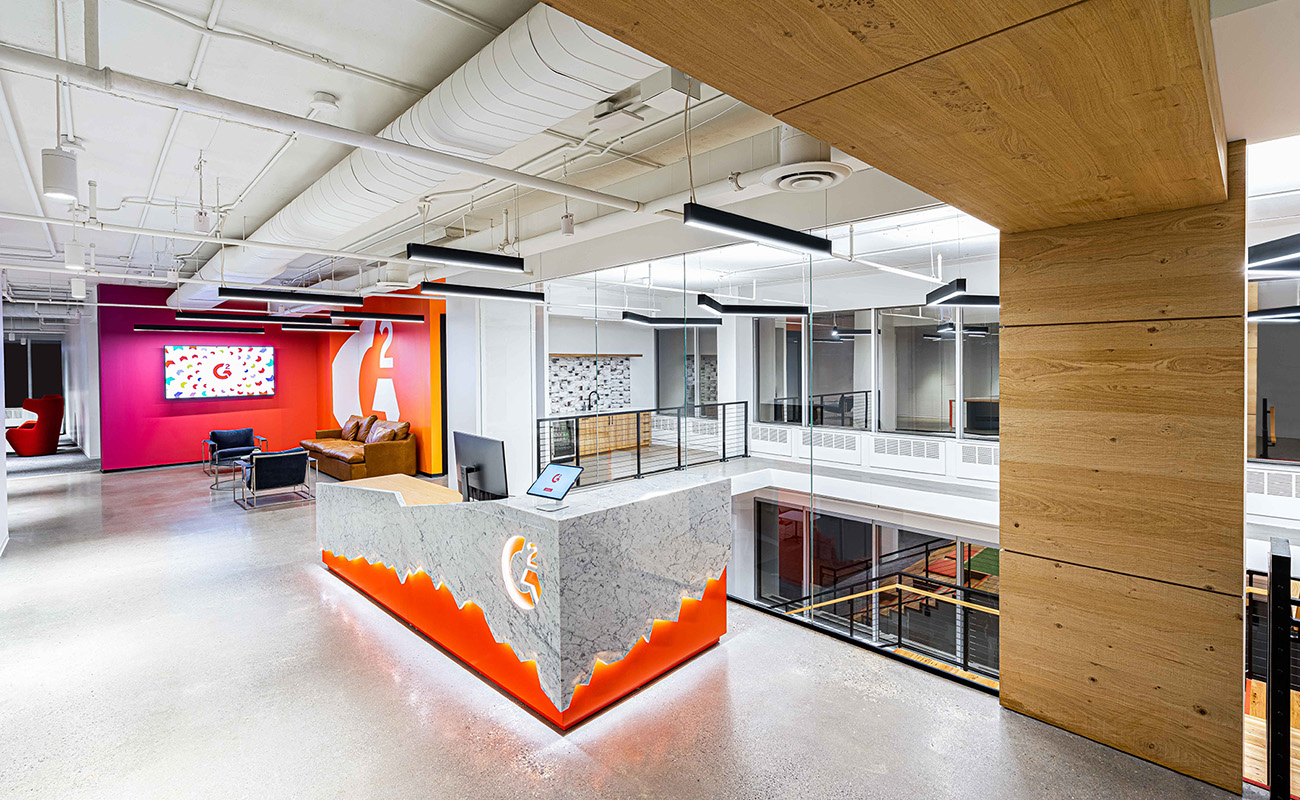 A Look Inside G2's Cool New Chicago Office
Business software company G2 recently hired architecture and interior design firm Ted Moudis Associates to design their new office in Chicago, Illinois.
"The team had quickly outgrown their previous office space and were in need of a new workplace that would support their/its evolving culture while easily accommodating changes in organizational size. G2 called upon Ted Moudis Associates to develop a scheme for the new office that did just that.

Abandoning all private offices, G2 tasked Ted Moudis Associates' design team with establishing an appropriate ratio of private rooms –– including conferencing space, phone booths and break-away zones –– to balance the abundance of open workstations. Each of the private, heads-down areas were expertly outfitted to accommodate confidentiality concerns without sacrificing sightlines or brightness within the space. To underscore that sense of brightness, while keeping pace with G2's quick-moving culture, Ted Moudis Associates created an energetic design scheme through the incorporation of bold branding and colorful graphics that mirror the company's synergistic undercurrent. Utilizing a sleek black and white base, the team layered in daring hues through neon signs, geometric accent walls, vivid textiles, and vibrant furnishings.

The anchor of the two-story workspace is a grand central staircase, strategically introduced in the post-tension building. From the reception area, the stair sweeps both guests and staff alike down to the lower level where they will discover a main gathering café. Positioned at the side landing of the stairs is a larger than life video wall. The stairs serve as the heart of the office space and are visible from both elevator lobbies –– resulting in a bold, memorable feature begging visitors to come in, climb, sit, study, and commune," says Lukstudio.
Location: Loop – Chicago, Illinois
Date completed: June 2019
Size: 64,577 square feet
Design: Ted Moudis Associates
Photos: Eitan Gamlieli