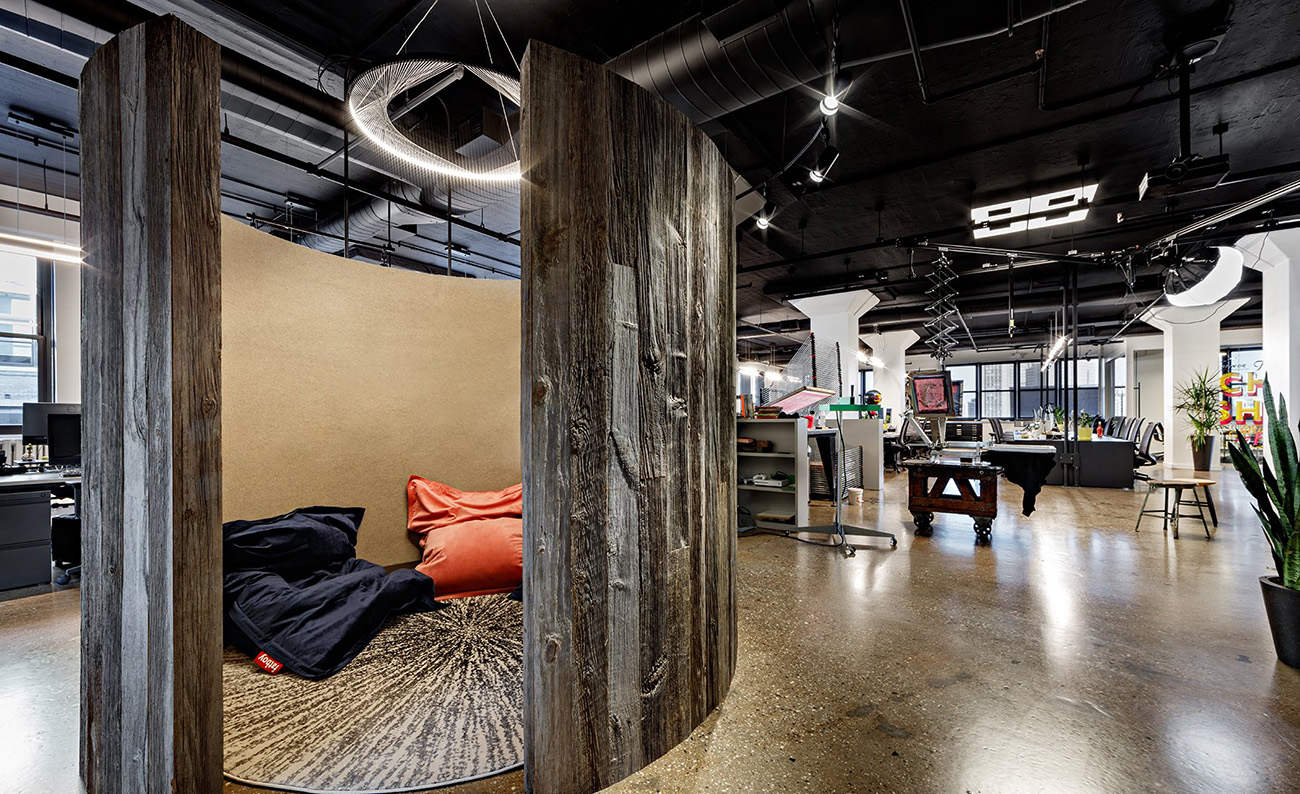 A Tour of Vault49's Modern New NYC Office
Global design agency Vault49 recently hired interior design firm Capital C Interiors to design their new office in New York City.
"Their new office occupies nearly half of one floor in a 1930's building in the West Village of Manhattan. This is 180 Varick Street, sometimes affectionately dubbed an architecture ghetto because of the sheer number of architecture and design offices that have flocked to its wide-open, light-drenched floors.

The client's hands-on philosophy as an experimental work studio demanded a crafts and print making area at the core of everything. In their words, the new space "feels like a cross between Warhol's NYC factory, and a countryside retreat". Two new bathrooms, different conference rooms and a big play / eat area were all must-haves. It was important for these entrepreneurs "that our studio has the feeling of a welcoming space that brings enjoyment rather than just being functional". Carretero's layout was based around the concept of human interaction at the heart of a functional, creative – flexible space that could respond to future needs. The final result offered a sense of openness, dynamism and progressive thinking.

Through a mix of raw and unfinished textures and finishes, the studio becomes a mirror of the brand's personality – witty, bold and memorable. For Carretero, who specializes mostly in high-end residential design, the client's directives were easy to follow since he had previously worked with Kenyon on a gut-job renovation of his own apartment only a few blocks away in SoHo. One of Kenyon's favorite individual features of his new work headquarters are the intimate meeting pods designed to echo NYC's iconic, rooftop water tanks. Indeed, reclaimed water-tower wood was used in their construction. For Carretero, the rooms now feel exactly as intended: chaotically controlled, vibrant, open, handsome and super – friendly," said Capital C Interiors.
Location: Downtown Manhattan – New York City, New York
Date completed: March 2020
Size: 16,000 square feet
Design: Capital C Interiors
Photos: Ben Gancsos