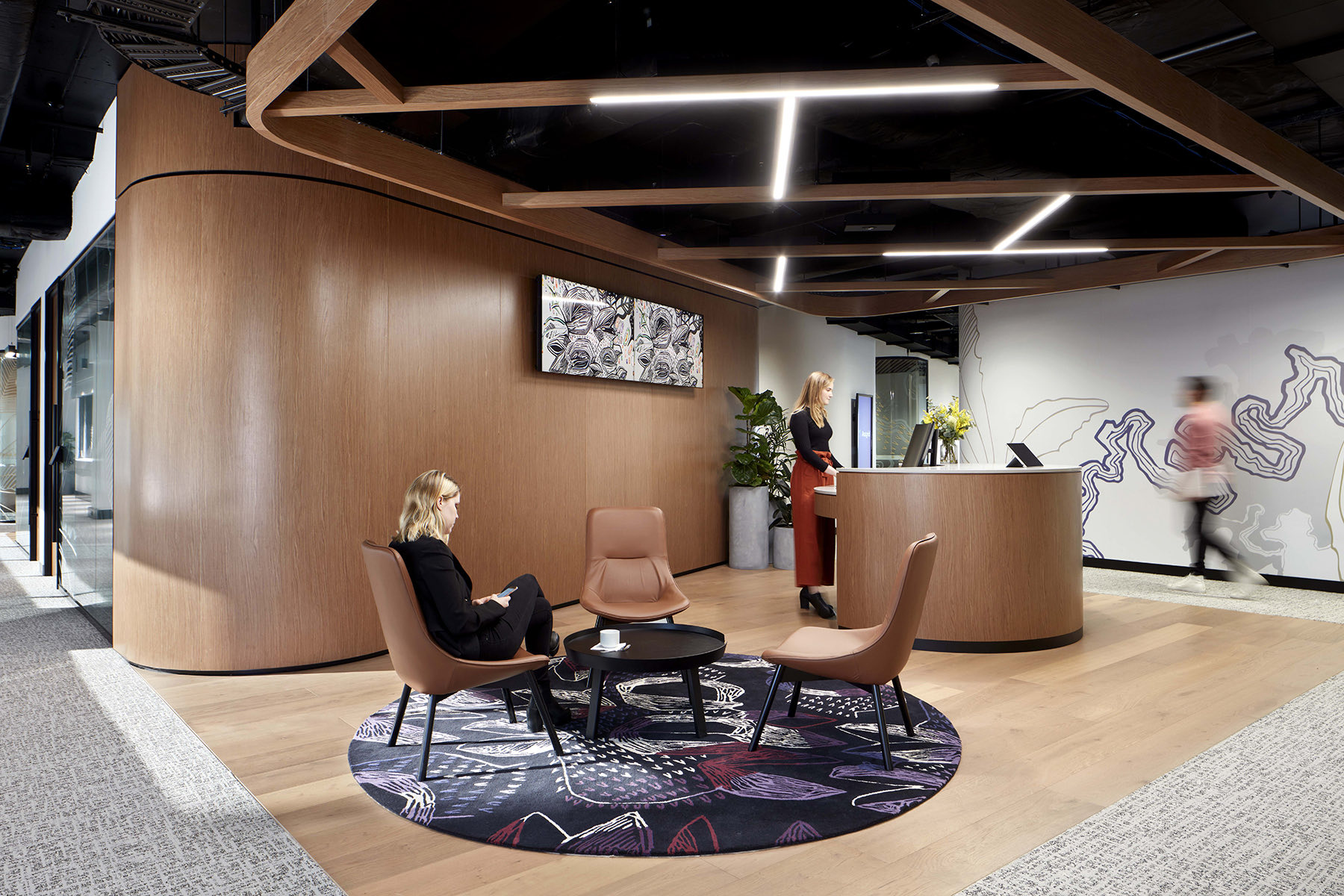 A Look Inside Private Energy Provider Offices in Sydney
A team of architects, designers and graphic designers from multidisciplinary design studio GroupGSA recently designed a new office for private energy provider in Sydney, Australia.
"An established energy provider sought to create a workplace environment that would be a benchmark for future ways of working. As part of the initiative, GroupGSA were engaged to undertake a holistic approach to the employee journey beginning at the front door, including repositioning of the base building entry and lobby for a richer customer interface and experience.

The company's board members and key executive team worked closely with GroupGSA and workplace strategy manager Keti Malkoski of Schiavello to create a more empowered culture within their workplace.

The design concept is based on how energy manifests itself within nature; telling a story of 'Lightning Storms across Rural Australia.' This visual direction is elevated by incredible environmental graphics from local Yuwaalaraay artist, Lucy Simpson, who in collaboration with GroupGSA seamlessly incorporated graphics across textiles, murals and built environments, weaving a deep and immersive story about lightning striking to the earth, the spark that ignites, and from that, the growth and the new life that is a timeless cycle; inspiring those who see it every day.

The collaboration between Lucy and our team allowed for a seamless and sincere representation of the local indigenous nations. It also created an opportunity for a sustainability component to sit comfortably within the natural palette of finishes. Green walls on every level including the ground floor arrival space and energy efficient circadian lighting allow staff to gently transition from morning light to evening light cues.

Emerging technologies are quickly replacing traditional work practices and allowing an organisation's people to work faster, more efficiently, and from anywhere in the world. The new digitally enabled workplace required a radical rethinking ofbig data usage to challenge the status quo, maintain an agile workforce and adjust performance to meet changing needs. Their new empowered workplace sees a hybrid adoption of activity-based working with heightened engagement for customers, greater connectivity between head office and employees in the field, and an elevated provision of employee health and wellbeing. Varied work environments allow greater flexibility in working arrangements and technological tools available office-wide increased the efficiency in idea-sharing across the organisation," says GroupGSA.
Location: Sydney, Australia
Date completed: 2019
Size: 16,145 square feet
Design: GroupGSA
Photos: Luc Remond