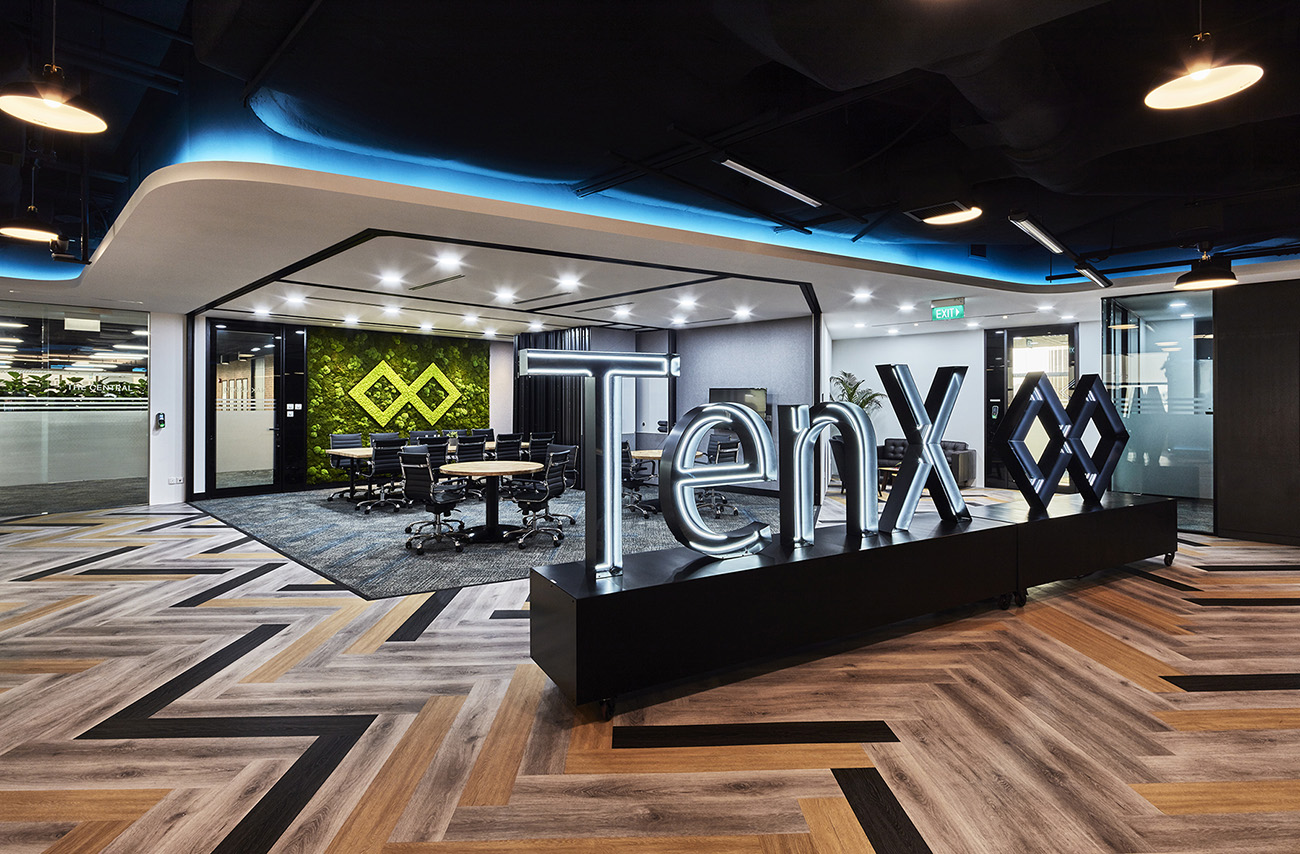 A Tour of TenX's New Singapore Headquarters
Cryptocurrency company TenX recently hired architecture and interior design firm Conexus Studio to design their new office in Singapore.
"The new TenX headquarters is a bold expression of the brand's refreshed identity, showcased in an atmosphere that is welcoming and incorporates biophilic design principles. With its logo incorporated into the space in multiple and unexpected ways – from greenery walls to ceiling lights – the space depicts the story of a bold FinTech firm that is united in its mission.

Key to the design is how the space actively supports company culture. A social hub takes pride of place at the heart of the office, an oasis for coffee and buffet lunches where colleagues gather and talk about life as well as work in an inspired setting away from their desk. This Front of House is also does double-duty as a showcase and event space for outreach to the company's wider Cryptocurrency community. A variety of seating nooks and multi-tasking features come together to enable an extremely scalable multi-functional space: from meetings for two to event settings accommodating up to 200 people.

To support innovation and productivity, the office incorporates amenities that boost personal inspiration as well as creative teamwork. Ample gathering spaces in-between workstations draw employees to regularly engage in casual interactions and brainstorming. With its multiple layers, a strong layout is key to ensuring that users can navigate the new space with ease. A 'running track' concept devised along the office's built-up core brings out a connective space designated for creative thinking sessions as well as rejuvenation, encouraging both ideas and employees room to grow. Lifestyle elements such as monkey bars and relaxation pods bring a sense of adventure and inject fun and vitality into the workday," says Conexus Studio.
Location: Singapore
Date completed: September 2019
Size: 12,433 square feet
Design: Conexus Studio