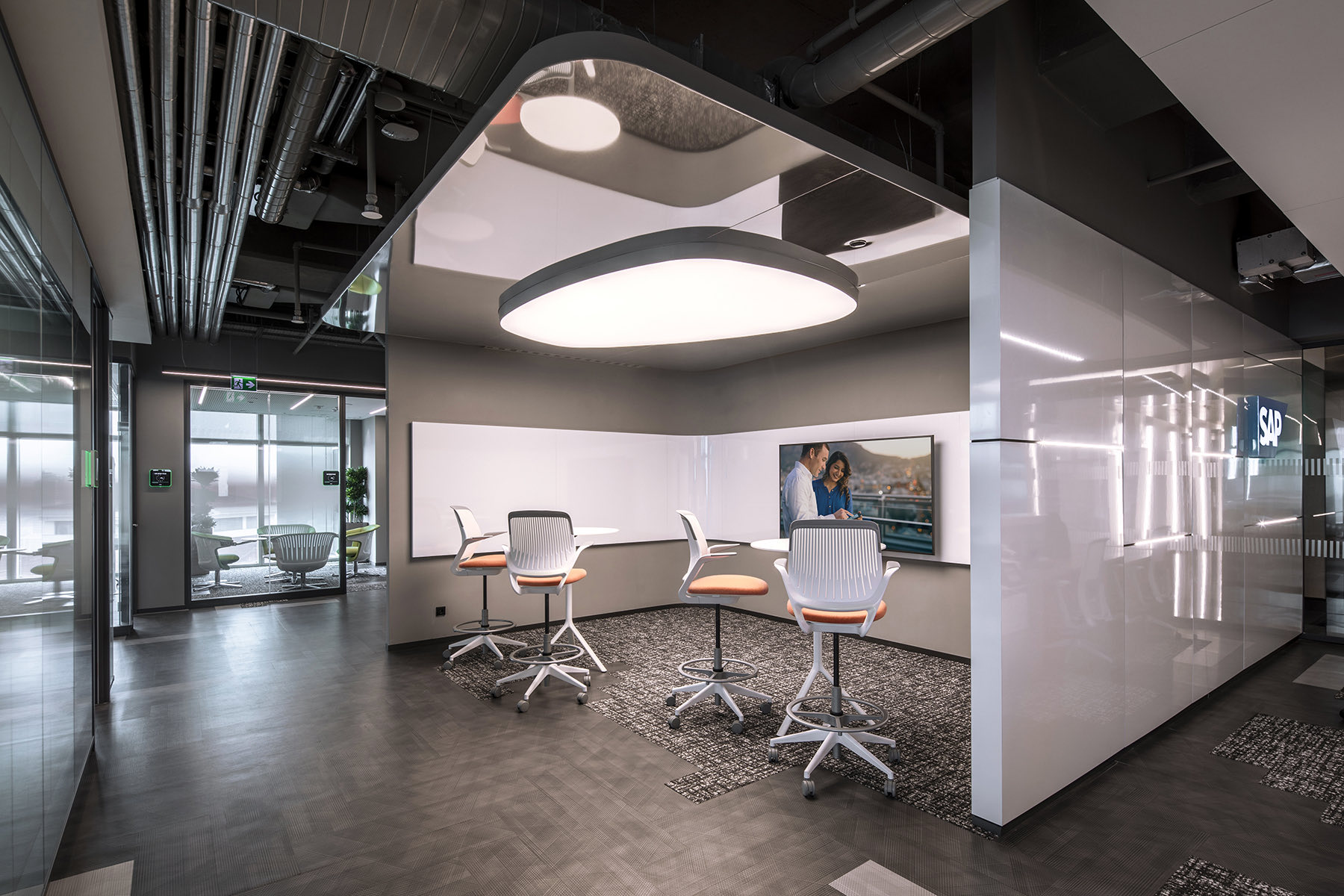 A Tour of SAP's Modern New Istanbul Office
Global software company SAP recently hired architecture and interior design firm mimarstudio to design their new office in Istanbul, Turkey.
"SAP Turkey's New Head Office with 1,800 m2 (net) followed an approach that has changed the physical workspace as well as work culture and habits. The project has created a working environment and living space that combines SAP's innovative, "human-centric" face with its global design criteria.

At the same time, environmental friendliness and sustainability are important components of the SAP Turkey's new Istanbul Office. Green, natural materials, and forms and bold colors were included in design according to the biophilic design criteria.

One of the two floors of the office is designed for employees and the other floor is designed for both employees and visitors. This space was, at the same time, designed specially so that customers and visitors alike could see and experience SAP products and solutions. Also this floor includes different areas to organize corporate meetings and trainings.

A workspace has been created that enables employees, who spend more time indoor environment, to be physically, mentally, and spiritually healthy and happçy, alongside highly productive. An interactive environment was fashioned out of taking corporate well-being criteria—something that the world is hearing more and more as of recent—into consideration. Therefore, the aim was to have employees work under maximum natural light, perpetually clean air, and optimal thermal and acoustic comfort. Among the project's other more eye-catching sections are its relaxing lounges (that all employees can comfortably use) as well as its many meeting and training rooms with various sizes and functions.

Additionally, desks, as well as cross-sectional working flexibility, were considered in light of an activity-based working approach. This included giving priority to ergonomics and giving preference to new generation products. The furniture was selected that offered the opportunity to work not only while sitting but also while standing. SAP Turkey's new office in Istanbul has planned as a new generation space that allows employees to create coworking environment throughout the day. As part of this, multipurpose areas that are suitable for phone calls, meetings, etc prevent monotony and repetitive settlement," says mimaristudio.
Location: Istanbul, Turkey
Date completed: 2019
Size: 21,527 square feet
Design: mimaristudio
Photos: Gurkan Akay, Alp EREN