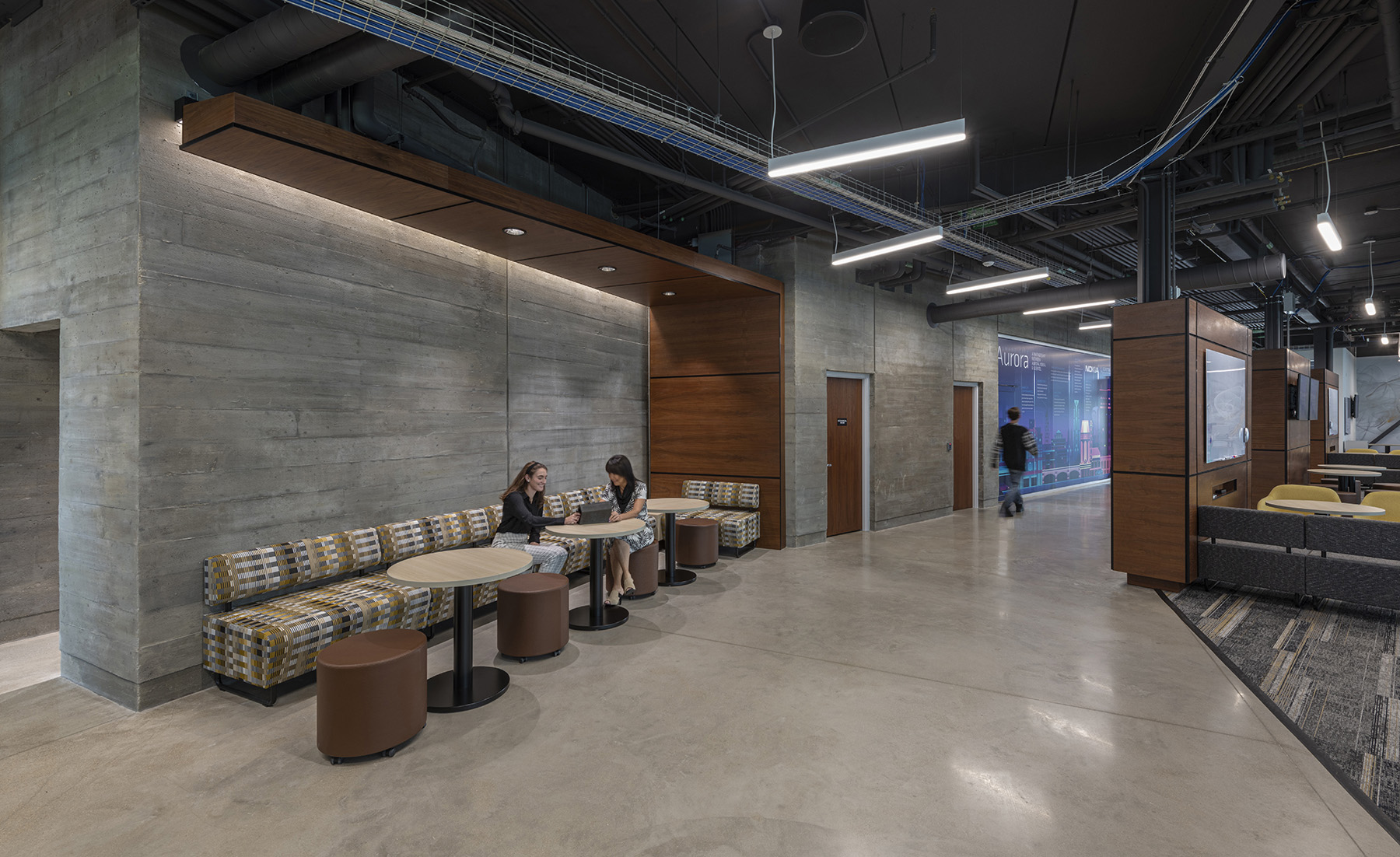 A Look Inside Scientel's New Aurora Headquarters
Telecommunications company Scientel recently hired architecture and interior design firm Cordogan Clark to design their new office in Aurora, Illinois.
"The new global headquarters for leading telecom company Scientel Solutions is a hi-tech building on a highly technical site. It enhances quality of life for its occupants as it expands engineering, technical and administrative team resources.

CEO Nelson Santos says the company has seen a "significant amount of growth over the past 10 years" and needed a space that aligned with the future of the company. "As we continue to expand into new markets and offer innovative new services, Aurora was the easy choice for our global headquarters," he said. In addition to the new headquarters, Scientel Solutions has 12 other offices throughout the United States, Canada and Europe.

The innovative architecture communicates Scientel's mission. Scientel is proud of its state-of-the-art building that fulfills their technology needs and caters to the collaborative and innovative processes that support the needs of customers, partners, and employees. "Great architecture starts with a clear vision from the client. Nelson Santos had the vision of collaboration and interaction of employees and clients via a designed environment," Michael Konopka of Cordogan Clark & Associates explains. The arrangement of interior spaces is reinforced by the use of material, texture and natural light. Interior spaces are connected by a "street" for people to circulate and interact. Functional and casual spaces are grouped around it, with spaces for people connected to the exterior for exposure to natural light.

The open concept layout allows for collaborative breakout sessions where training, brainstorming, designing and whiteboarding will take place. The office is designed with customer's security and network resiliency needs in mind. Scientel's new Global Headquarters contains next generation Network Operations Center (NOC) which allows for monitoring of more than a million devices worldwide as well as proactive fault detection of mission critical communications using Scientel's advanced network analytics algorithms.

The interior design's warm modernism creates a supportive and progressive environment. Cast-in-place concrete board-on-board accent demising walls and frameless glass walls and doors throughout the building emphasize the high-tech aesthetic. Polished concrete floors are strategically enhanced with carpeting. LED custom chandeliers in key areas and fully automated lighting controls are linked to the hi-tech AV/IT systems Wood paneled acoustical clouds highlight open ceilings with exposed systems. Walnut trim and accent paneling, slat ceilings, and casework bring additional warmth," says Cordogan Clark.
Location: Aurora, Illinois
Date completed: 2020
Size: 250,000 square feet
Design: Cordogan Clark
Photos: James Steinkamp