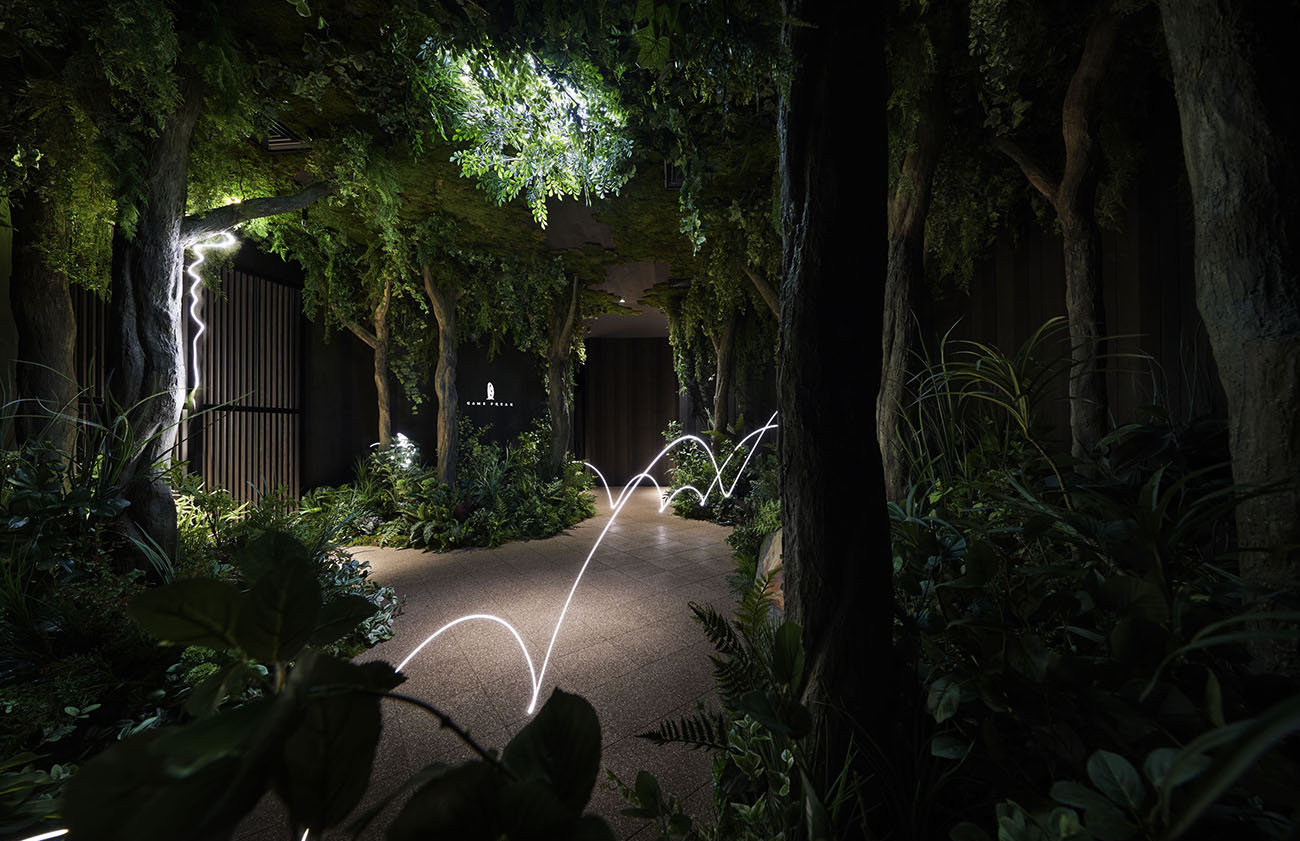 Inside Game Freak's Biophilic Tokyo Office
Video game developer Game Freak recently hired interior design firm Canuch to design their new office in Tokyo, Japan.
"Game Freak has presented a unique world through its games. The company's corporate philosophy emphasizes the importance of never giving up one's dreams, courage, and adventurous spirit, and its games reflect its pursuit of long-lasting entertainment and commitment to deep research. In order to create an office that embodies this unique stance, we based our design on a theme of "the adventurous spirit." The design incorporates elements that encourage discovery and new encounters—the best parts of an adventure—as well as the creation and development of fun.

The motif for the office design is "Pokémon Red Version and Pokémon Green Version," and the office itself is configured as a game world. The lobby area, which is the starting point for the adventure, portrays Viridian Forest through recorded sounds of Pokémon's cries along with stylized sunbeams and models of sentient trees and creatures from the game. All the meeting rooms are named after towns featured in the game, with the color that each town's name is based on informing the interior design of that room. For example, the origin of the name "Pallet Town" in the game is white. This inspired the image of a blank canvas and a design concept using corresponding textures and color schemes.

Moving from the visitor area to the work area, the space is divided into two zones: the "courtyard," which is a shared space surrounding the core work area, and the "living quarters," which are project workspaces next to the windows. The two zones are partitioned by open shelving that allows users to control the degree of privacy by placing objects on the shelves. The shelves also enable the display of objects reflecting the characteristics of each project, so that employees walking through the halls can discover one another's work.

The "courtyard" includes a refreshment counter located along the natural flow of office foot traffic, so employees pass through by default. This counter is divided into red, green, blue, and yellow areas, which are the colors of the first-generation Pokémon series titles. The design makes it easy for people to meet spontaneously. Other spaces, including private rooms, brainstorming rooms, open meeting rooms, and semi-closed meeting rooms, can be selected based on the level of information security required.

Thanks to a design that encourages them to wander around the open "field" of the office discovering new ideas, employees are able to incorporate a spirit of adventure into their daily work. By embodying GAME FREAK's creative stance, the office conveys the message that an adventurous spirit is essential for creating and maintaining a unique worldview," says Canuch.
Location: Tokyo, Japan
Date completed: July 2020
Size: 30,784 square feet
Design: Canuch
Photos: Nacasa & Partners