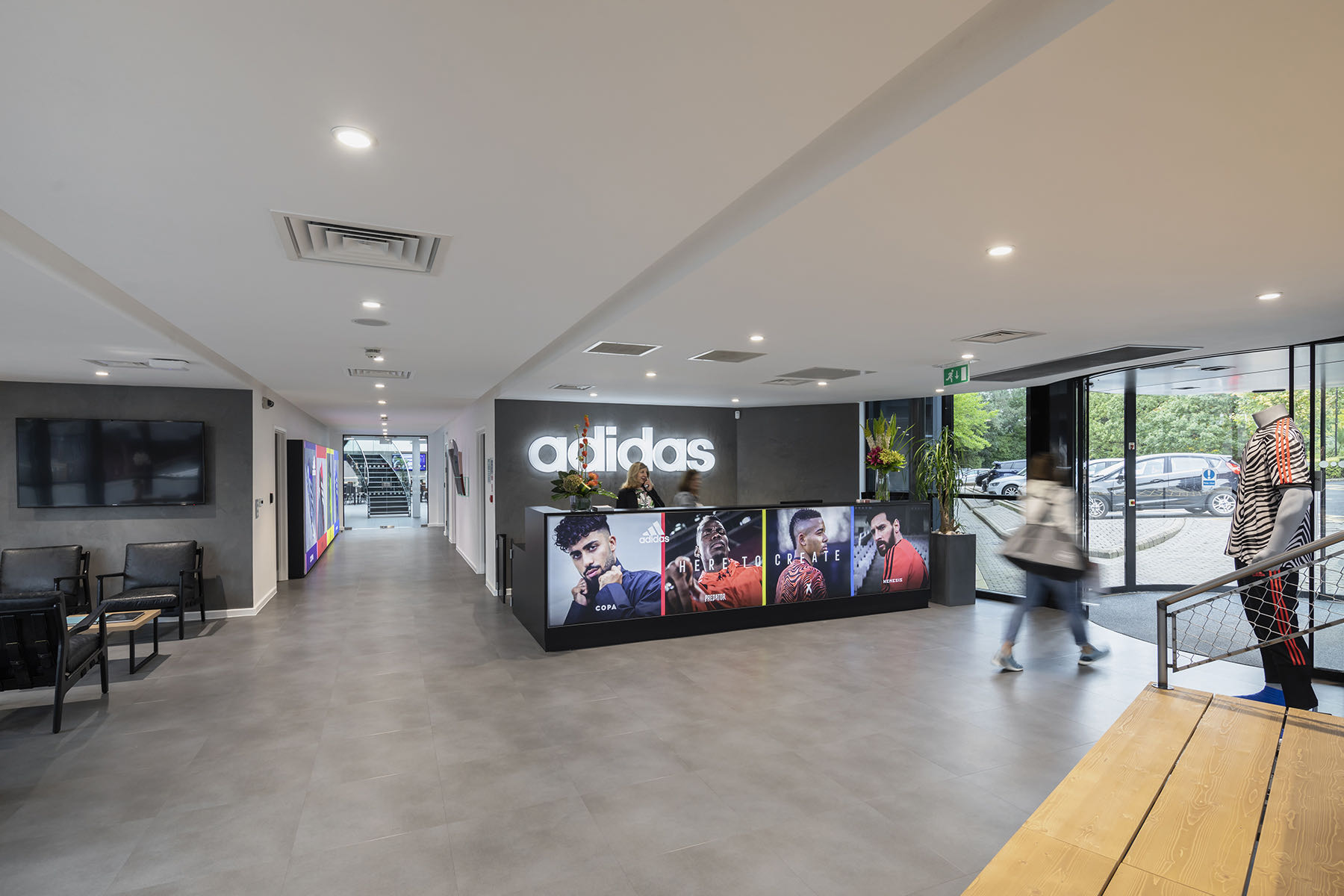 A Tour of Adidas' New Manchester Headquarters
Global sports brand Adidas recently hired interior design firm TSK Group to design their new offices in Manchester, England.
"adidas prides itself on designing and developing the best products for health and wellness, and creating the best experience for its customers. As an organisation, they wanted to offer the same experience to staff and the ethos behind creating adidas' new UK headquarters in Manchester was to put employees at the heart, energise and inspire the 460-strong team and improve their performance and wellbeing. But while we understood the brand from the outside looking in, we had to go deeper to transform their workplace from within.

To create a place that truly 'energises and inspires' the people at adidas, we needed to understand what moves and motivates them. We worked closely with the adidas team over ten months to co-create a workplace that would encourage communication, and collaboration, drive innovation and boost productivity.

We engaged adidas employees throughout the entire process, with "Design Influencers" appointed from every level of the business, to ensure the space was fully designed around the people using it every day. We connected people and place fuelling the infectious energy that helps give adidas its competitive edge.

That's why everything we created for adidas not only reflects the brand and its products, but the needs of the people working there. As well as quiet places for focussed work, and open areas for creativity and collaboration, we created a huge central 'arena' for informal meetings, breakouts, and work scrums. At the same time, we took inspiration from the world of sport to connect people to the brand.

We not only planned and managed the project in multiple phases whilst the building was occupied by staff, but engaged teams ahead of the changes and kept communication open throughout. At each stage, anticipation and excitement grew as people could see their workplace being transformed – and enjoy the benefits straightaway," says TSK Group.
Location: Manchester, England
Date completed: 2020
Size: 72,000 square feet
Design: TSK Group