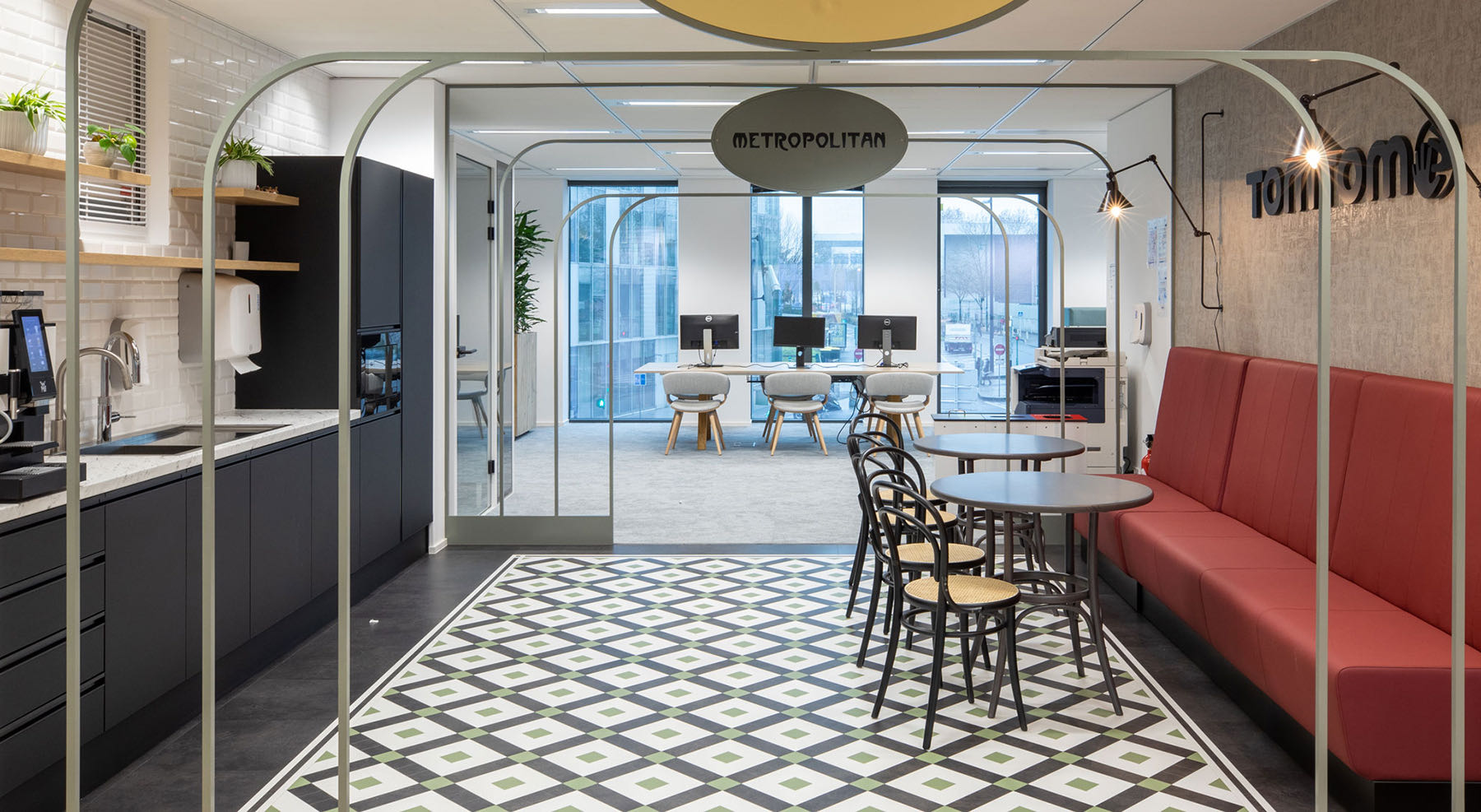 A Look Inside TomTom's New Paris Office
Car navigation company TomTom recently hired workplace design firm Peldon Rose to design their new office in Paris, France.
"Adopting a people-centric approach to the design was key. Several interactive workshops between the teams at TomTom and Peldon Rose took place throughout the project, allowing for continued communication between the multi-national delivery teams. The interactive workshops enabled the team to understand that creating a workspace to encourage group activity was essential, with collaboration shaping the initial design concepts. An open-plan office layout was an integral feature, including informal connectivity areas with additional collaborative spaces designed to promote participation and interaction across teams.

Relocating to a smaller floorplate whilst maintaining a similar number of meeting rooms required a design to maximise the use of space, with multi-functional areas playing a key role. Creating a connection, the central tea point unites the front of house to the employee neighbourhood, engendering a community spirit while the geometric Karndean flooring with delicate black metal feature lighting brought the local Parisian architecture into the workplace.

To allow for consistency in design, our design studio have created a bespoke playbook, designed over the course of our relationship with TomTom to shape the design of each new workplace. While a synergy between existing offices was important to maintain brand heritage, so too was the need to bring the external Parisian influence into the space.

Working closely with the team in Paris, Peldon Rose interrogated what Paris means to the people who work there. The objective was to create a space where the identity of the city outside is woven into the design throughout. For head designer Stephanie Di Losa, the highlight for the space is the recreation of the Paris Metro archway entrance. "Inspired by the art nouveau cast iron archway evident walking through the French capital, we created our own modernised twist to the archways, while retaining the colours and font you'd find when riding the Metro."

"We wanted to bring the culture of the city into the space, so that when you step into the office, it's clear that you're in a workplace designed for the French capital," said Di Losa. Thanks to a close relationship and constant communication between the teams at Peldon Rose and TomTom, the end result is a workplace that not only aligns with TomTom's objective for collaboration with a people-centric approach, but a workplace inspired by the surrounding external Parisian environment," says Peldon Rose.
Location: Paris, France
Date completed: 2020
Size: 15,000 square feet
Design: Peldon Rose