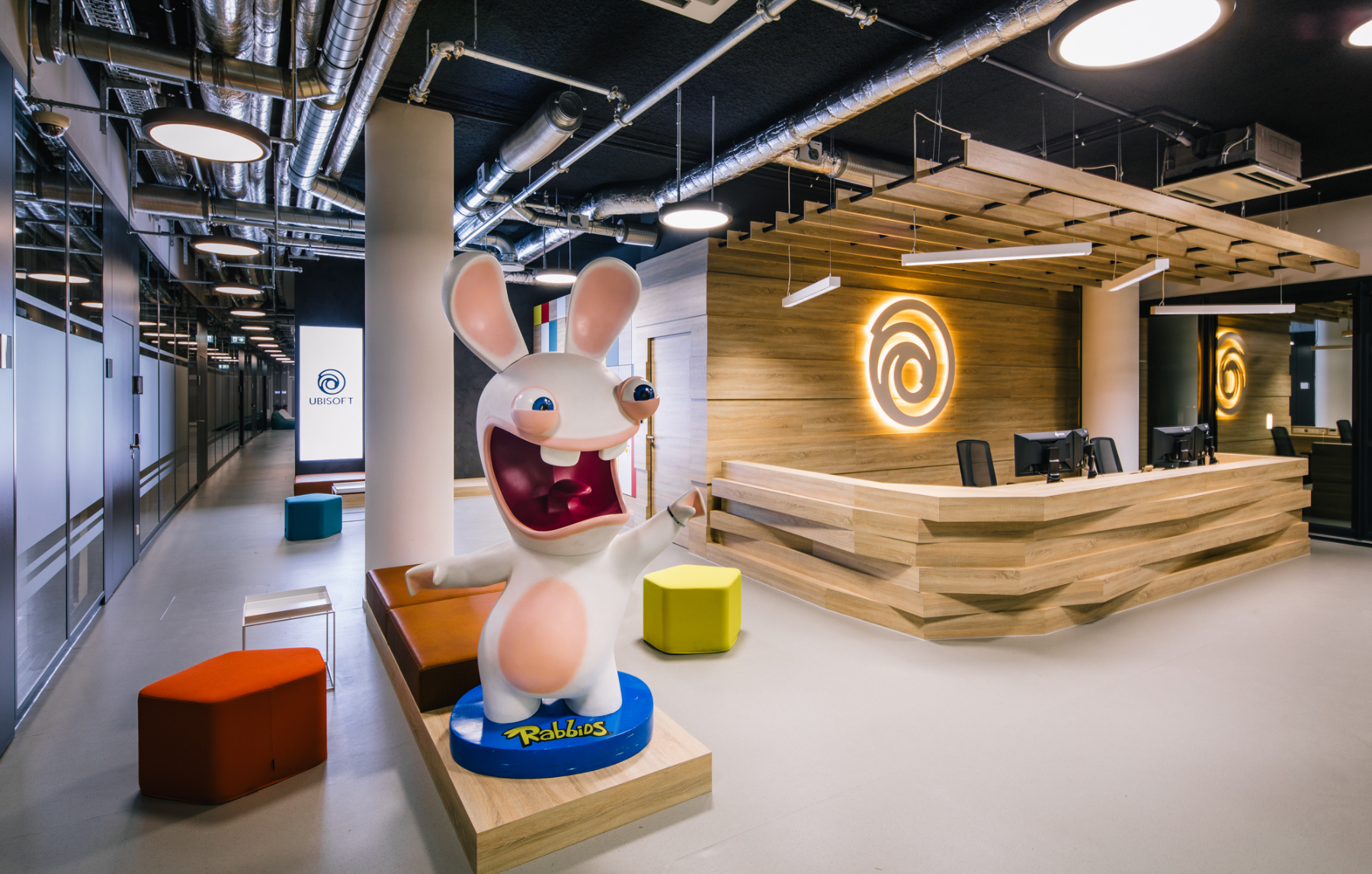 A Tour of Ubisoft's New Düsseldorf Office
Video game company Ubisoft recently hired architecture & interior design firm raum.atelier to design their new office in Düsseldorf, Germany.
"The interior architecture office raum.atelier from Düsseldorf was assigned to elaborate and implement a new integrated interior design concept for the location in Düsseldorf.

Many different workplace, functional and communication areas such as open workspaces, private meeting rooms, phone boxes, service points and a large games lab ensure an individual and varied working atmosphere. To spatially reflect the company's CI, the unique game worlds of Ubisoft were integrated into the interior design as large wallgraphics. This allows employees to immerse themselves in the gaming-worlds not only virtually, but also spatially. The direct reference to the location in Düsseldorf also plays an important role in the design. Conference rooms with themes referring to the city Düsseldorf create a direct connection to the location and form a suspense contrast to the city themes of the locations in Mainz and Berlin.

After completion of the first construction phase at the end of 2019, which predominantly included the open-space areas, service points and meeting rooms, the areas of the second construction phase were also successfully realized at the end of 2020.

The new space includes the entire reception area as well as numerous special rooms and offer employees a cinema in addition to a large and a small event area with an affiliating cafeteria. The social hub with integrated café bar and casual furnishings forms the centerpiece on the ground floor and invites to interact, communicate and to linger. The retreat room, which can be used as a place to relax, the inviting terrace and a small library round off the space," says raum.atelier.
Location: Düsseldorf, Germany
Date completed: 2020
Size: 91,493 square feet
Design: raum. atelier
Photos: Nick Wolff