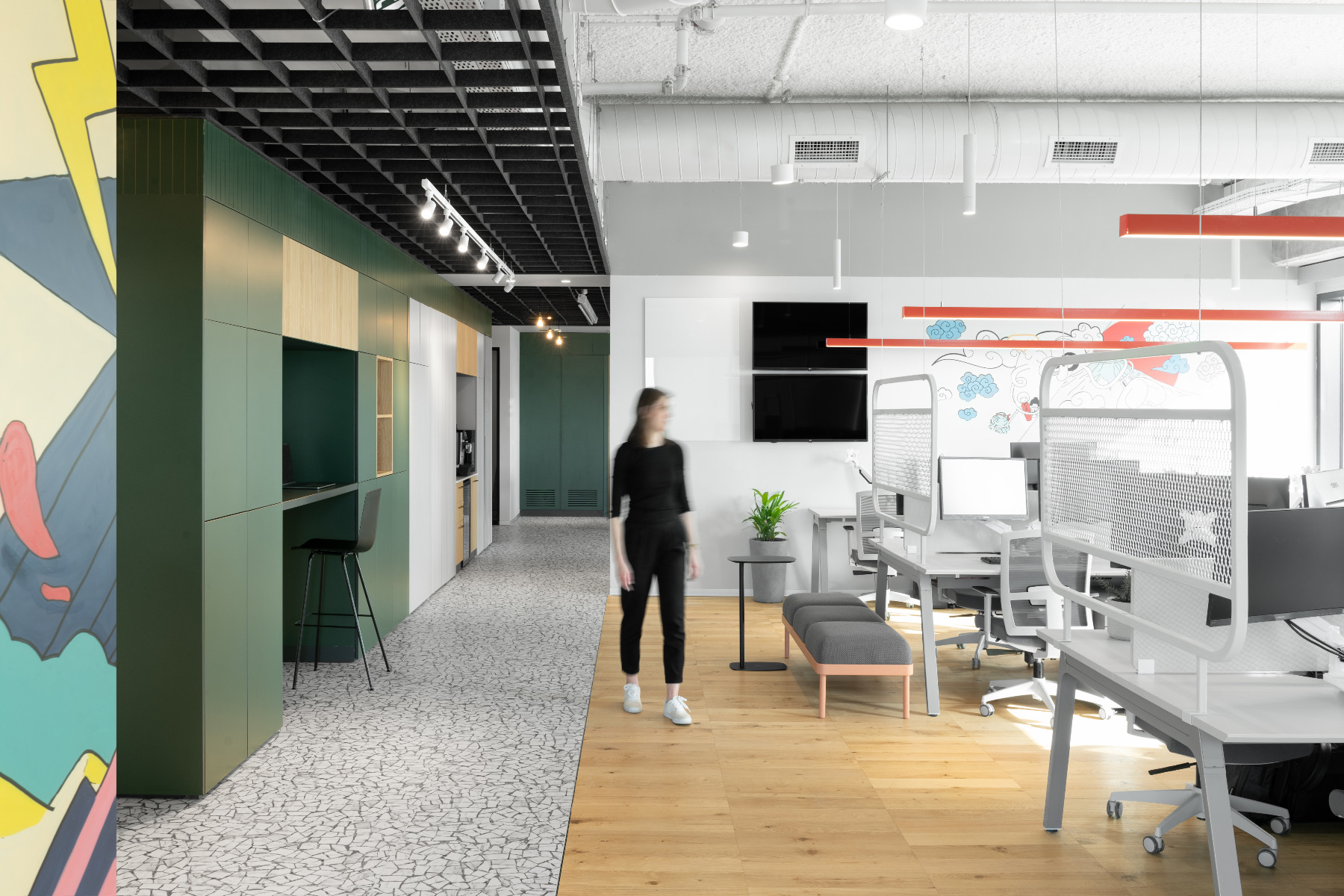 Inside Black Rabbit's New Tel Aviv Office
Travel company Black Rabbit recently hired interior architecture firm EN Design Studio to design their new office in Tel Aviv, Israel.
"Our goal was to create a sense of multiculturalism, accessibility, and a shared community vibe. Part of our process revealed the client's wish for various elements, such as work areas, different types of meeting rooms, main cafeteria and supporting spaces around the office. To maximize the space, we planned corridors that contained elements such as storage cabinets, desks, and benches, which creates an active space with blurred boundaries and multiple possibilities for movement and work.

We wanted to infuse several key elements in the design, such as nature, exteriors, globality, and simplicity. The office has a layout that resembles the anatomy of a tree with branches. It has a public center "cube" at the core and work areas all around it, this allows movements and activities to easily flow and circulate in all directions.

The main central "cube" combines five meeting rooms of different types, which support collaborative work among employees. There are two informal meeting rooms styled as a cozy home lounge, a private telephone booth and lockers for personal storage and two conference rooms for group meetings.

The outdoor and global atmosphere is expressed through the choice of materials and a colorful palette. The main flooring is a unique terrazzo tile that runs throughout the office, and in the work areas we choose warm wood parquet planks. The use of a few bright colors allows the natural materials and the rich graphic elements to stand out, and emphasize the sense of exteriors and a multicultural environment. One of the areas that were important to the client was the cafeteria, the company wanted a central gathering place for the employees. We were tasked with creating a multi-functional space with mixed-use options, from communal dining at lunchtime to company-wide gatherings and events. For example, the main bar is often used for company meetings despite being central and open.

Other solutions that helped us create a pleasant and homogeneous space were the use of bright colors in the work areas, including the ceilings and Building systems, chairs, as well as hanging semi-partitions alongside the work stations. The success of this project as we see it, is that although the space is relatively small and contains multiple work functions, the quality of the work environment is not compromised. It provides diverse work options, from intimate workspaces to large meeting areas," says EN Design Studio.
Location: Tel Aviv, Israel
Date completed: 2021
Design: EN Design studio
Photos: Gidon Levin