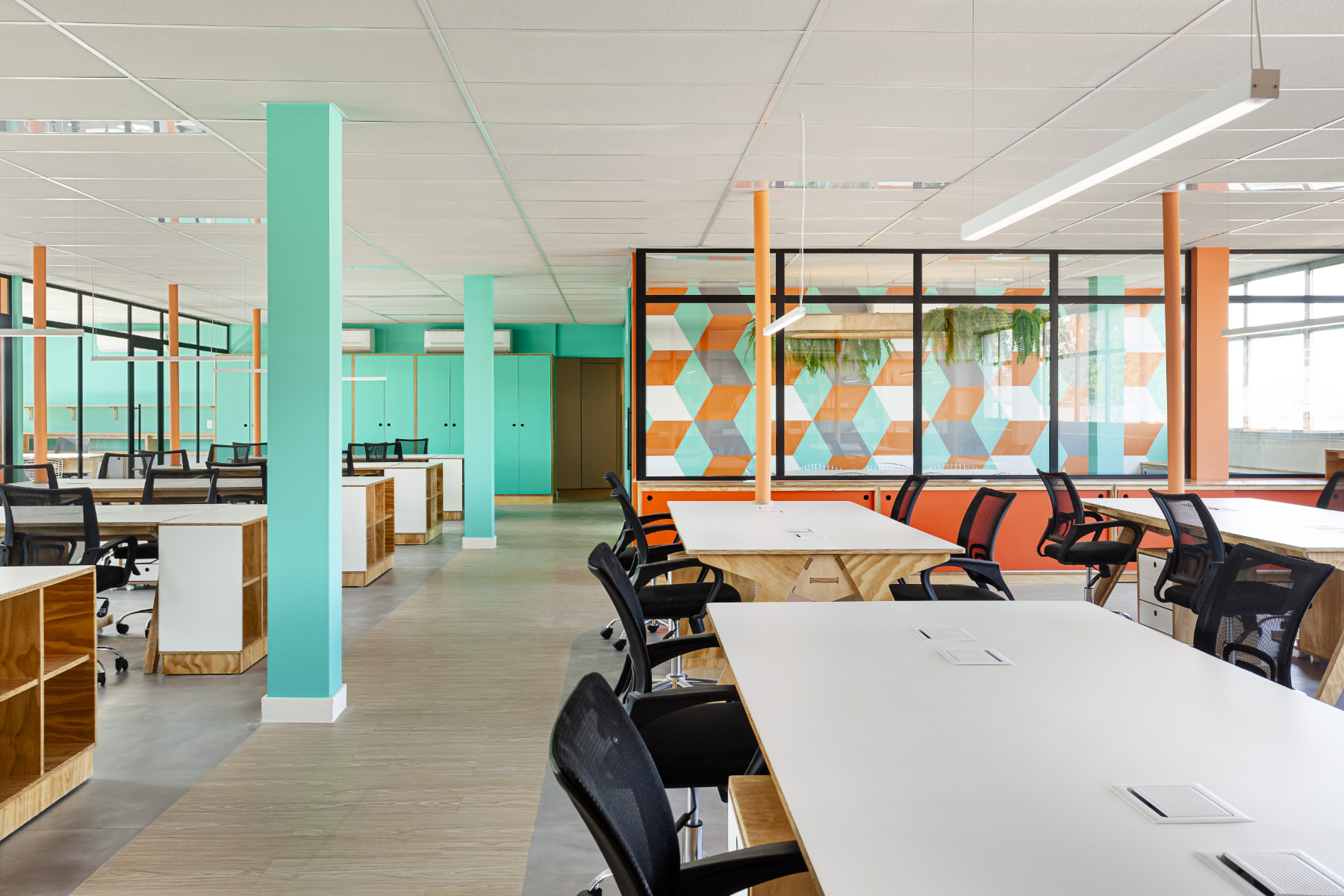 A Tour of Grupo Editorial Record's Rio de Janeiro Office
Publishing company Grupo Editorial Record hired interior architecture firm Studio dLux to design their new office in Rio de Janeiro, Brazil.
"The client's main demand involved the challenge of renovating one of the building
floors where they are based – in São Cristóvão, Rio de Janeiro. Over time, we noticed some other demands and the project became a more strategic proposal to reformulate the division of workspaces in some sectors of the company (editorial and marketing). In these changes, the project that once was designed just to modernize the space ended up changing the Group's thinking in relation to workspaces and promoted a behavioral change even in the company's day-to-day activities. In addition, the proposal has expanded and now takes two floors.

The project would renovate and restructure the 3rd floor for the editorial and the 4th floor for marketing, which had different characteristics, in terms of colors and use. The third floor, with shades of blue, used by the editorial team, had a major change in the relationship between employees and workplace. Before, publishers were spatially separated by different groups of books. Now, workstations are spread across the middle of the room, enabling better collaboration between everyone – which contributed to the symmetry that Grupo Record sought so that all editors could see each other and have the privacy for some more strategic
meetings.

On the fourth floor, another layout: more open, with meeting rooms needed for marketing activities and brighter colors, chosen by the entire team. The process of designing the project was done collaboratively with the two teams, making this work lighter and funnier and bringing the activity and new way of working that the team needed. In addition, as it is a very old structure, all the infrastructure was redone and, so that we could make a clean and open layout, pipes that carry electrical and data were installed in each work group.

Overall, this project is special because of the possibility of actively participating in the company's daily life, transforming it. With a lot of conversations and while we actually entered the project, other issues besides the architecture itself were raised, which made it possible to transform the product into a strategic thinking capable of reformulating the division and functionality of the work areas of some sectors of the Group. We believe that this is the main differential of the project.," says Studio dLux.
Location: Rio de Janeiro, Brazil
Date completed: 2021
Size: 6,436 square feet
Design: Studio dLux
Photos: Dhani Borges