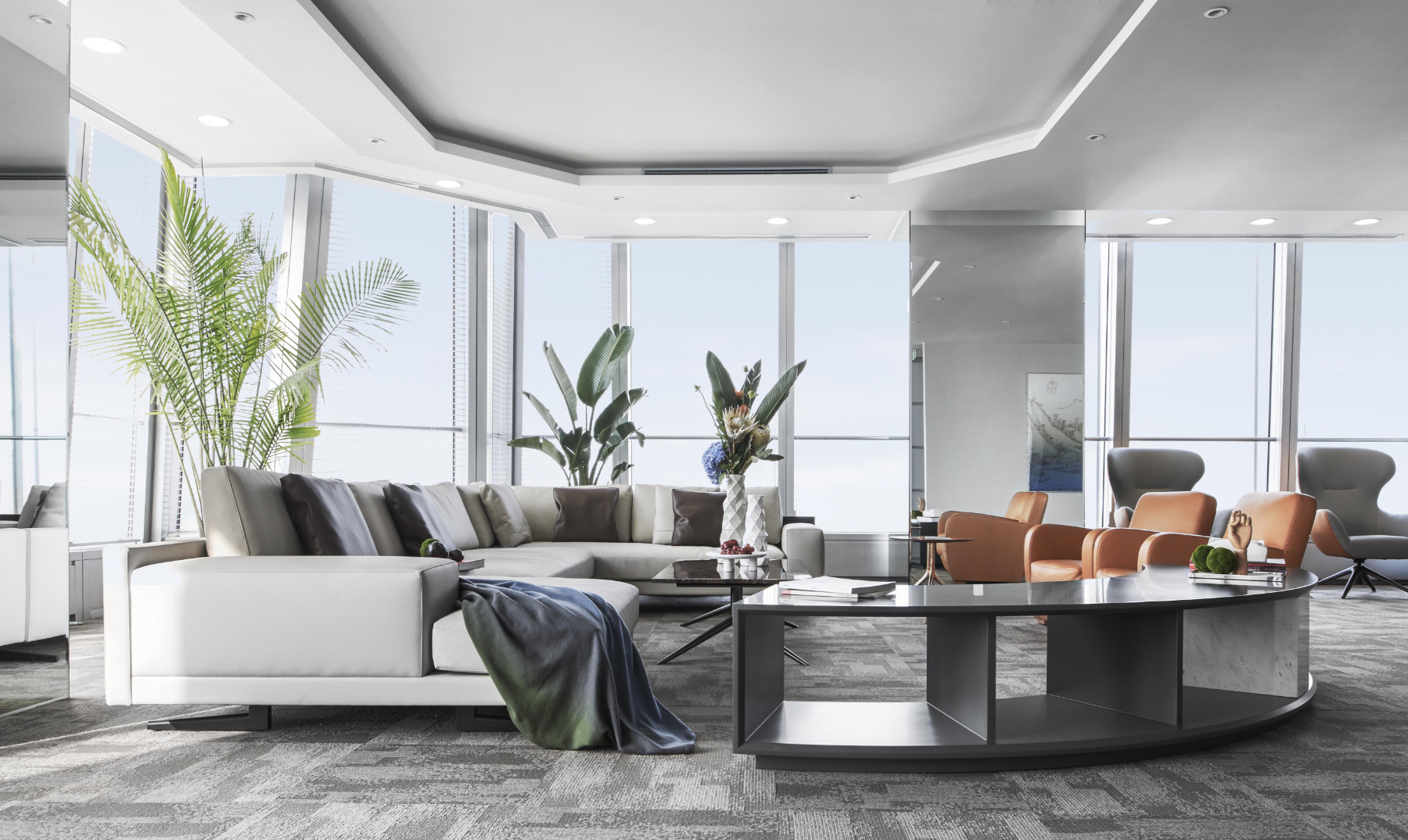 Inside Private Company Offices in Beijing
Private company hird architecture and interior design firm AYZ Studio to design their new office located in China's World Trade Center Tower III in Beijing.
"In the brand-new office space, the traditional densely arranged working areas disappeared. Instead, multiple walking paths centered on the tea area at entrance achieved cross-functional coordination.

Following the rock-textured curved wall, there were the meeting area and the chairman's office, both of which occupied 120 square meters with the widest view on the north side. The meeting room was connected to the chairman's office, and the tea room and meeting room as a public activity area were set opposite to the tea area. The glass curtain wall brought the landscape into a larger view.

Except for the regular traffic line along the curved wall, the public working area and the two independent offices on the south could be reached by the door opened outward in the corridor as a shortcut.

The central tea area, as a transportation hub, connected the entire space. The almost fully open functional space enhanced the cohesiveness of staff, and the relaxed and wise atmosphere made the whole space appear soft and rational.

Although most of the clients targeted by the owners came from the elite of traditional industries, the office design insisted to showcase its ideas and business strategies in a younger manner. After getting out of the rigid safety zone, it would usher in joy. Whether from the space palette, the overall atmosphere, or the attitude that AYZ STUDI O wanted to express, the inspiration was infused with nature and delight.

The more concise meeting room, enclosed circular discussion area, and contemporary oriental tea room provided three levels of social spaces. The boundary between public and private areas was eliminated, and a more comfortable way of socializing could happen there at any time.

Transformed from natural textures, the material veins and patterns were presented through stone, textured cloth and micro landscape. These designs that tended to be natural and wild were inserted into the space, creating an interesting freehand style of curved and plane surfaces. Together with the insightful vegetation and rocks, the design formed a balanced office ecology and provided an efficient workplace that was conducive to creativity, ",says AYZ Studio.
Location: Beijing, China
Date completed: February 2020
Size: 7,211 square feet
Design: AYZ Studio
Photos: Song Yuming