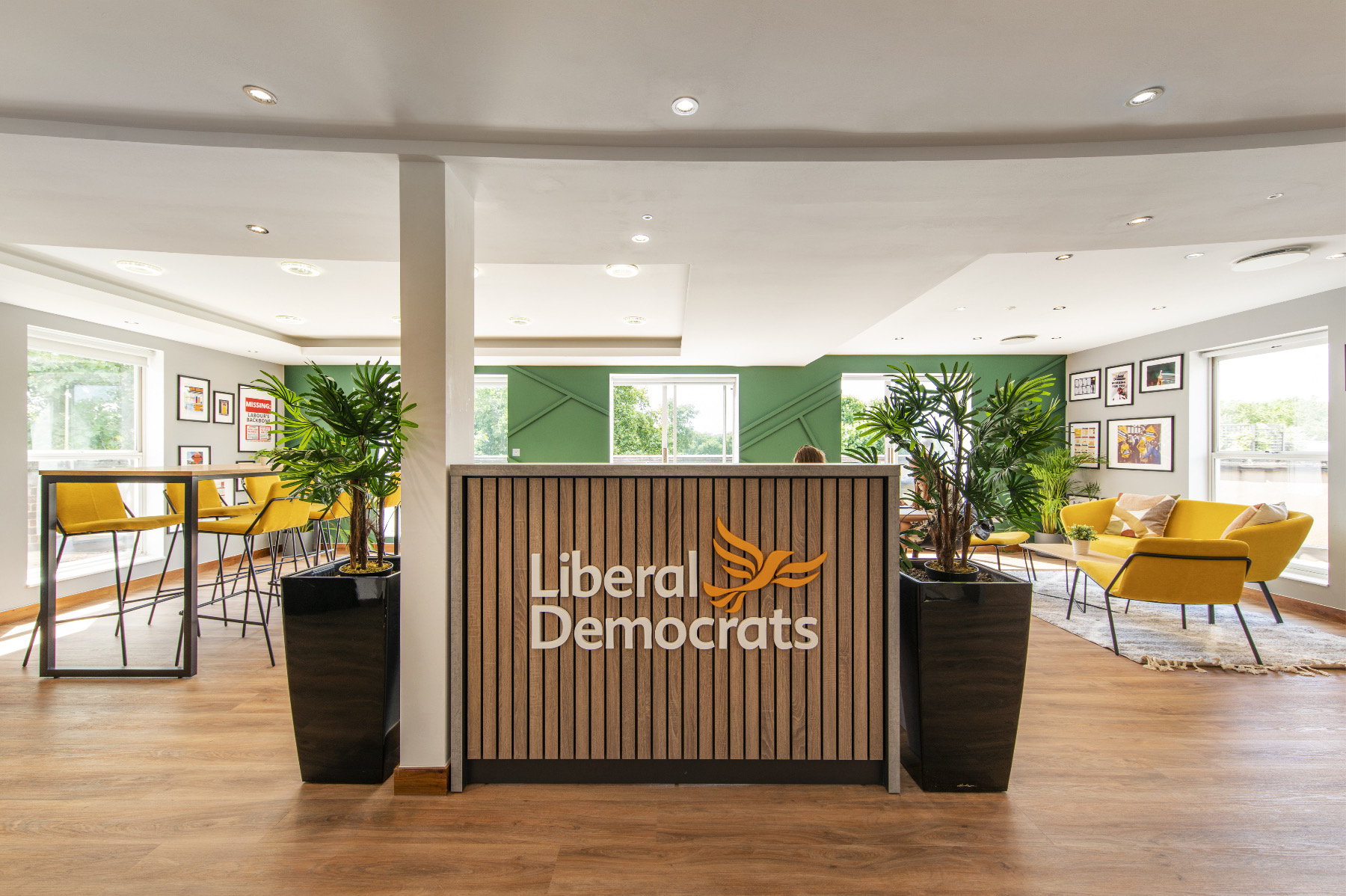 A Tour of Liberal Democrats' New London Office
Political party Liberal Democrats recently hired workplace design firm Peldon Rose to design their new office in London, England.
"The new HQ for the Lib Dems at 1 Vincent Square, lies in the heart of Westminster. Whilst the building is in an impressive location, it was important that this space did not feel too grand or intimidating. It needed to exude a positive energy for everyone who walked through its doors, making them feel welcome and immediately engaged with the party.

Steve Taylor, Project Director at Peldon Rose, commented: "To create this space we needed to really understand the party's ambitions. Their main goal is very obvious ,that is to achieve electoral success and continue to build on recent local gains – so this office needs to be the beating heart and "mission centre" of their campaigns. As a party that stands for inclusion and fairness, it should be inviting for everyone. A space for ideas to be shared, debates to be held and ultimately success to be celebrated."

To echo the party's core values, Peldon Rose opted for an open plan design without any formal barriers to the space. The entry to the office is a large communal space for events and collaboration. People are encouraged to naturally move through the area while at the same time it serves as an agile working space. It is open, transparent and very flexible, providing an elastic and multi-purpose environment.

Peldon Rose were also conscious of ensuring that this space reflected the rich history and roots of the party. Gallery walls were used throughout the office to showcase their achievements, party history and values. Peldon Rose made sure that the whole space supports the party's future ambitions and strategies. Additionally, panelling was used in the library area, as a nod to the original HQ's architecture in Cowley Street, creating period charm and a "centre of academia" feel to the space.

The colour palette used across the headquarters is instantly recognisable, with accents of the Liberal Democrats' signature gold paired with complementary earthy green tones. Gold is associated with compassion, courage and wisdom, whilst green represents growth, harmony and ambition – all of which adhere to the aspirational values of the party.

Natural light floods the entire headquarters to help boost the wellbeing and productivity of those who will use the space. In order to maximise the light, dividing walls were removed to allow better exposure to windows and improve access to the wrap-around terrace and impressive panoramic vistas across Westminster and surrounding areas," says Peldon Rose.
Location: London, England
Date completed: 2019
Size: 11,000 square feet
Design: Peldon Rose