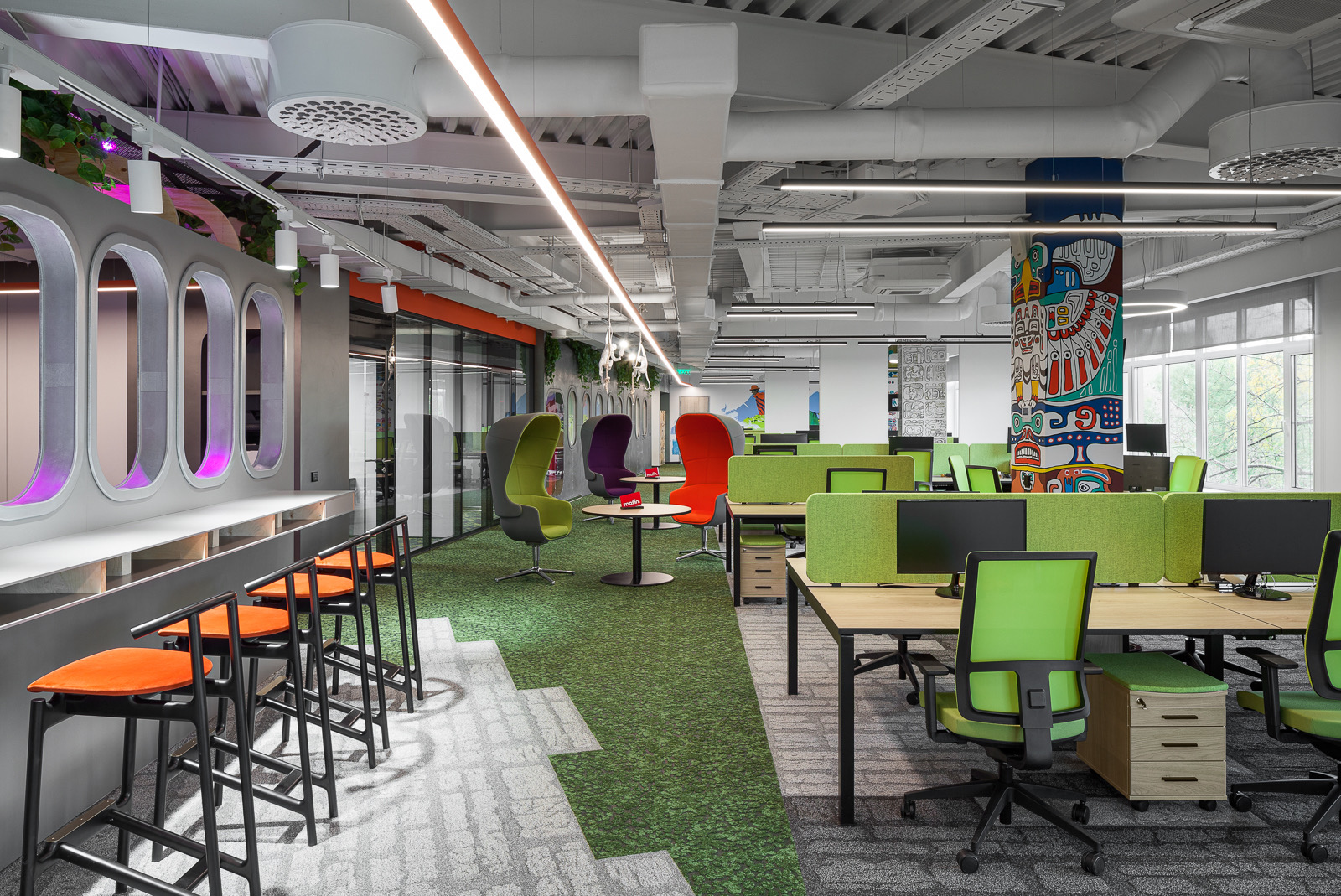 A Tour of Mafin's New Moscow Office
Insurace firm Mafin hired architecture & interior design firm ABD Architects to design their new office in Moscow, Russia.
"Tropical plants inside the glass partitions of the open space, lianas climbing from the ceiling and stabilized moss on the walls – all these details create the atmosphere of jungle in the office. Each area of ​​the office space has its own unique design and supports the theme of the expedition, which is embodied in the ornaments of ancient civilizations, tourist attributes and nature motifs. For example, one of the meeting rooms is created in style of the famous French cave Lascaux with a relief wall with cave paintings, and the other one – in the form of a tourist tent. The architects designed a flexible space that can be adapted to the existing "game" plan for the quickest inclusion of both a Mafin employee and a company's guest. Open-space can be changed according to the needs of employees: it is possible to move tables and change their shape, use transformable partitions to zoning the space.

Working groups can either be separated for quiet work inside, or join together to discuss working moments, without interfering with other employees. For example, a meeting room can be used as a quiet place for one team to work, but with help of transformable partitions it is combined with a corridor for presentations and events.

The Mafin office is organized according to the "Hot Desking" principle – there are no fixed workplaces in it, and each employee has the opportunity to choose a work place depending on current tasks. This can be work in the open space cluster when it is necessary to maintain communication with colleagues, or work in an individual focus room if the task requires maximum concentration in silence. Each employee has a personal locker where you can have in keeping your things. Lockers are stylized according to the general theme of the office – they are made in forms of wooden boxes from cargo ships.
The office has many different meeting rooms, collaboration zones, which are suitable for both quick meetings and long-term work," says ABD Architects.
Location: Moscow, Russia
Date completed: 2019
Size: 15,607 square feet
Design: ABD architects
Photos: Sergey Volokitin