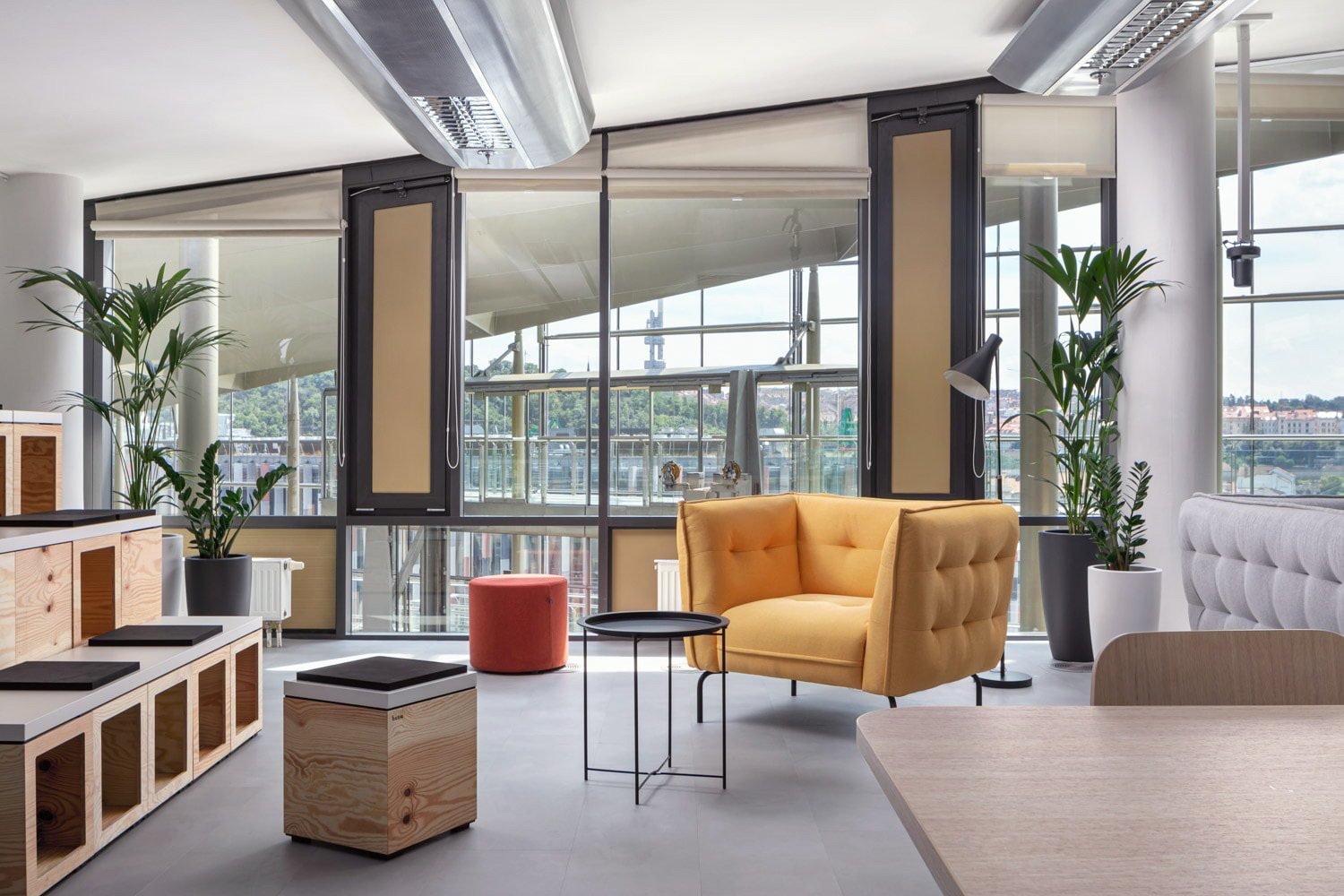 A Look Inside Heureka's New Prague Office
Technology company Heureka recently hired interior design studio Hezkey to design their new office in Prague, Czech Republic.
The hybrid work model combining home office with office work has become a reality for many companies during the pandemic. What's more, it's clear that a return to the original setup is not going to happen. In addition, there are a number of surveys that confirm that employees do not want to go back to the office. The question then arises, how to adapt offices to current needs and how to make them more attractive to employees who have become accustomed to the home office? For the online shopping guide Heureka, the interior design studio Hezkey has created new offices in Prague and Liberec prepared just for the hybrid style of work.

The aim of the redevelopment was to accommodate the growing number of employees and to introduce a smart office – employees do not have a permanent place, but book the available one, or use the space in the common areas such as the relaxation room to work," says Pavel Mrázek, founder of Studio Hezkey, adding: "The main requirement was to make the space flexible and multi-functional and to support the airy interior and high standard of Heureka's corporate culture and create a place where employees feel comfortable working."

It is the zoning of the space that is key for employees. "We have made the working environment more attractive by giving it order and functionality for different activities. There were discreet areas for phone calls or important meetings, but also nooks and chill-out zones where people can meet and have fun. We make sure that employees are not disturbed during various activities. The materials used correspond to the purpose of the particular place. For example, we install acoustic ceilings or noise-absorbing panels where it is supposed to be quieter," says Mrázek.

The aim is not just to make the office space more attractive: "Creating pleasant working conditions has an impact not only on the comfort of employees but also on their efficiency and their ability to work in a focused and collaborative manner," Mrázek reveals.

Offices in the home office era
The interior works with the specifics of today's times: the days when the same number of people sat in the office every day are over. Our common goal was to create an interior in which an all-company meeting can be organized efficiently, but most of the time around 50% of the employees sit in it.

At a time when it is common to work from a home office and freelancers come in for a meeting once in a while, we need to think about making sure that the office is not "dead" during the normal working day.