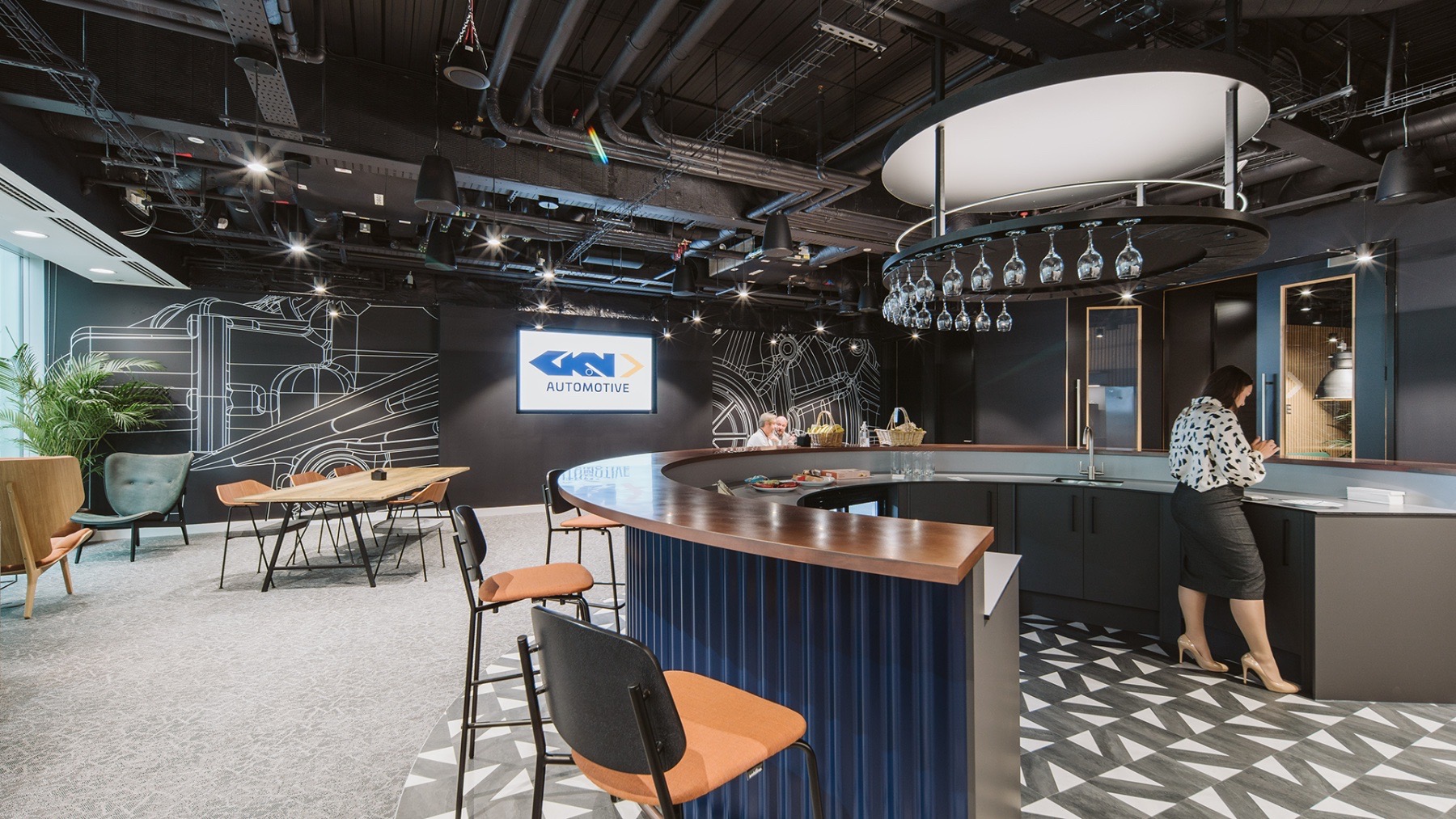 A Look Inside GKN Automotive's New London Office
Multifunctional manufacturer GKN Automotive recently hired interior design firm Thirdway Interiors to design their new office in London, England.
"Having been designed at a time where the way in which we work experienced a shakeup, collaboration and flexibility became the foundation of this brief. Thirdways design team needed to create opportunities throughout the space where users could seamlessly come together to co-work, problem solve or discuss ideas. This spearheaded a floor plan that consisted of key areas such as the multi-functional breakout space, designated working areas suited to different tasks, the large, executive boardroom and corridors with meeting booths tucked into walls, each one named after a Formula-E race location.

Design inspiration was initially drawn from the geometry and beauty in the raw engineering components in GKN Automotives own product lines, tied in with industrial and contemporary interiors frequently seen in hotels and restaurants. With breakout spaces typically being the central hub of the modern workplace, this area especially needed to feel inspiring and show off GKN's culture.

Featuring a mixed use of space such as the booth seating and oversized lounge chairs – this area has the potential to function from day-to-night when required. Industrial elements typically spotted when sipping a Punk IPA in one of BrewDog's bars was referenced for how the kitchen space could feel.

Wayfinding won't be a problem for GKN staff with the dramatic, exposed black ceilings and track lighting that illuminates the corridors and beautifully interlinks areas. The large, floor-to-ceiling windows on the two external sides of the demise maximise natural light to both the brighter, covered ceiling and the dramatic, dark exposed parts.

From the very beginning, GKN Automotive were collaborative and forward-thinking. It was this mindset that sparked a great working relationship and allowed both teams to explore the beauty of engineering by looking at their pieces as more than just parts, but things to be amazed by. The mural in the breakout space takes centre stage, unearthing the beauty in the concept of engineering having manipulated both shapes and outlines from technical drawings of their own product lines to create blown up, abstract art.

Another part to the brief was to have a product showcase, but why make it your standard showcase when it could become a wow piece when walking into the space? We worked closely with GKN's team to get CAD drawings of raw components to enable an artist to create 3D prints which were then artfully hung from the ceiling in reception," said Thirdway Interiors.
Location: London, England
Date completed: 2022
Size: 7,500 square feet
Design: Thirdway Interiors
Photos: Peter Ghobrial