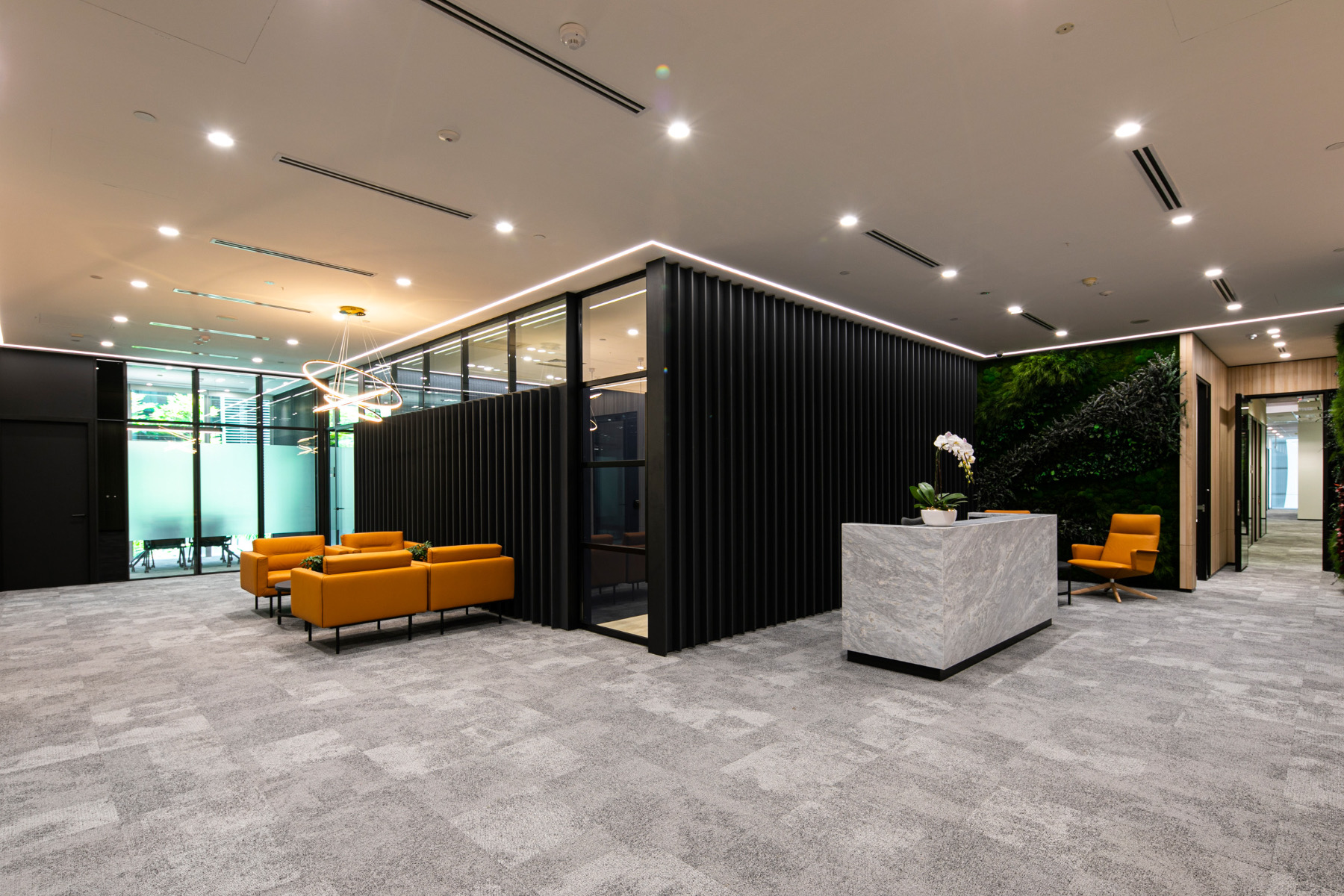 Inside Private Financial Institution's New Singapore Office
Private financial institution hired workplace design firm SCA Design to design their new office in Singapore.
"Upon entering, a bold and warm ambiance for the reception/meeting area, which would serve as formal spaces, adds a note of seriousness, while a light and modern aesthetics rule the work area to lighten the mood. The décor and detailing are kept minimal in order to place importance on comfort, functionality, and creativity. The interior of this financial institution is welcoming and encourages focus and productivity.
Designed mostly in shades of black with accents of timber and greenery, the flexible and progressive space artfully strikes a balancing act to ensure the space is edgy and bold yet vibrant. As soon as one enters the reception area, the green wall and a contrasting coral sofa catches the eye, and the same vibrant hue can be seen throughout the space.
Immense importance is given to natural lighting and is achieved through large windows that allow plenty of sunlight to pour in. An interesting point to the design of this office is, no matter where one is seated, one will be afforded with a view of nature, via the huge windows that overlook the greenery outside or the dry green wall, which have become a rising new trend of built environments in recent years. At strategic points, lush foliage provide respite to tired eyes and help recharge energy and productivity levels. In the conference room, the embossed sound-absorbing panel provides a striking contrast to the rest of the space.
With versatility a preferred commodity, the conference room has been designed to suit different configurations perfect for small gatherings to townhalls or even as multiple meeting spaces. While the conference space sports dark tones, the individual rooms come in shades."
Location: Singapore, Singapore
Date completed: May 2022
Size: 16,000 square feet
Design: SCA Design