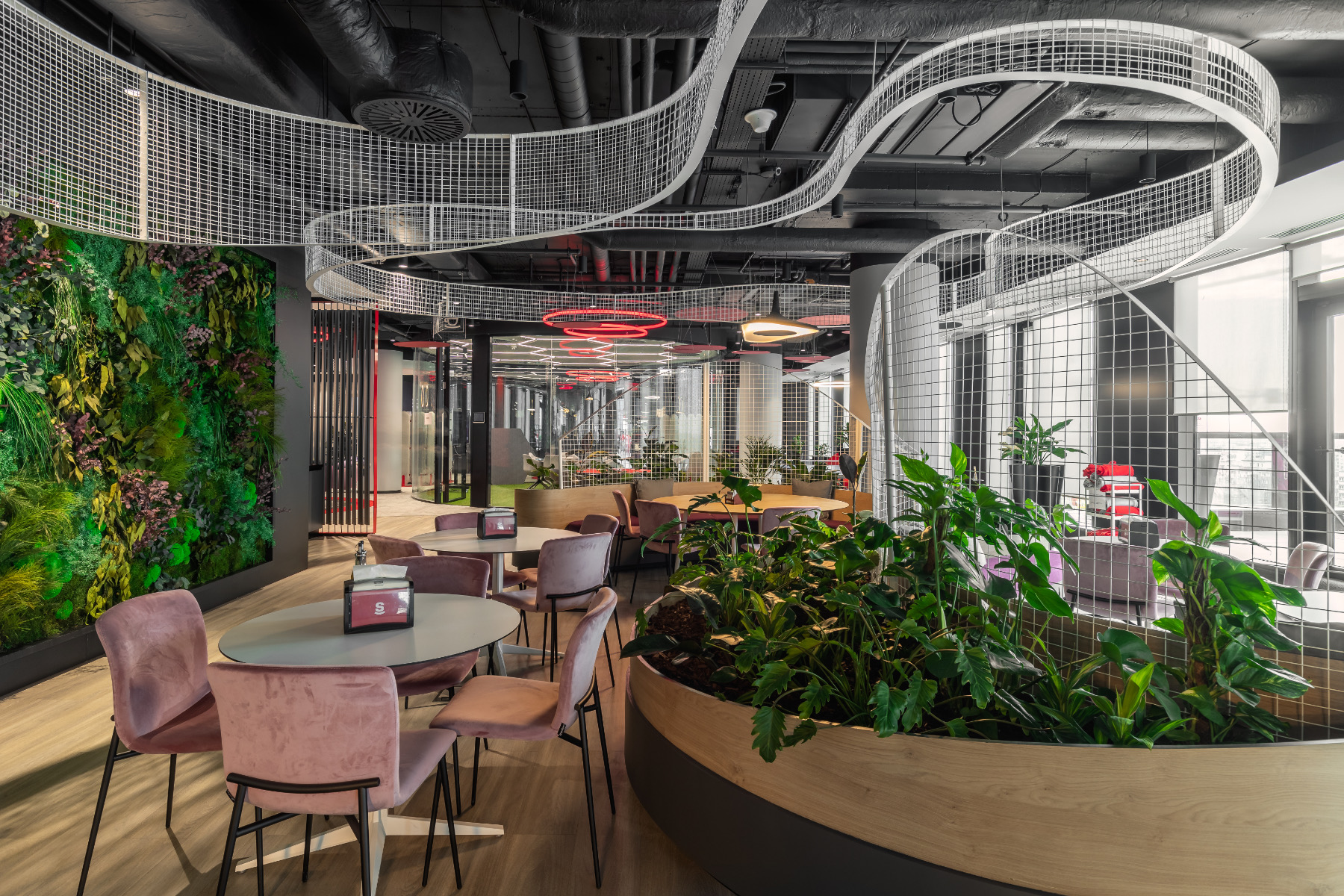 A Look Inside Superbet's New Bucharest Office
A team of designers from interior design firm Lemon Interior Design recently completed a new office design for sport betting company Superbet in Bucharest, Romania.
"We managed to do that by placing planters in all the right spots regarding natural sunlight and by choosing to focus on locally sourced or recycled materials, such as wall-panelling and furniture finishes.

Moreover, the sustainability of this project is also based on energy creating installations like the bicycle assembly which can be used while also producing energy for charging your phone or laptop.

In order to also ensure the effectiveness of the employees despite the open space of generous dimensions, numerous more private areas, such as Phone Booth or One2One, have been provided, along with closed conference and meeting rooms, while also ensuring the necessary sound or visual isolation.

The layout was based on the establishment of areas of interest, such as Meeting or relaxation areas with different themes (football, cinema, townhall, hockey, basketball, etc.), around which the actual office areas were arranged, related to the specifics of each sector. Moreover, the respective spaces offer continuity through the chosen color palette (shades of red, pink, burgundy or gray) and accessories, along with the organic elements arranged on the entire surface of the space (planters with natural plants, biophilic vertical cladding, or oak-type cladding) .

In terms of the open space layout, cubicle-type, rectangular and rigid offices were not used, but dynamic, versatile layouts were chosen to encourage different interactions between employees. The entire space is dotted with different Coffee Points, also having two Cafeteria-type areas of considerable size, where employees can meet throughout the day.In addition to these, the arrangement also has a Well-Being Room, equipped with a hi-tech massage chair and an aquarium, as well as a gym with a panoramic view.

Employee productivity and comfort are heavily influenced by office design, layout, and space usage. Whether your company is redesigning your workplace or relocating, proper planning and attention to detail can help you create a more efficient, successful workplace with happy employees".