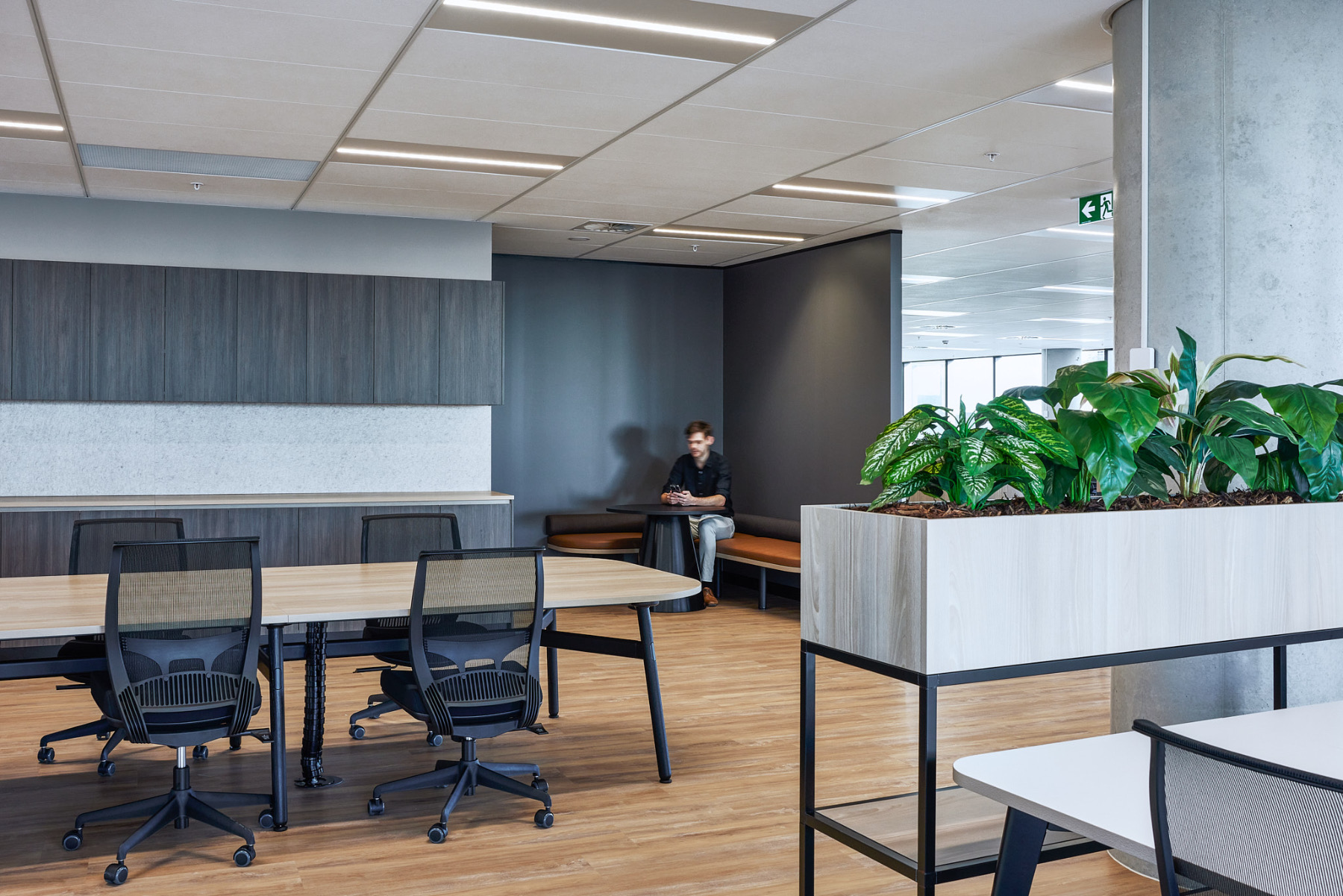 A Look Inside JQZ's New Sydney Office
Property developer JQZ recently hired interior design firm Sheldon Interiors to design their new office in Sydney, Australia.
In their initial enquiry, JQZ sought a full floor speculative suite that would stand out in the market and seamlessly integrate with the overall aesthetic of the new development. The initial conversation aimed to ensure the suites would not only attract potential tenants but also surpass competing buildings and speculative suites in terms of quality and value. The result is a space that satisfies the needs of evolving work styles and houses a generous socialisation area that accommodates for JQZ's entertaining requirements.
Going above and beyond the typical speculative fitout to meet the clients request, a large open plan breakout area was designed and constructed for the entrance of the suite to accommodate for several use cases. The space consists of a generous kitchen/break area, a town hall presentation space with tiered seating, reception, and a client lounge area that flows into the board room. These elements flow seamlessly, promoting a collaborative and social work environment.
The library, a unique inclusion to this office fitout, provides a calm focus area where employees can work on individual tasks. The dark features of the space, frosted window, and acoustic ceiling panels achieve a positive sensory experience. The inclusion of this space adds a spatial modality to the suite that provides variety to clients in addition to the collaborative and social areas.
Aesthetically, the suite utilizes biophilia and maximises natural light to create a bright space that encourages workplace happiness. The finishes chosen to compliment this direction by adhering to naturality such as the residentially inspired timber flooring, stone kitchen top, and breakout space furniture.
The client's appreciation for the project's quality, design, and execution was evident through their prompt securing of a tenant even before the project's completion.
Location: Sydney, Australia
Date completed: 2023
Size: 12,001 square feet
Design: Sheldon Interiors