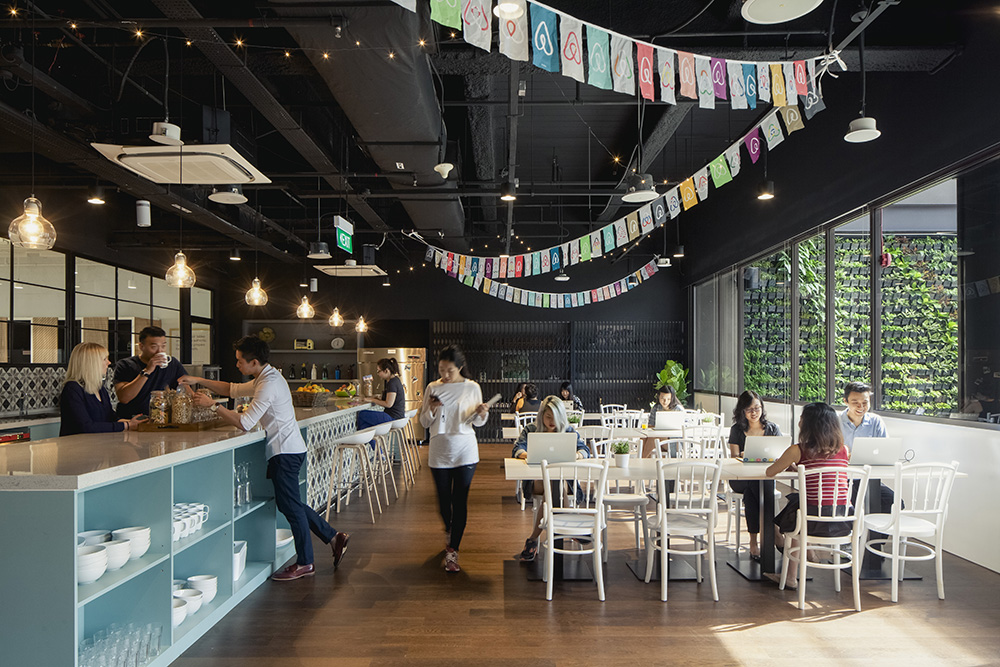 A Tour of Airbnb's New Singapore Office
Airbnb, a popular online platform that allows people to rent other users' homes and apartments, will soon open a new office in Singapore, designed by an interior design firm FARM.
"FARM's entire design philosophy was based around applying Singapore building typologies and materials to our office space. One of the examples of this is the "Front Porch", where reception lives; this reflects sharing characteristics of the many of the indoor/outdoor spaces in Singapore. Working within the constraints of the existing structure of the space can be a challenge, but in this office, we took the central stairs that connect the three floors and created something new. Called the "Skyscraper", it is enclosed with traditional ventilation blocks, but through design becomes the central hub, including bar seating, a reading nook and a "Clubhouse" at the bottom. One of the consistent design elements across all of our offices is our listing rooms. To inspire our employees and bring the spirit of travel into the office, we recreate homes available to rent on Airbnb in our conference rooms. In Singapore, our team developed the Employee Design Experience as a program to engage employees in the process of bringing these spaces to life. A great example in Singapore is Belo 6, one of the conference rooms in Singapore. The team was essentially given a closet in a back corner of the office, a forgotten space without a designated use. The team came up with the idea to creating the first Airbnb listing on the moon, a new space station. They had grand plans for acrylic etched circuit boards and glowing control panels, a fully decked out station interior, but they didn't have the budget, experience, or the time to do it. We went through several rounds of critique with them, and while they were disappointed at first, they were creative and found a way to get the look and experience they wanted, within the limitations that we were given. They had a custom window film created that showed the team members outside the window of the station planting the Airbnb flag on the moon; they printed transparencies of control panel images and put them in Ikea frames with LED light stripes around the edge to create the glowing panel effect, and used boxes and pipes to create an industrial back drop with a full space suit they found online. It is a shining example of the ingenuity and creativity of Airbnb employees, and is a central hub in the office. Overall, the program gives the employees a creative outlet within the office, and we find that it helps them become a lot more connected to not only the space they've designed, but the company as a whole".
Location: Singapore
Date completed: 2016
Design: FARM
Photos: Beton Brut