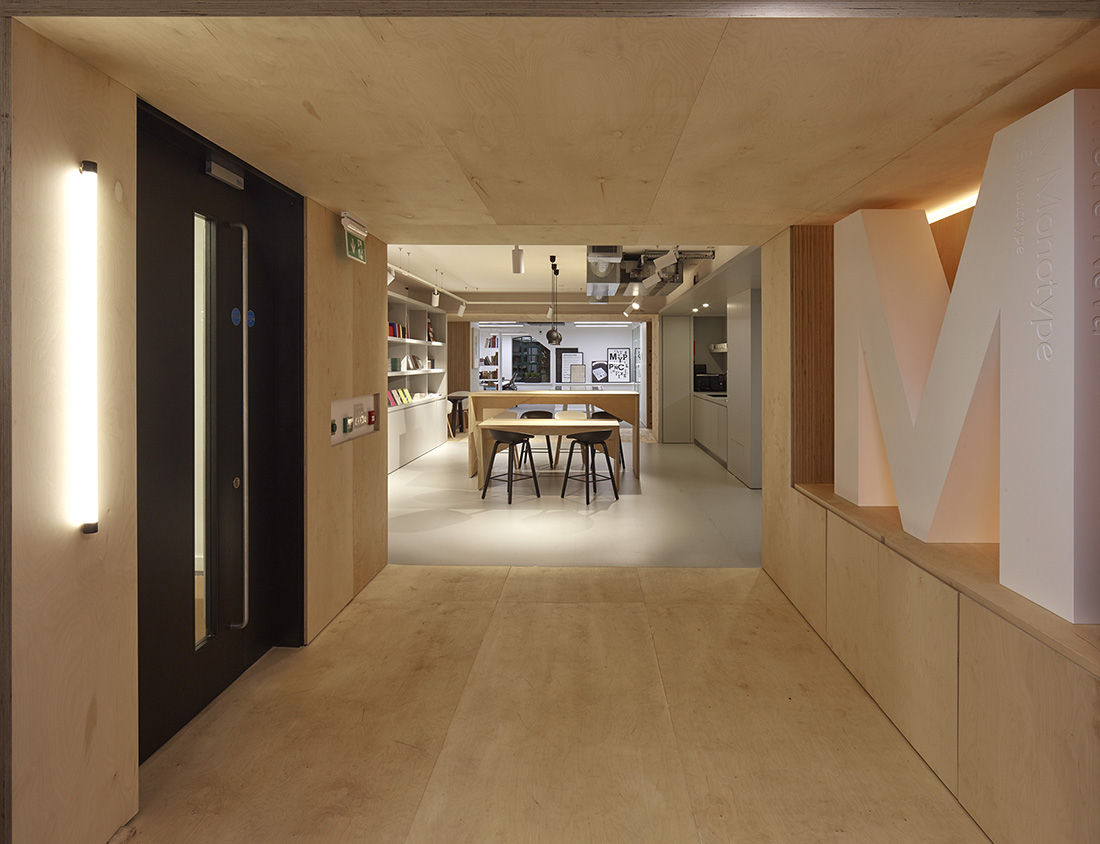 A Tour of Monotype's New London Headquarters
Monotype, a publicly traded company that provides typefaces, technology, and expertise enabling optimal user experiences and brand integrity, has just opened a brand new UK headquarters in Shoreditch, London.
"The newly built 330sqm space is traversed with a tunnel of birch plywood that seems to have been carved through a single block of wood. Its walls, floor and ceiling are laser-etched with 1,500 of Monotype's 'M' monogram, set in 750 typefaces from the company's archive that have made their mark on the world.One of its most recent – the all-language typeface Noto, created in collaboration with Google – is honoured with two glass walls edging the central space that look down into the building's atrium, adorned with 986 glyphs from the 100 Noto scripts, ranging from modern Arabic to ancient Egyptian hieroglyphs. Thanks to the glass above the atrium, sunlight is streamed down into the central area creating a mesmerizing play of light and shade onto the space below. Around the office, elements that appear innocuous at first glance are often much more than they seem – small, subtle details that the untrained eye might miss, but which reward those who look again with charming references to the typographic world. Laser-cut directly into the doors, the handles of storage units are shaped to represent a single bracket glyph. These too are set in varying typefaces, including Laurentian™, Soho™, Quire Sans™ and Linotype Gianotten™. The glass walls of meeting rooms and phone booths are flecked with similar type treats, including lines of 474 full stops, each set in a different font, and calls to the historic greats of type design are featured in the names of each meeting room: Warde, Morison, Dreyfus, Tracy and Lanston".
Location: Shoreditch – London, England
Date completed: 2016
Size: 3,550 square feet
Design: Ben Adams Architects
Photos: Edmund Sumner